The Untapped Potential of Diverse Talent: From Comfort Zone to Growth
Johane Domersant explains why recruiting and developing diverse talent is a key ingredient to Deere's secret sauce
Developing the cutting-edge technology needed to feed billions of people and build vital infrastructure requires individuals with a wide range of unique talent and experiences. That's why recruiting and developing the right combination of people is imperative to John Deere's strategy and at the core of its values.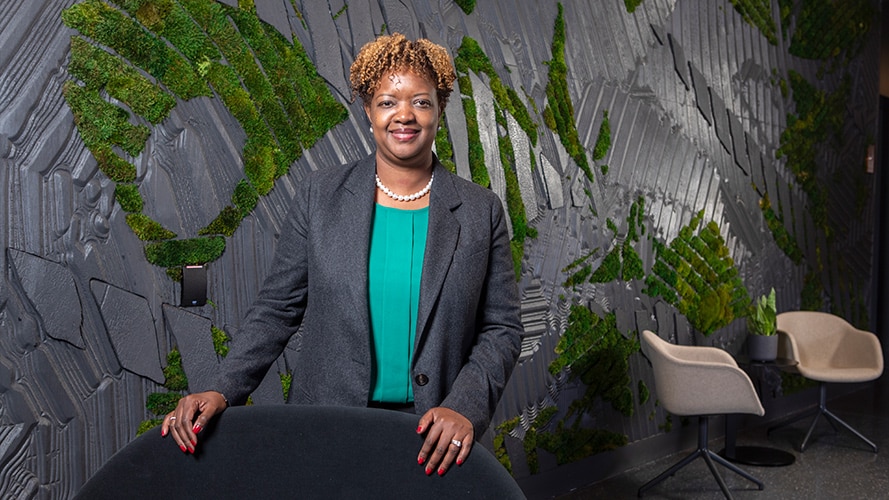 As leader of global talent acquisition and diversity, equity, and inclusion (DEI) strategies at John Deere, Johane Domersant plays a key role in recruiting top-tier talent.
"We have to be an organization whose workforce represents and reflects the world in which we operate and can help solve the myriad of challenges that impact people and our planet," Domersant said. "The best way to drive innovation to the fullest extent is to ensure we have broad representation of different backgrounds and perspectives in the room because the reality is that diverse companies operate at a faster pace, drive unique solutions, and do so at a higher profit margin. They just do."
Leaving our comfort zone
Born in Haiti, Domersant came to the US at age 15. After finishing school and earning her degree she practiced law for 14 years and was a leader in global labor and employment at a Fortune 500 company for nearly a decade before coming to Deere in 2021.
A trial lawyer at heart, Domersant said she didn't see herself moving into a role like the one she has now until she spoke with senior leaders at Deere and learned about the company's strategic goals around recruiting world-class talent and fostering a workplace culture where people of different backgrounds and experiences belong and thrive. After speaking with them, Domersant saw opportunity in the challenge.
"What I am asked to do is push this global enterprise outside of its comfort zone as it relates to developing various strategies, whether it's on the talent acquisition side or the DEI side," Domersant explained. "Sometimes being someone who has an outsider's perspective really helps lay the groundwork for why we should have different strategies and different thought processes.
"I found that to be incredibly astute, particularly from an organization that is very much built from within to really open its aperture to bring in folks who have differing viewpoints and may not necessarily have the perspective of practitioners, but the perspective of leaders who lead strategy and change."
Putting Strategy Into Action
Delivering on its promise to grow its technological abilities requires the company to build and retain a strong talent base that goes beyond its traditional recruiting network. Everything—from processes to data—must be turned on its head and reviewed.
"We're a very engineering and data-centric organization," Domersant said. "Data-driven insights become more powerful when used as an engine for change. We have committed to analyzing our entire employee experience through the lens of diversity, equity, and inclusion. With these insights we can transparently drive change around where we are and where we need to be."
What makes us different?
While Deere will always be committed to its hard-iron roots, Domersant said, it has also become a cutting-edge technology company helping lead the way when it comes to autonomous vehicles, electronic propulsion and many other initiatives that exhibit the company's commitment to sustainability. But this is all made possible by our talent.
"Our technological advancements take center stage, but our people—that's the secret sauce to what makes us a differentiated organization," Domersant said. "To make rapid progress, we recognize we need to expand our external talent expertise to complement our ever-dynamic workforce."