A New Angle on Life
Pro motocross racer turned serial entrepreneur is building wellness from the ground up
Gene Stull's day starts with the crack of an egg. But it's not for him. "Here, Fuller," he invites his all-white husky to lap up the raw nutrients. "Good for his coat," Stull pats the pup and smiles, as a swirl of Tibetan-electropsy- jam music pulses from his phone, making his geodesic dome somehow even more otherworldly. While the biting between-season air blows dead leaves and stray rain around outside, the confines of the dome are perfectly comfortable.
"When I bought the property, I had plans ready for a traditional rectangle house. Then I discovered the dome. With my motocross background, I'm all about performance, so I started running a comparative analysis on the two options. They have similar costs to build, but the dome is much more structurally sound, requires less maintenance, and has 50-percent lower operating costs. It clearly outcompeted a traditional home — so here we are!"
TRIUMPH OVER TRAGEDY
Located 15 minutes north of Pittsburgh, Pennsylvania, Stull's two self-built domes are just the tip of the iceberg in his plan for the three-acre property and venture he's named Healthy Living Spirit. "The end product will be a full-service retreat center with meditation paths, hot- and cold-water-immersion pools, a springfed waterfall, and massage services, just to name a few — and we already offer gong baths for individuals and groups," says Stull.
Relatively new to the Western World, gongs have been used in Eastern cultures for thousands of years. Stull discovered their benefits after an especially traumatic motocross accident. With over 10 concussions already, Stull's symptoms required more than what traditional medicine was offering. "Basically, because I wasn't dizzy or throwing up, doctors said I was fine, but I still had long-term symptoms from the trauma, especially with memory, focus, and sleep. I knew there had to be a better answer out there than just doing puzzles, so I started looking for my own solutions."
ROCKET SHIP TO RELAXATION
Stull experienced his first gong bath while at a music festival and quickly became an advocate. "The gongs almost immediately induce a meditative state that replicates the benefits of sleep. When sleeping, the brain engages in different wave patterns and releases various endorphins that allow the body to heal and recover, whether that's from a regular day or traumatic stress. This is a game changer, especially for someone who has trouble focusing and sleeping! Also, having an appetite for optimizing performance, I was amazed by the benefits hiding in this 5,000-year-old technology."
Stull is eager to bring these performance-enhancing benefits to other racers, athletes, and average folks alike, especially in light of recent discoveries regarding chronic traumatic encephalopathy (CTE). "CTE is such a big issue today. It means a lot to share these wellness and performance solutions with people recovering from head and body injuries. Now that insurance companies recognize it as a form of recreational therapy, there's even more potential for growth."
So far, nearly everyone Stull has introduced to the gongs has turned into an advocate, even his former intern and now Murphy Tractor sales rep Jake Kramer. "I was definitely skeptical — I could not see how gongs could do anything for a person. One day Gene talked me into giving it a try, and my mind was blown." Stull's father, a seasoned biker who once tamed and kept a mountain lion as a pet, had a similar change of opinion. "My first impression was, 'Who does this stuff?' But I grasp it now — the gong relaxes you and takes care of mental stress. My body is all beat-up — I'm 70 years old — when I walk in there, I hurt. After a session with Gene, I feel like a new man."
MANIFESTING THE DREAM
Of course, bringing these benefits to a larger audience calls for a top-notch facility. To help his dream take shape, Stull is putting a number of John Deere models to work. "Growing up building motocross tracks, I've run pretty much every brand of equipment out there. Deere equipment is not only very reliable but easy to maintain, which is great for us guys who work on our own equipment. I've been really happy with the performance of the machines."
In addition to leasing a 35G Compact Excavator, Stull rented a 245G LC Excavator for bigger earth- and boulder-moving tasks, as well as a 317G Compact Track Loader (CTL). "The CTL is very effective for running dirt across the property in an efficient manner, and the availability of attachments is endless. They all have great cabs and controls, too."
The future looks bright for Stull and his goals with Healthy Living Spirit. Perhaps his dad puts it best: "Gene will be a winner all his life. When he faces adversity, he conquers it."
Healthy Living Spirit is serviced by Murphy Tractor & Equipment Co., Greensburg, Pennsylvania.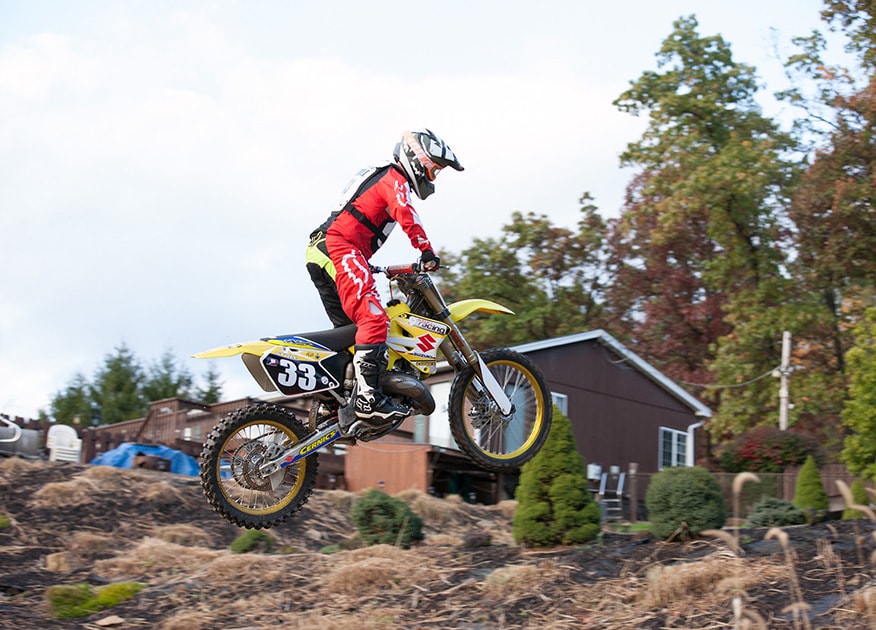 Work Hard, Ride Harder
Riding motorcycles since the age of four, Gene Stull is no stranger to the philosophy of going hard. As he grew up, he constantly beat racers three and four years his senior and traveled the country year-round to compete. The higher the competition level, the higher the stakes — and the harder the falls. Stull has been life-flighted out of races on numerous occasions, most recently when striking a tree branch, which broke his femur and fractured his skull, requiring a craniectomy and the temporary removal of his face.