Upcycling
A team of John Deere excavators and loaders helps turn Texas trash into treasure.
Walking into the yard at NOVUS Wood Group, the atmosphere is composed of two distinct elements: dust and a fresh, earthy aroma. As a wide range of wood types is sorted and shredded, the heavy Houston air is made even thicker, with the oppressive sun determined to make the site a sauna. Roaring engines making quick work of unwanted growth dispel any spa-like illusions, and even in the haze one thing is perfectly clear: these guys know how to turn trash into treasure.
ONE MAN'S TREES
NOVUS Wood Group of Houston, wasn't always in the wood-products market. In fact, its trio of partners originally opened their doors operating a landfill and the area's first recycling facility. As space became increasingly scarce, they undertook a key process improvement that led to an entirely new enterprise.
"Wood takes up a lot space in landfills because it doesn't compact like other items," explains Steve Ghormley, Vice President, Operations and Business Development at NOVUS. "So we started diverting all the pallets and wood debris to the side. At first, we didn't quite know what to do with it, but then it dawned on us to get a grinder, and we started making products out of it. Today, we sell seven types of mulch, soil-nutrient mix, biomass fuel, and cushioning wood chips for playgrounds."
THE DAILY GRIND
Developing new revenue streams is only one part of running a successful business — ensuring those streams keep flowing is crucial. The man tasked with keeping this 30-acre yard functioning at peak performance is Houston Facility Operations Manager Chris Casey. Also running his own ranch in his spare time, Casey isn't afraid of a little work, and his love for big machines makes him even more passionate about his job. "It's just a beautiful sight, honestly. Being here on a cool, crisp morning, watching that loader go in for a bucketful, and seeing all the steam rise off the pile — I love it."
When asked about the company's purpose, Casey confirms its beginnings and elaborates on its impact. "That's the name of the game. These materials take up so much space in a landfill. In turn, we also get to help people beautify their properties and homes."
We support 44 families. My father always told me, 'It's not about you. It's about the people.' Providing an opportunity for our employees to take care of their families is what's most important to us.
UP FOR THE CHALLENGE
Massive amounts of raw materials and constant hustle and bustle in a confined space make it challenging to keep the company's John Deere 624K Loaders running cool. "When we met with our salesman to spec out equipment, the automatic reversing fan that purges the radiator on the John Deere machines was a big plus," Casey says. "That helps maintain the machines throughout the day so they stay running at optimal temperatures."
THE NOT-SO-VICIOUS CYCLE
Of course, operating new and well-maintained equipment is a major step toward a safer work environment. "We buy our equipment on a 36-month, 6,000-hour, full-maintenance lease and swap it every three years," Ghormley explains. "In our experience, that has been the most cost-effective route. Plus, it keeps our operators in modern equipment, and being in Houston, the climate-controlled cabs are a big plus."
"Our operators definitely like the comfort of the cabs," Casey confirms. "And as for the 624Ks, operators also appreciate the self-leveling buckets and smart-shift feature. When they get into the pile with a heavy load, the machine automatically adjusts its settings and keeps tire slippage to a minimum."
"Johnny Simpson at Doggett convinced us to try this equipment back in 1992, and he's been a great asset to us ever since," commends Ghormley. "The Deere equipment has done exactly what he said it would, and any time we've had an issue, Johnny has been right there to back us up."
NOVUS Wood Group is serviced by Doggett Equipment Services Group, Houston, Texas.
All-Day Hustle
Take a quick look at how NOVUS Wood Group turns trash into treasure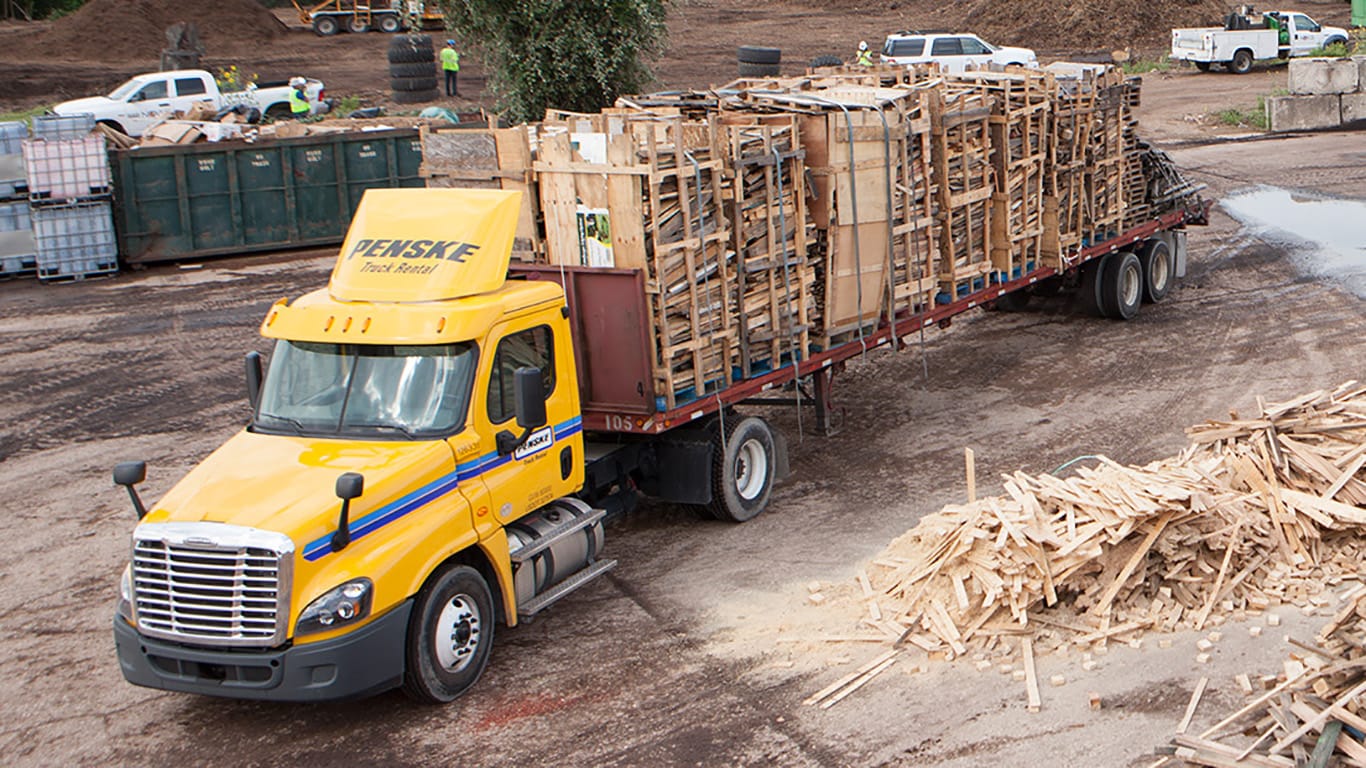 Step 1
Unwanted wood is dropped off.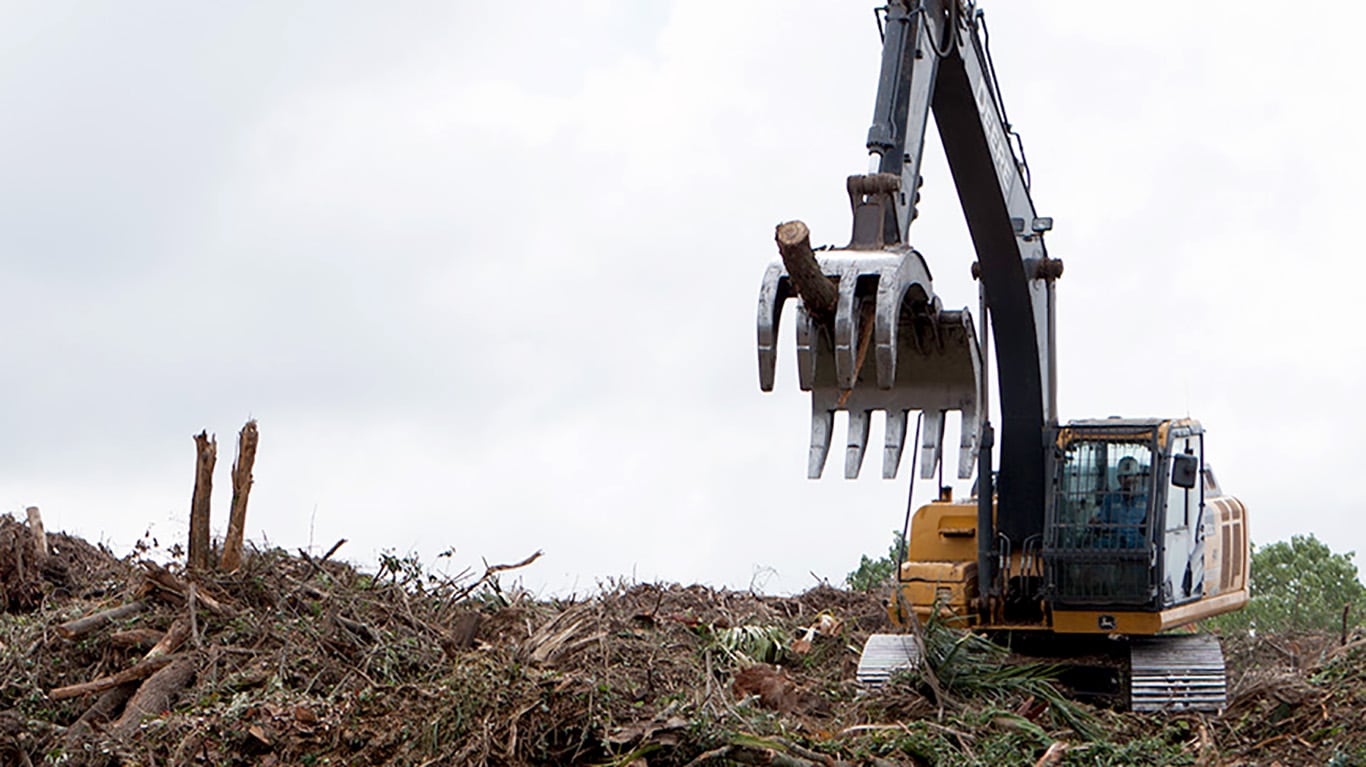 Step 2
A John Deere 210G LC sorts the debris and feeds the first conveyor.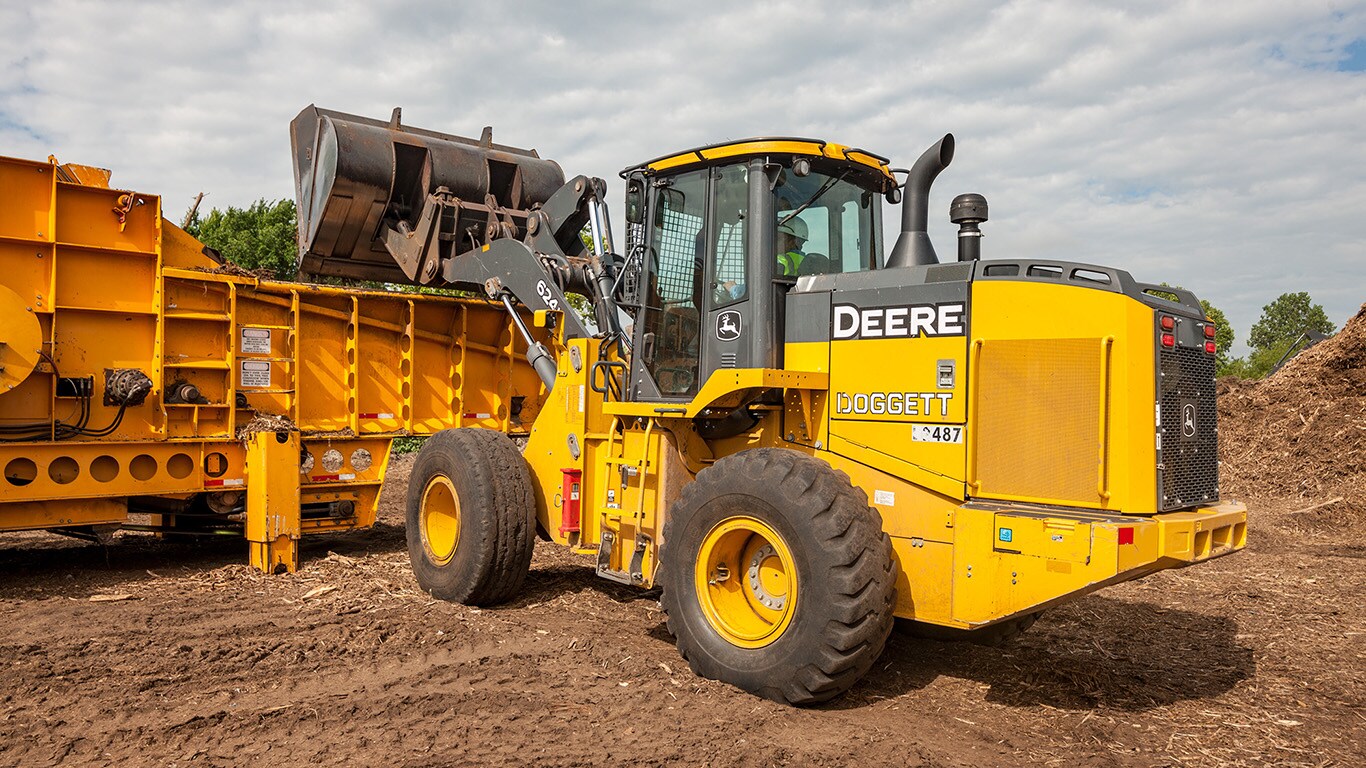 Step 3
Large grinders shred the material into various sizes.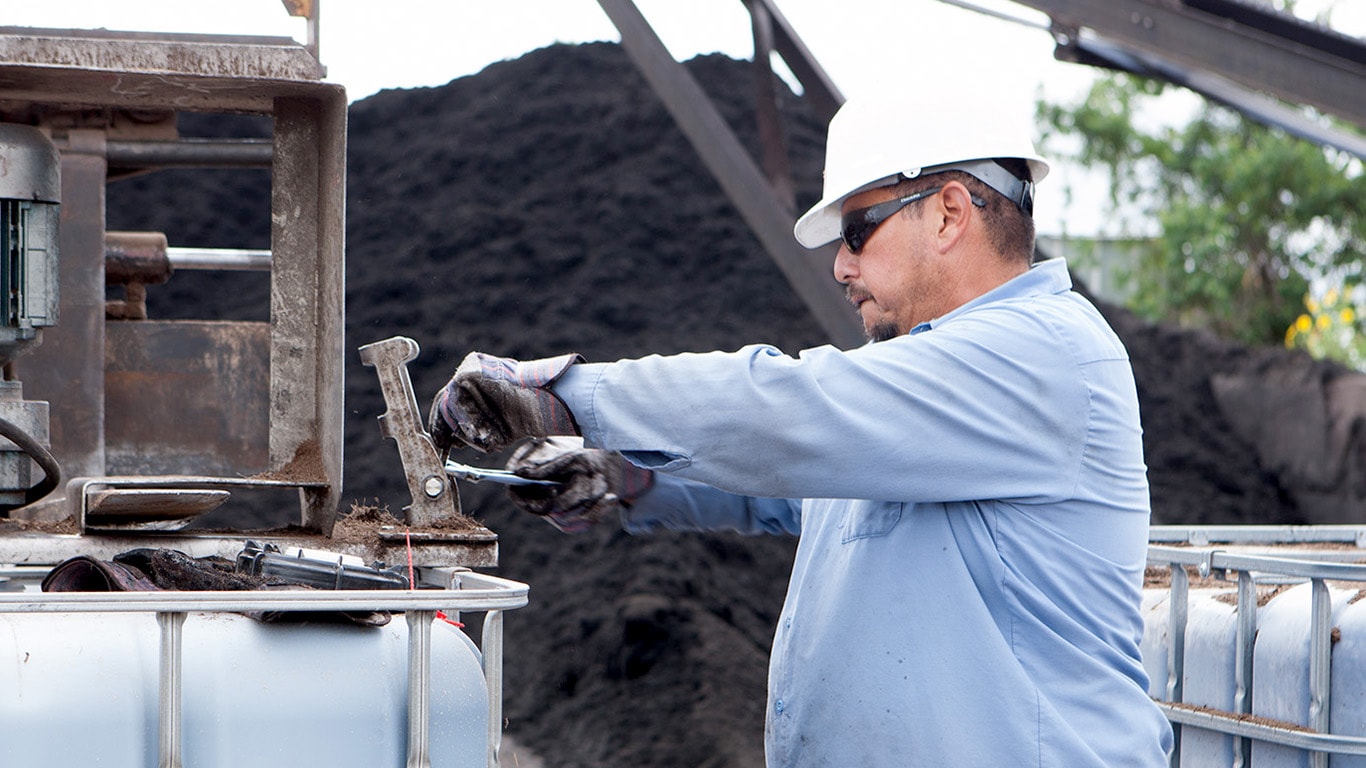 Step 4
Shredded materials are loaded to be dyed different colors.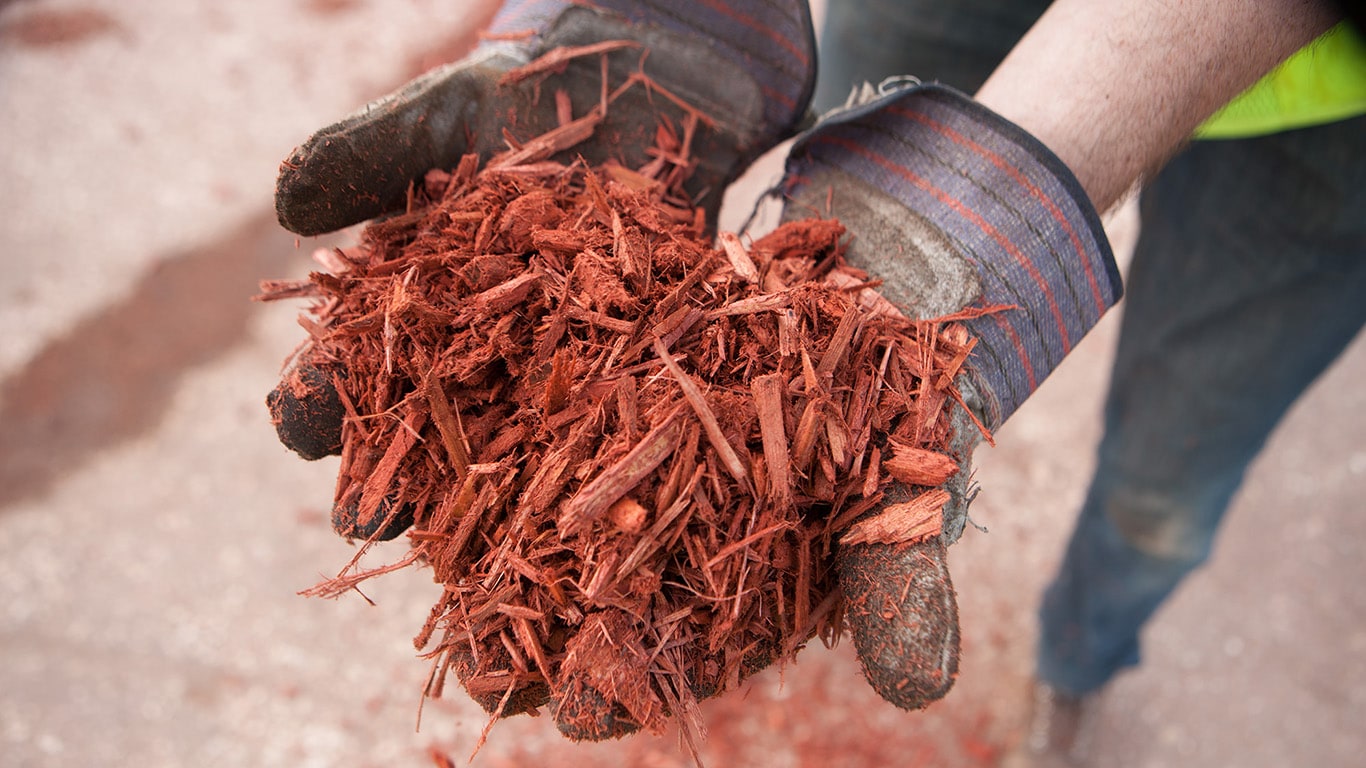 Step 5
Area landscapers return to purchase finished products.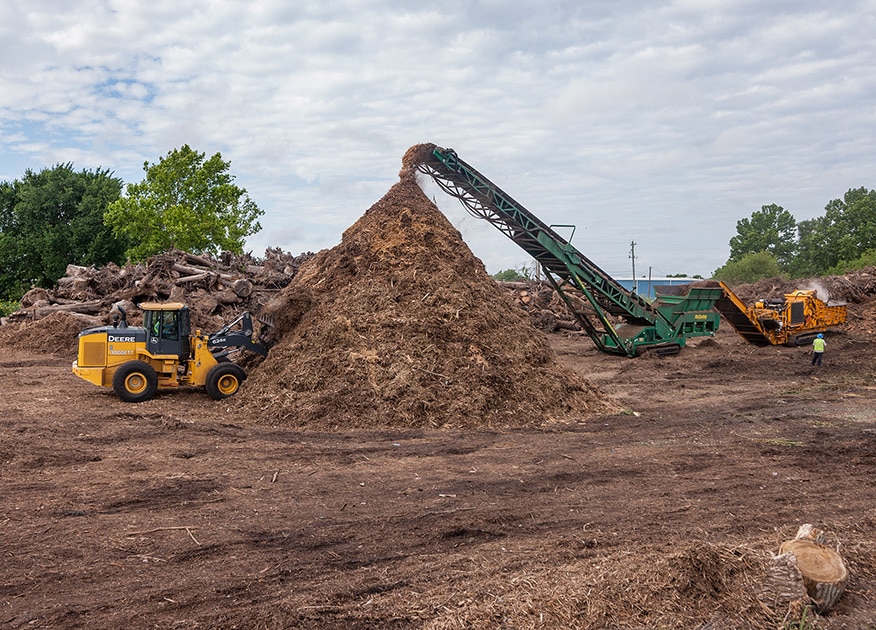 More Than Mulch
The group that pivoted from the landfill business to wood products hasn't stopped there. Back in 2011, when gas prices were at an all-time high, the enterprising gentlemen of NOVUS Wood Group of Houston, Texas, saw the value in converting their fleet of vehicles to compressed natural gas (CNG) and installed their own onsite filling station. Others in the area eventually got the same idea, and needing a convenient location to fuel up, inquired about tapping NOVUS Wood Group's facilities. Today, they hold the contract for Houston's fleet of city buses and operate four filling stations under the name Freedom CNG.