Thicker Than Water
On a warm June evening, 90-year-old Ralph Habbe sits at a small lakeside table with his son Henry and grandson Ryan. Together, they look out over the water and take in their first quiet moment of the day. Ryan has just returned from a demolition site, where he tore down an old concrete structure for a local transportation department. Henry built a road out near the power plant. And Ralph, never one to keep still for too long, spent the afternoon tidying up some hunting grounds on the family property. Three generations of hardworking Habbe men transforming the landscape of southern Illinois.
"Our first project was the lake you see right here," says the eldest Habbe. "My dad and I built it back in 1950. It used to be a cow pasture. We took out all the black dirt, hauled it to the fields, and built the dam. Now we've got this six-acre lake."
STEADY AS HE GOES
In its early days, the family business, R. Henry Habbe Excavating of Nashville, Illinois, focused primarily on ponds, lakes, and waterways. "We'd clear out the brush and start shaping: 45 deg. down, carve out a little flat spot, and round up the other side," Ralph says. "If we didn't shape those waterways perfectly, they didn't pass."
When Henry joined the company, he learned by his father's meticulous example. "A superintendent once said, "Watch your dad. He may not be the fastest, but when he's done, he's done." So I picked up a lot just by watching him. He's patient and steady. He does things right the first time. Dad always said you're only as good as your last job, so he treated every project with that same attention to detail."
GO WITH THE FLOW
To do things right the first time, Henry knows you also need the right equipment. "John Deere 210G LC Excavators are such versatile machines. You don't have to worry about dirt that's too wet — the 210G can handle it. You can take out brush and clean ditches. You can keep up with demolition work. There's always something for an excavator to do, so we stay busy year-round. They do exactly what you want."
As the business has grown, so has its demand for high-performance equipment. "Dad was out there all day running the excavator, but I wanted one, too," says Henry. "We had enough work, so we bought another one. And then we bought another. Now we run three excavators — me, my dad, and my son. We purchase a new one every year, put it on construction jobs, and trade in the oldest model. Sometimes we'll fight to run the low-hours machine, but the truth is, I've never cared which excavator I'm on. A three-year-old 210G is still an excellent piece of equipment. It produces every single day for us."
Dad always said you're only as good as your last job, so he treated every project with that same attention to detail.
LIKE FATHER, LIKE SON
Henry's son Ryan shares his father's love for Deere machines, but he's most inspired by what they help him do on a jobsite. "When you build a lake, that's something that lasts a lifetime. I feel a real sense of pride when I drive down the road and see a pond or lake we've helped design. I'm proud of everything we do — demo work, roadwork, water work, you name it."
The youngest Habbe operator is inspired by another side of the business as well. "Not many people get to work with their dad and grandpa every day. It's challenging at times, as you can imagine, but it's rewarding to learn from and work beside them. My son and nephew seem to have an interest in running equipment one day, too. I'd really like to see them follow in our footsteps. That's why I work so hard — to set a good example, just like my grandpa and dad did for me. I want to keep this legacy alive."
A NEW ERA
As the sun draws slowly to the horizon, the entire Habbe family — wives, mothers, and children — gather around the lakeside table, preparing for a late evening meal. "We're a family business," Ryan says. "Everybody's doing something. You won't see my wife, sister, or mom on a jobsite, but they contribute just as much as we do. That's what keeps us going. Everybody works together."
Just behind him, the children play construction in the driveway that separates Ralph's home from the lake he built 68 years ago. "I should've had kids sooner," Ryan jokes. "My working crew is getting a little up there in age."
Together, in those waning moments of the day, the three men, exhausted from a hard day's work, watch as their children, grandchildren, and great grandchildren fill miniature dump trucks with gravel and dirt — the next generation of Habbes to shape the landscape of southern Illinois.
Henry Habbe Excavating is serviced by Erb Equipment, Mount Vernon, Illinois.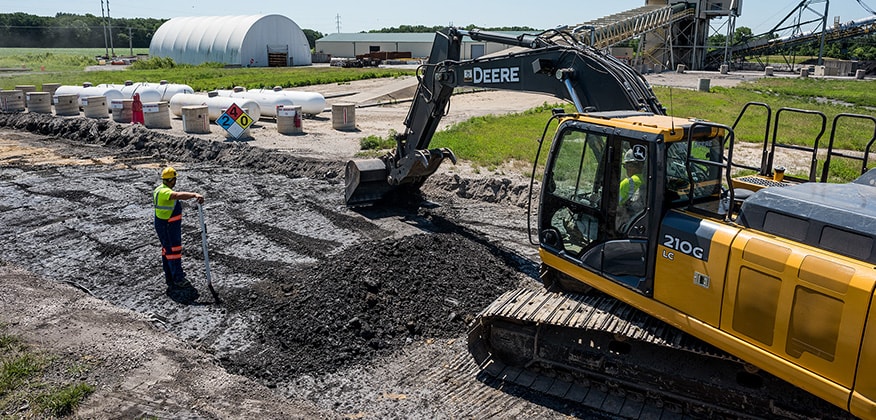 Working Together
For the Habbe family strong partnerships are the key to success. R. Henry Habbe Excavating has purchased 20 machines from Erb Equipment since 1997. "We do that because we love John Deere machines and feel supported by everyone at Erb," says Henry Habbe. "We need these machines every day — that's our living. If a machine is down, we're not making money. But Erb makes sure to keep us running, and that's what we need."