Dave Lemm: 2023 John Deere Fellow Award Recipient
Lemm's curiosity about why things break benefits the customer and the company
Dave Lemm would prefer his work was invisible.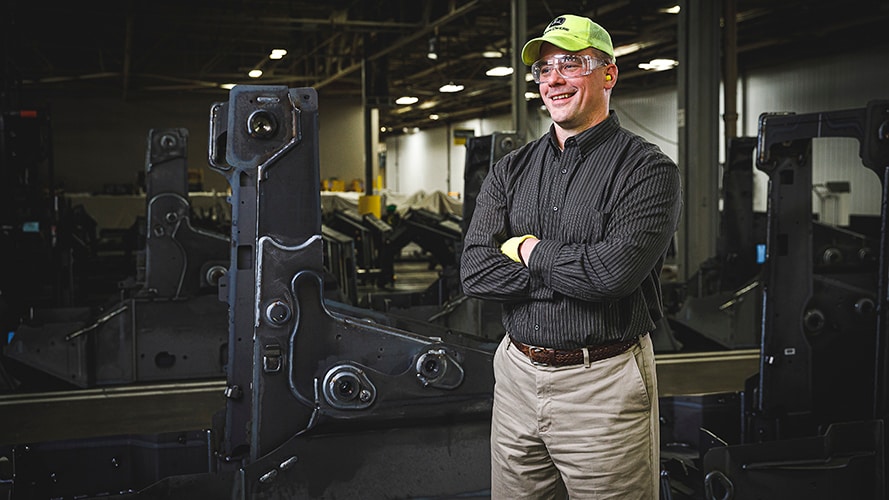 That thought may have first formed a block and a half from his current home in Dubuque. It's that short distance away where his childhood home stands and that proximity makes it easy for him to slip into memories of his youth and recall the hours spent playing in his sandbox curious about the physical world around him.
But Lemm didn't take toys apart or destroy them to better understand them. Instead, they were his treasures. And when they broke, he tried to make sense of it and would wonder what forces led to that outcome. Failure, he discovered, got his attention.
Today, as a principal engineer in structural analysis and methods development at John Deere Dubuque Works, that lesson carries through — with the stakes of failure much higher and the visibility it creates far-reaching.
"I started to make those connections between the fundamental physics of material science versus what you see happen on a daily basis," Lemm said. "I then tied that to what I do today and try to simulate those things. Being able to create that in a model with more and more detail helps explain what's happening in the physical world around us. To me that's the connection."
The scale — trading old car parts with John Deere construction equipment and a sandbox for a computer — uses a lot of the same concepts that drive Lemm to remain behind the scenes.
While much of what Lemm does may feel ambiguous, its impact is not. And while Lemm may wish for his work and the recognition connected to it to be anonymous, that particular failure is something he may have to live with — especially now after earning John Deere's highest individual honor of being named a 2023 Fellow Award winner.
Lemm, who's been at Deere for 22 years, said the goals that define his work are straightforward: "Make sure that our customers have a good experience with our machines."
A common language
To understand that simple construct is to also understand a complex world where building machines goes miles beyond connecting parts like pieces in a puzzle. It's here that Lemm is credited with "pioneering a new simulation method" that "formed a universal vision for abstract modeling."
He also took an excavator design from concept to production in a global market by bringing teams together from three countries while helping Deere's Construction & Forestry (C&F) division expand its products globally for the first time in the company's history.
That success leaned on Lemm's communication skills as much as his problem solving, allowing him to lead design, failure analysis, some aspects of manufacturing, and physical test development.
His understanding of structural analysis gave him the ability to form a vision for abstract modeling, the benefits of which form an exhaustive list worthy of Fellow Award recognition. For example, this process has standardized analysis models, automated model building processes, increased model fidelity, improved geometry collaboration with design and manufacturing teams by identifying a common language, allowed for simulation software flexibility, increased efficiency, facilitated global knowledge management, and enabled earlier product development process analysis.
"What we're really focused on now is how we build models — the geometry — and how we integrate the analysis team with the design team and with the manufacturing team so that we're all speaking the same language," he said. "When we're looking at the models we strive to have the starting point for all of us as the same piece of geometry — a 3D representation of all of our parts."
Central to that is figuring out how to translate customer use of Deere C&F equipment and turning that into simulations and analysis to predict how long they're going to last. But, Lemm added, that doesn't mean overdoing it and turning a blind eye to cost.
"That might sound simple, but that's been a long journey over 20 years and we're still making progress on that," he said. "That's my highest level of responsibility to the company, to make sure our structures satisfy our customers and the business."
Successfully bringing multiple teams on board, Lemm said, represented the strength of Deere's culture and was key to the project's overall success.
"John Deere has always been open to a type of approach that's conducive to innovation and the ability to try new ideas. It's about the courage to have some new thoughts and figuring out ways to implement those thoughts and figuring out how to bring teams together to believe in those thoughts," he said. "And once you trust that management understands where you're coming from that removes the fear of exploration."
That exploration, Lemm has learned, can start at home in the simplest of places and eventually take you just down the street and around the world, allowing you to make the biggest of impacts — whether anyone notices or not.