Rural Living, Specialty, Niche
December 01, 2020
Maker Magic
ELEVATING RUSTY TREASURE AND FAMILY HEIRLOOMS TO ART.
Blue and yellow sparks cool and fade before flittering out adding another speck of ash to the dusty shop floor. Erin Thormodsgard flips up her welding helmet, simultaneously concealing a towering pile of wildly twisting brown curls and revealing a radiant smile. Here in the heat and the dirt and the noise is her happy place. It's where she dreams and creates. Where she breathes fresh life into rusty mementos of times long past. It's a far cry from where it all began. Sitting just feet from a 12-foot-tall rearing scrap iron horse statue outside her Miles City, Montana, shop, Thormodsgard recounts her youth. "Paints, plaster of Paris, any supply or tool I could get my hands on I would spend hours using to create and piece things together in my bedroom," the 36-year-old artisan says.
A gift from an aunt introduced her to her signature medium — metal. Specifically, spoons. "I knew I would never use a nice silver set, but thought it would make nice ornamentation," she says. So she started cutting it up and experimenting. (Unclutch your pearls heirloom keepers, you'll like where this path leads.) A rudimentary start produced simple key chains and Christmas ornaments as she self-taught how to solder, bend and coax new beauty from the utensils. Her designs grew in complexity. Soon, with the encouragement of impressed friends and family, she was on the road making the rounds to regional craft shows to sell her creations. Serving fork cuffs, simple bracelets stamped with words of inspiration, fork tine earrings, utensil handle cross pendants and rings. Some works featured added stones, some mixed mediums such as leather. Some pieces simple, others complex, like spoon bowls wrapped around pearls to make little pea pods. Her work was well received and she started doing custom jobs.
Karen Stevenson has commissioned several projects. One was having Thormodsgard create multiple pieces of custom jewelry from Stevenson's grandmother's silver for the women of the family. "In Erin's hands it became a way we could all honor the memory of our ancestor. It gave the silverware new life instead of just being something hidden in one person's cupboard. What a gift to my family," she says. Thormodsgard slowly grew her business, "Girl Ran Away With The Spoon." Steady work had her outgrowing her front porch studio, then two retail locations before she bought her own building. An aged treasure, like her preferred mediums, the formerly drab and slightly crumbling historic brick building now features a gleaming giant spoon composed of hundreds of — you guessed it — spoons.
Building up. A true creator, Thormodsgard felt the itch to move on from jewelry. Over the years she's collected retail clients from Montana throughout the U.S. to France to Australia and developed a thriving online presence. She has hired on apprentices to help create her perfected jewelry designs. "I wanted more. I wanted to build big things," she says. So she had her husband, Dan — conveniently a welder/fabricator/machinist — to get her started. "He gave me the 30-minute, 'Here's the welder, these are the settings, this is how you turn on the gas,' basic tutorial and I had to sort of figure it out from there," Thormodsgard says. "I made some horrible stuff in the beginning!"
As with most things, with practice came skill. Sticking with spoons, she created flower lawn ornaments. She turned a cutting torch on old handsaw blades transforming them into rusty tree and feather wall hangings. People brought her many sentimental metal scraps and asked her to do something with them. On her workbench this hot summer day were two custom jobs — a dented cream can and rusty water hand pump — one of which came all the way from Iowa. To each she added spoon and fork flowers and spoon wheat heads atop re-bar stems. The cream can featured two spoon and fork frogs climbing its side and a table knife dragonfly perched near the handle. "Adding these elements elevates things like the water pump to a piece of art instead of just another piece of rusty junk in a yard," she says. Not that she has anything against rusty junk. It's her inspiration after all. Old farm and homestead iron are frequent materials. She was inspired to make the spoon wheat heads when working with an auger and some old John Deere parts. "It was farm equipment, so I wanted something to connect the pieces that made more sense than flowers," she says. It's been a hit. Since that first piece, she's made thousands of spoons worth of spoon wheat.
Taking on life. Though she'd dabbled in sculpture in school, Thormodsgard never thought she'd do figural scrap metal work. She'd done simplistic versions of small things, like dragonflies, but hesitated to go big. A small rabbit and magpie created for an art auction were just the baby steps she needed. "It was a lightbulb moment, like, 'OK. I love this!' I love the challenge of figuring out how to adapt these materials and turn them into something. I spend a lot of time building in my brain before I ever get to the shop," she says.
Next she tried busts — a few horses and a buffalo painstakingly pieced together from tiny bits and bobs from her scrap pile. Then she took a leap, creating a full-sized running deer. Karen Stevenson who grew up with a legacy of dryland wheat farming simply had to have it. "All its pieces tell a story and I can relate them to my story. The breast of the deer is a John Deere tractor plate. My brother, who farmed with my dad, can point out bits and pieces of equipment that would have been used on our farm," Stevenson says. "To me it takes family history, even state history, and it honors it." With farming roots herself, Thormodsgard takes pride in preserving the history of place. "In eastern Montana we don't have a lot of grand buildings or real physical history. The little homesteads are disintegrating and the iron is all that lives on. Repurposing it into art brings it new relevance and shines a light on that time period," she says.
Both stainless steel and rusty iron animal sculptures from her shop now grace multiple area acreages. When she was commissioned to do public pieces — a mare with foal bust for a local park and a giant full-body bronc for a new roundabout — she felt a new connection. She spent literal years finding the perfect pieces — hoof nippers, rasps, plowshares, pliers and so many more bits and bobs — and bonding them together to create art with meaning for her community. The jobs were daunting, but she embraced the adventure, learning and improving as she went. "I'm awed by the permanence of it. These will be around long after I'm gone," she says.
Read More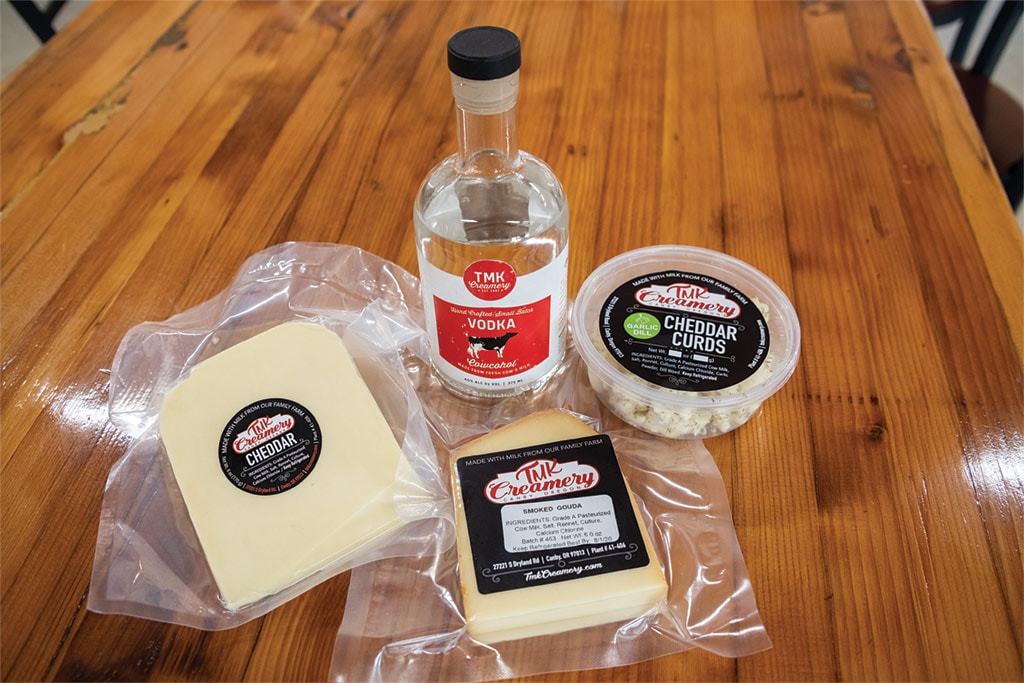 Agriculture
Milk with a Kick
Whey-based alcohol complements boutique cheese.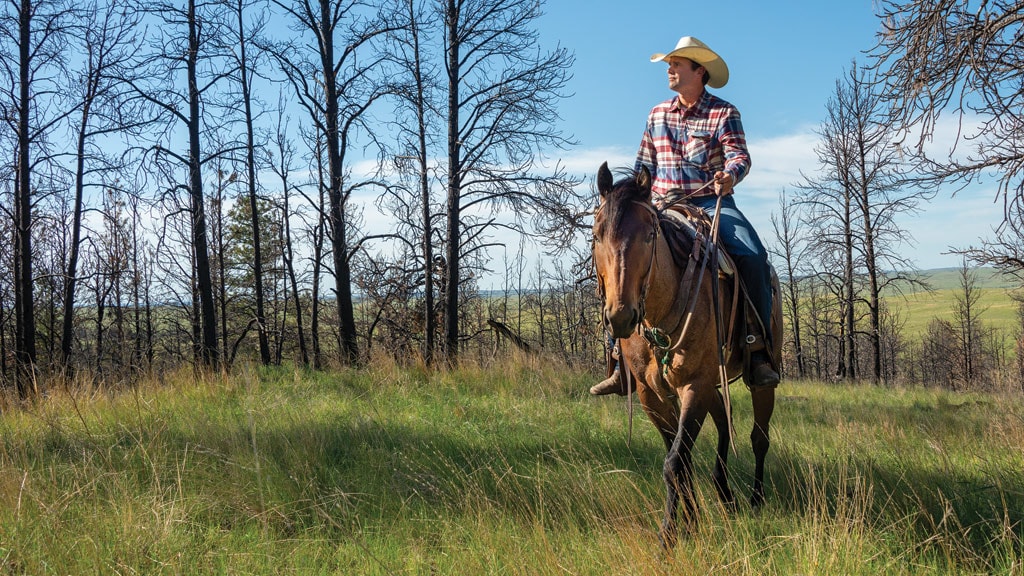 Agriculture
Farm Phoenix
Finding the good in recovering from a devastating fire.