Niche Markets
September 04, 2020
Terre des Bisons
Quebec bison ranch turns to Plan B.
COVID-19 hit the Montreal region of Quebec hard in 2020, but La Terre des Bisons is going to be all right. March did look grim; all the plans that Josée Toupin, Alain Demontigny, Jean-Philippe Demontigny, and Geneviève Leclerc, had made for the coming season for their Rawdon, Quebec area bison farm, were mired in clouds of uncertainty.
The European group tours coming to see their bison and elk had evaporated and the high-end restaurants, across the Lanaudière region, that featured their products were shuttered. The only income stream they had left came from sales of their fresh and frozen bison meat and other food products in their farm store. Fortunately, they had a Plan B.
Online portal. "We were able to keep our farm store open through the lockdown but the numbers of visitors to the store went way down," says Jean-Philippe. "So, we made a decision to move ahead with our plans to launch an online store (terredesbisons.com) to try to recapture some of our lost sales. We'd wanted to create an online sales portal for some time, but the coronavirus pushed us to move ahead with it a lot sooner than we were planning to."
It was great timing; consumers were quite concerned about food shortages at the start of the pandemic. Their website allows customers to order a wide selection of bison and elk products. There are various boxed meat packages as well as ground bison or elk, meat pies, pâtés and tartinades (spreads). A collection of stuffed children's toys are available too.
"It's generated a lot of excitement with our customers," Jean-Philippe says. "It's been very well received. They like the option to pick up their order at our farm store or have us deliver it to Montreal or on the North Shore."
Josée Toupin and Alain Demontigny, Jean-Philippe's parents, purchased the Rawdon area farm in 1992; no animals had been raised there for twenty years.
The romance of the bison. They purchased their first bison in 1994 and started selling meat at their farm store in 1997. The couple chose them because they fell in love with their history; the romance that surrounds them in native cultures and the tragedy of their near extinction during colonization really appealed to them. They currently have about 100 breeding stock on their farm.
"Bison is a great meat," Jean-Philippe says. "It's a very healthy, lean, red meat that's very high in iron. Ours has a slightly more wild gamey taste than you would expect from beef. This is partially due to our grass-fed protocol using grass and hay that we grow on our farm. They don't receive any supplemental grain or corn."
The family made a decision early on to only sell their meat through direct farm sales to maximize their returns. In normal years their farm store accounts for about 80 percent of their sales; the remaining 20 percent come from area restaurants. The animals are slaughtered at a nearby federally inspected slaughter plant, but they cut their own meat and do all their value-added processing at their own facility.
"Bison striploins and rib steak are very popular in barbeque season and cubed bison brochettes are always in demand," Demontigny says. "We're always looking for ways to better utilize all the cuts; that's why we developed our bison meat pies, tartinades and the rest of our product line."
Impact of tourism. Rawdon is located in the heart of cottage country in the foothills of the Laurentian Mountains and one hour north of Montreal. Tourism has always been a big part of La Terre des Bisons' operations. The farm is located 10 kilometers from the major highway in the region so when Jean-Philippe and Geneviève joined the family business, a decision was made to improve their facilities to draw in more visitors.
"We opened our Bison Interpretive Centre about four years ago," Jean-Philippe says. "It's like a natural history museum, a place where visitors can come and learn about bison and the role they played in native culture and European colonization.
We've created a nice hiking trail too that customers can take to safely see bison and elk in our paddocks. There is signage along the route with stories and information about the animals and explains the history of our farm. Customers are fascinated by them; we constantly receive feedback about how astonished people are to find a place to see bison in Quebec."
COVID-19 won't last forever. For now, the family used the downtime to revamp their Bison Interpretive Centre. Visitors can now safely view the displays while following social distancing guidelines. Advance tickets are available on their website and are on sale at their farm store. It's been generating a lot of interest so they see it as a good sign that the tourists will return when the provincial government eases more of their COVID-19 restrictions.
All the changes the virus brought really shook up our operation, Jean-Philippe says. "Nobody was expecting anything like this. We are just trying to do our best under the circumstances. Fortunately, we had been planning to add an online portal. It was on our to-do list anyway. We just pushed up the timetable."
The coronavirus provides a stark reminder that even the best laid plans sometimes have to be changed in a hurry. For farms like La Terre des Bisons it really pays to have a Plan B in your back pocket.
Read More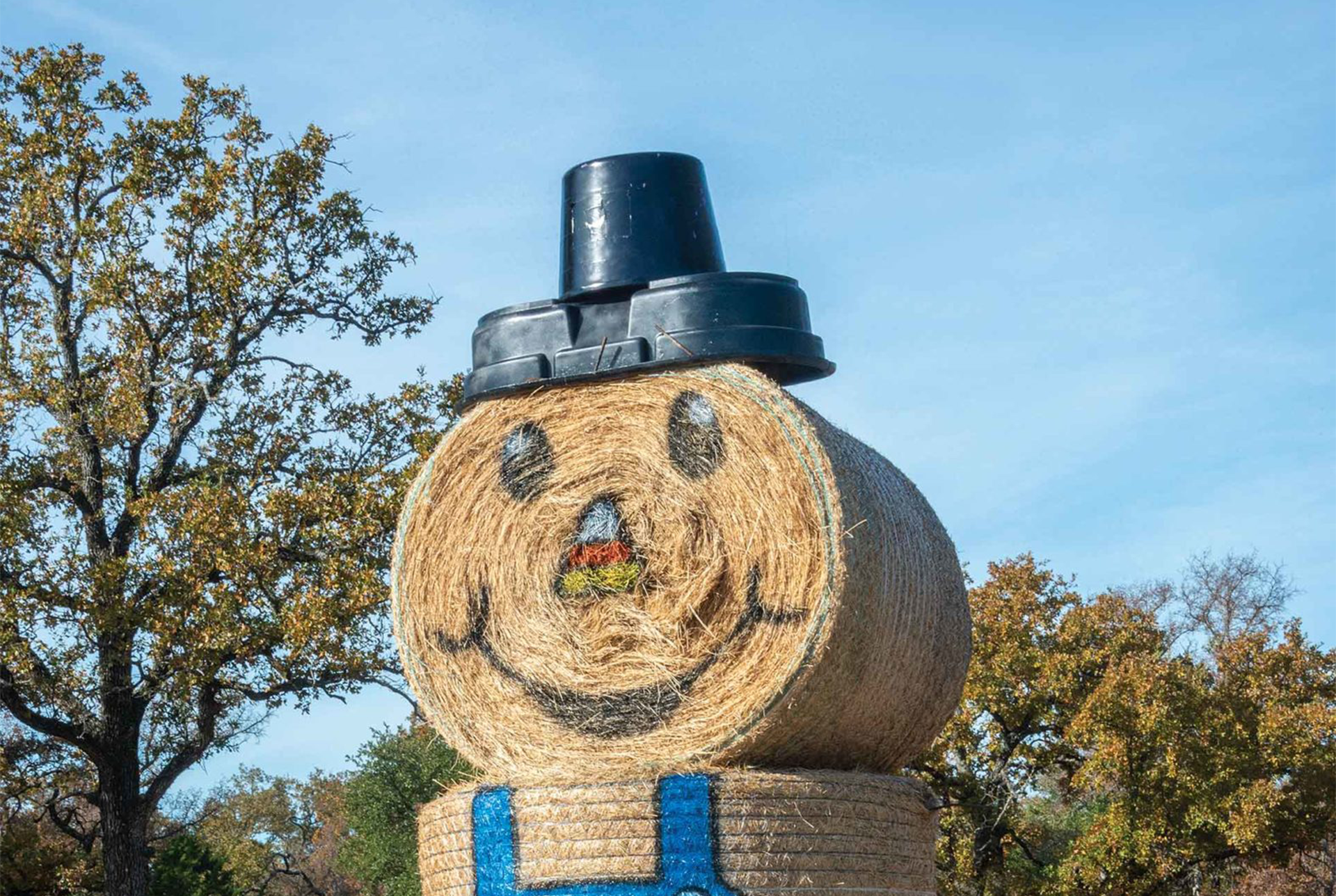 Rural Living
Hay Bale Art
Creativity is being sparked by bales of hay.