Agriculture
January 01, 2022
It's OK to Brag (Sometimes)
Sharing your goodwill stories may help connect with consumers.
"You'd be hard pressed to find a group of businesspeople as generous as those in agriculture, but you'll also be challenged to find a group as humble about their generosity," says Derek Azevedo of Bowles Farming in Los Banos, Calif. "You know the stories of buying a vehicle for someone to get to work on time or helping with some financial or family hardship."
He says farmers are raised to be humble and helpful. "They were raised not to really talk about those things." It may be time to start talking, though.
"A good place for us to start telling our story that could actually humanize agriculture and connect with consumers," he thinks, "is to brag about some of the goodwill and the community support we as farmers provide."
Go ahead and tout. Young, middle class women are leading the conversation about our food system, according to Roxi Beck, Center for Food Integrity researcher. And they expect suppliers to be socially conscious.
"We have a population of more 'haves' than 'have nots' dictating what should happen in the supply chain," she explains.
"They say they want to hear about your tillage practices, but in reality, they want to know you are human."
The data is clear, Beck says. "Shared values are three to five times more important than just facts about how you farm."
This means Azevedo is right; it is time to tout the good things farmers do for their employees and communities for two reasons.
The first is your 'right to farm.'
The research shows connecting on shared values builds trust and earns "social license," which translates to your 'right to farm.'
"Farmers wear all kinds of hats. Talking about the ones they wear off the farm in their community is not bragging," Beck explains. "It's communicating the passions they share with people."
The other reason sharing this part of your farm's story is important is labor. Especially in today's labor market, sharing how you value and support employees can help attract and keep good staff.
Show your values. Azevedo and his colleagues at Bowles Farming know the win-win of talking about their generosity, specifically their scholarship program.
"Every company has a culture, whether you choose to manage it or not. As part of ours, we value and promote education," says Azevedo.
Each fall they give every employee's child and grandchild school supplies and a stipend for new clothes or other goods.
Children in college can also receive $1,000—or more depending on the type of school—for tuition for up to five years if they maintain a 2.0 GPA.
"Our scholarship program is an element of completeness when we look at sustainability. It is one thing to say we value education; it is another to support it like this. And we have received a lot of positive feedback on this program."
The PCA on staff, Wayne Pricolo, has two children in college who receive the scholarship. "That's $10,000 for their tuition. Do you know how much that helps me? It's something that really sets Bowles apart as an employer," he says. Pricolo's son, Colton, also interned for the farm last summer.
Azevedo knows a program like theirs probably isn't possible for a smaller farm but says calling something out that aligns with the farmer's values can make a big impact, no matter how normal it may seem in the moment.
He urges every farmer to tell their story of generosity because "you never quite know what matters to folks or what will stick, but you have to put all those little seeds out there." ‡
Read More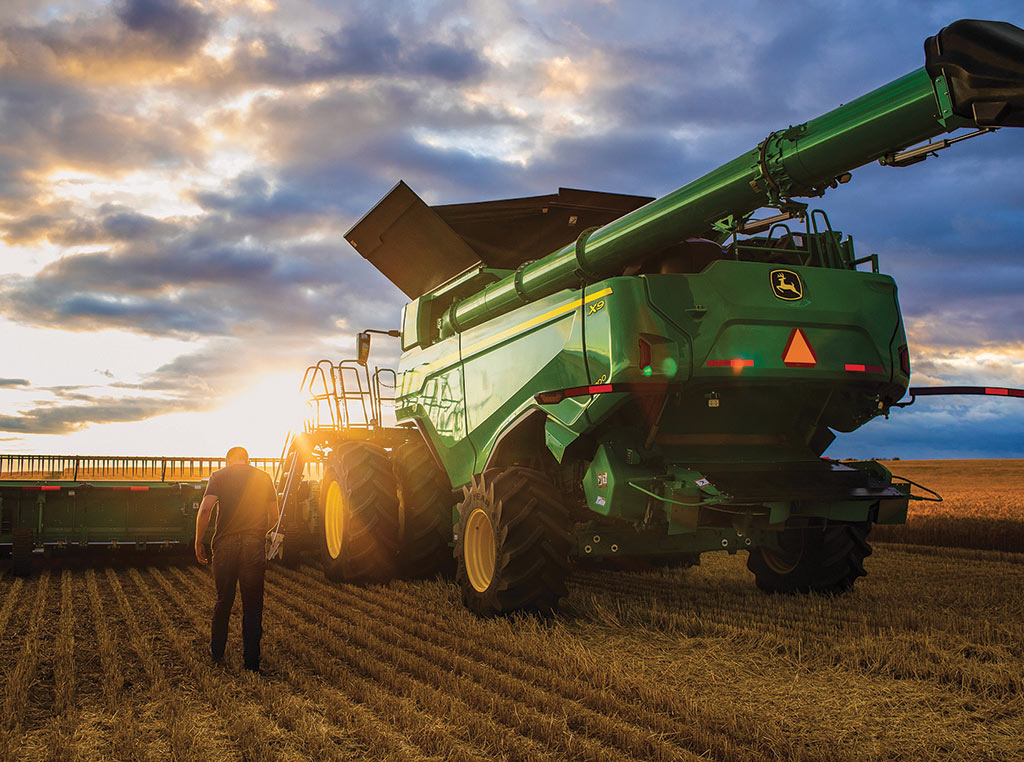 AGRICULTURE
Flagship Combine Honored with Prestigious Design Awards
The 2021 lineup added two new models of X Series Combines.