Agriculture, Rural Living
March 01, 2022
Secrets of Mesquite
A rural Mexico start-up turns a nuisance tree into food.
When Victoria Olivares waves a long stick of bamboo-style cane high into the branches of a wild mesquite tree, lemon-yellow catkin flowers jiggle among the leaves like pipe cleaners, and a few dried-up old bean pods flutter down to a plastic sheet laid on the ground. The legumes were plump when they were ripe last spring, but by this time in winter they've withered. Olivares gathers them anyway. They'll be good for the cows.
The farmer's wife isn't here to collect old beans, though.
The tree is part of a mesquite woodland on the alluvial floodplain of the Rio Salado inside an extremely diverse region in south central Mexico called the Tehuacán-Cuicatlán Valley. The arid and semi-arid hillsides and riverbeds here contain one of the greatest concentrations of plant and animal life in the world, although you wouldn't guess it.
The landscape seems to support more thorns than leaves.
At another mesquite tree nearby, two of the people with Olivares, Minerva Cruz Vasquez and Richard Hanson, press their fingers into dark sap that bubbles on the trunk. They dab some of it onto their tongues, then spit in disgust. The sap tastes foul. Olivares breaks out laughing.
But there's a part of the tree that tastes far from foul: the legumes. That's why Cruz and Hanson are here. They've driven three hours from their workplace to have Olivares show how in springtime when fresh legumes hang fat and in clusters, she'll shake hundreds of them off the tree and collect them on the ground. They'll then be transported across the desert valley and over a mountain range into the neighboring Etla Valley, where they will be dried and milled by a new cooperative into flour.
There's good reason for the effort: "These mesquite pods have better flavor and nutrient concentration compared to those in the central valleys," says Cruz. She runs the new cooperative, called Xuchil Natural Foods. Not everyone believes that mesquite beans can be eaten by humans; people are used to feeding them to animals. But Cruz and her Xuchil team are betting that once people try the gluten-free, high protein flour milled from these bean pods, they'll want to keep it on hand.
The cooperative formed in 2015 when its members — Zoraida Perez, Petronila Hernández, Antonio Garcia, and Carlos Lopez — identified existing resources (water, solar, natural edible plants), then developed a business plan. After flavor and nutrition profiling, the group determined these particular pods were of the highest quality, and once cleaned, dried, and milled would make an exceptionally delicious flour.
The tree is the Prosopis leavigata, or smooth mesquite, one of 44 mesquite species in the world, and native to not only Mexico, but also Bolivia and Peru. It is considered threatened by the International Union for Conservation of Nature. In Mexico — as in many countries — mesquite trees are often ripped out to make way for farm fields and roads. But here in this boulder-laden river bottom of the Tehuacán-Cuicatlán Valley, they've largely been left alone. That's good for Olivares because she's earning a little extra income from the trees, thanks to Xuchil.
Ancient farming. The cooperative's success is linked closely to this valley. Archeologists have unearthed evidence that ancient people were cultivating beans, corn, and squash here 6,000 years ago. They've discovered remnants of irrigation systems — dams, canals, and aquifers — that are 2,000 years old. UNESCO listed the region for protection in 1998 and 2018, citing the value of its 36 plant communities that include more than 3,000 species of vascular plants and represent 70% of worldwide flora families. It sustains 134 animal species, 356 species of birds, 53 species of reptiles, and between 15 and 24 species of bats, according to UNESCO. The heritage of its human residents is diverse, too. They descend from seven different ethnic groups, some of which were active here 10,000 years ago.
"The semi-arid climate, access to water, and mineral rich soil are apparently what set these beans apart from the deserts in the north where mesquite grows everywhere," Hanson says. "We know that the beans are thicker, longer, and sweeter."
Hanson and his wife, Sarahi Garcia, founded the nonprofit Tejiendo Alianzas (the Spanish name means weaving partnerships) in Oaxaca a few years ago to connect rural start-ups in villages like Xuchil with experts who help them to succeed. In addition to the village of Santiago Suchilquitongo, where Xuchil is located, they work with communities like Santa Maria Ixcatlan, where they support palm crafting and mezcal projects, and San Dionisio Ocotepec, where they assist makers of shoes, mezcal, and chocolate. "We are active participants in marketing, promotion, product development, research, and sales," says Hanson, who moved to Oaxaca from Texas 12 years ago. "Tejiendo Alianzas links us to many worlds, from agriculture to artisan craft, both of which are incredibly important in Oaxaca."
An important move for Tejiendo Alianzas was to connect Xuchil to the National Polytechnic Institute in Oaxaca. "We partnered with a professor and graduate students to identify the proper way to dry the beans in order to not lose their nutritional properties, while making them easier to mill," Hanson says. "The sugars make the inside pulp very sticky, so drying it as much as possible makes a huge difference. We also sent the flour to a nationally certified lab to get the official nutrient breakdowns that we can put on our labels."
Research on the human food value of mesquite is also happening in northern Mexico and the southern United States. Depending on the species, the pods can have 7 to 22 percent protein, according to researchers. They contain potassium, manganese, and zinc and up to 41 percent sugar, mostly fructose. Lab tests showed the Xuchil beans have protein levels of 19 percent.
"It is a yummy superfood," Hanson says.
Spreading the word. Making a good flour was only half the battle for Xuchil. The other half was helping people to learn how to use it. Hanson turned to professional chefs to spread the word. Oaxaca's culinary culture stems from its agricultural abundance. People make elaborate meals at home, and inventive restaurant chefs serve an eager community of visiting and local diners. "It's really impactful here in Oaxaca when people can say, 'We have this high-quality product, and it's not only made by local people, but also made with local natural resources,'" Hanson says. Oaxaca's chocolate, chilies, and an old regional favorite, fried grasshoppers, are popular on many café and restaurant menus… Mesquite flour? Not as much right now.
Food journalist Fred Jimenez has worked out many mesquite recipes for Hanson and Xuchil. Recently, he was a chef at Exhacienda Guadalupe, a retreat center that is also home to the design center Oax-i-fornia, which promotes local artisan crafts. "The flavor intrigues me," says Jimenez, who's tested the flour in everything from fettuccine and fried chicken to banana bread and pan de muerto, the bread served during Day of the Dead celebrations. "It's between sweet and something like the husk of wheat or toasted wheat. I wanted to experiment with that little pinch of sweetness."
Joseph Gilbert is chef-owner of El Destilado, a contemporary place in Oaxaca's historic center known for its novel multi-plate chef pairings. Mesquite flour makes the crust of his key lime tartlet more dense and nutty-tasting, and gives an earthy depth to the spread of crumble he serves with homemade ice cream. He's using Xuchil's beans in culinary experiments with seasonings made from an edible Japanese mold called Koji. "Mesquite flour lends a depth of smokiness and sweetness," he says, "similar to the effects the wood has when using it to smoke food products."
Hanson and Garcia also test the flour at their Oaxaca home. "We're making a sweet extract that is used in many ways – in ice cream, in butter, in mixed drinks," Hanson says. "There's a byproduct I toast and mill in a coffee grinder." He brews it with hot water and drinks it every morning. "It tastes like caramel coffee."
To refine their production, Hanson has connected the Xuchil team with engineering students at the University of Texas, Austin, who design and test equipment prototypes in their classrooms, then visit the Etla Valley during spring break to help build final systems. Last year they constructed a greenhouse outfitted with mobile racks. The cooperative also built rinsing and drying stations on the rooftop of its headquarters, taking advantage of the intense solar power concentrated there.
"The earlier dryers were efficient, but we just had a very low capacity," Cruz says. "We could dry a maximum of 24 kilos or so of beans in two days. With this new greenhouse system, we can dry up to 120 kilos in the same period. The drying process itself is fundamental in our production."
The word collaboration comes up a lot at Xuchil headquarters. "One thing that's really important to this project is the social part, the idea of spending time with another human being," says Xuchil's Antonio Garcia Lopez. "Like with the harvesters — we eat with them, we spend time with them. They like how we're collaborating with them, and we see that our purchases of beans from them are definitely increasing the incomes for families."
Tree mystique. Back in the Tehuacán-Cuicatlán Valley, residents are not surprised that their mesquite trees have lots of value. They've known that bit of wisdom all along.
"We use the resin as a natural glue when we make piñatas," explains Javier Ortiz Bautiste, who owns Tio Jose's restaurant. "You can also use the resin for medicinal purposes. If you hurt yourself, if you break a bone, or you have some kind of injury in your arm or leg, you can apply the resin. It reduces the pain." A tincture made from the leaves can soothe sore eyes, and the sap that Cruz and Hanson found so bitter is a self-generated salve the tree uses to heal its own wounds.
For the eight or so women Xuchil employs as harvesters, the local trees are an economic windfall. The work adds an extra $40 to $80 a season to incomes that are tied to the farming of crops like papayas, melons, and the fruit tree chicozapote.
As Cruz, Hanson, Olivares and the rest of the group exit the mesquite woodland after their harvesting excursion, Ortiz and Olivares point to how easily tender young trees are already sprouting.
Later at her home, Olivares serves up hunks of fresh bananas to the hungry crew. The $4 U.S. per 15 kilo bag she'll make from Xuchil this year will help her to buy beans, corn, and medicines for the household. She smiles at that. ‡
Read More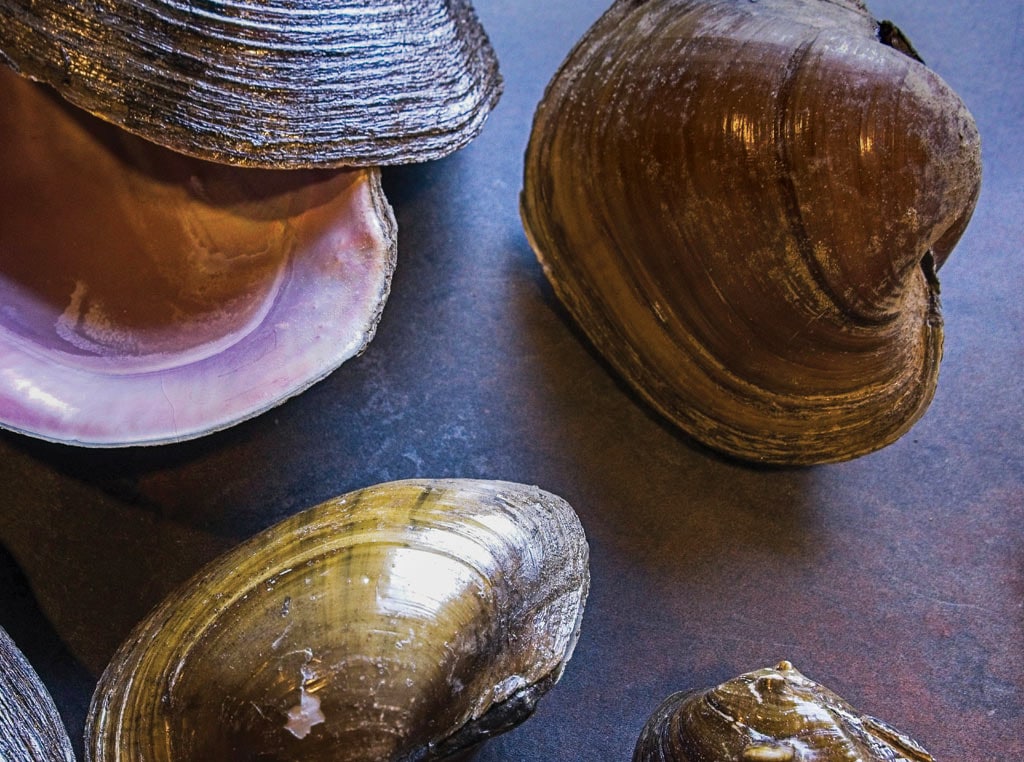 AGRICULTURE, EDUCATION
A Matter of Mussels
This freshwater mollusk is an indicator species
for water quality.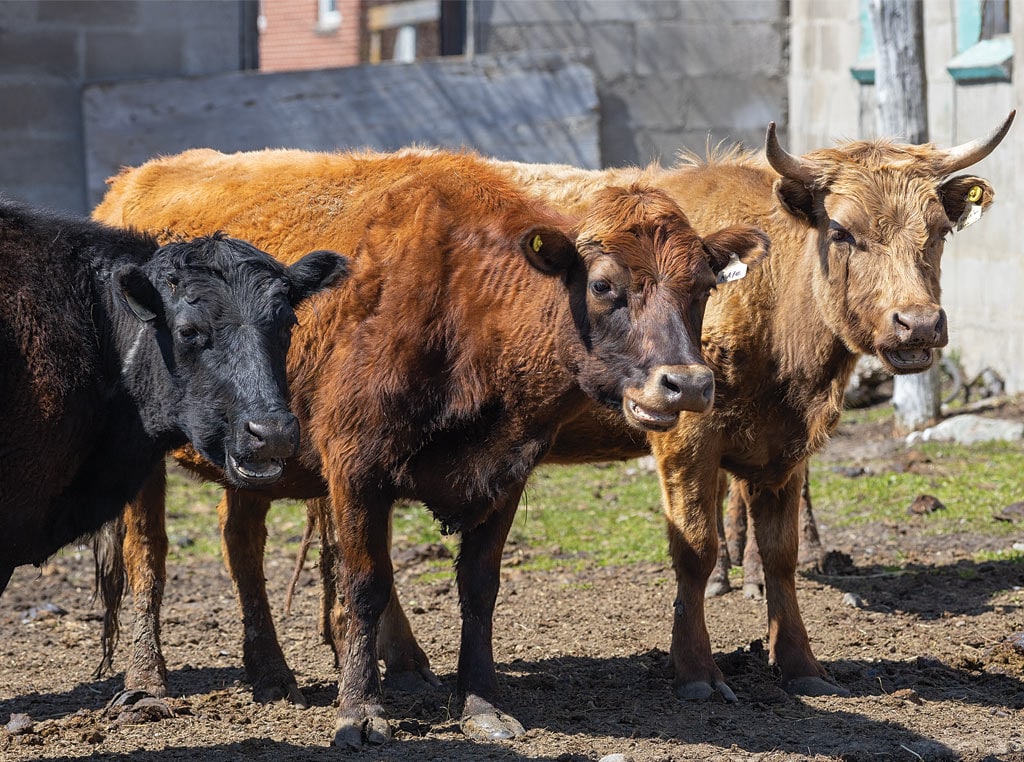 LIVESTOCK/POULTRY, AGRICULTURE
Mini Moos
Good things come in small packages.