Agriculture, Education
September 01, 2023
Anatomy of an Anhydrous Ammonia Accident
Lee Phipps is telling his story to help other farmers.
"You better check on your dad."
That was the cell phone message Scott Phipps received from a hunter who saw a white cloud devour a tractor driven by Scott's father, Lee Phipps. He immediately zoomed his pickup to the field where Lee was applying anhydrous ammonia on a sunny afternoon in late November 2009.
A disconnected hose allowed anhydrous ammonia to seep into the tractor cab. The Little Sioux, Iowa, farmer heard Scott's plea on the CB radio to shut down the tractor. Lee remembers nothing else from the estimated 10 to 15 minutes that piercing cold vapor invaded every crevice of his body.
Scott raced up the tractor's ladder, opened the door, loaded Lee in his pickup, and sped to meet an ambulance that took Lee to an Onawa, Iowa, hospital.
"The doctor intubated [placed a tube in his trachea] him," says Scott. "Otherwise, he would have died because his throat would have swollen shut."
Hospital staffers stripped clothes from the gasping Lee and blasted him with water. This removed the slobbering mucus that enveloped him and helped purge the gas from his body.
"They had a hose in every place they could find a hole in me," Lee jests. Medical personnel then flew him to a Sioux City, Iowa, hospital, where an eight-month recovery ordeal began.
"I swelled up like a toad," recalls Lee. "It affected everything—my eyes, ears, kidneys, heart, and lungs." Temporary paralysis set in, due to the anhydrous ammonia that made toxins in his blood.
Lee's wife, Margaret, was shocked, as she viewed her former high school and college athlete in the hospital. "He had never been sick a day in his life, and suddenly he was so helpless," she says.
How long? The day after Christmas 2009, Lee woke for the first time since the accident, and asked Margaret, "How long?"
"When mom told him one month, he frowned," says his daughter, Sharyl Sauer.
Lee rallied and was transferred to an Omaha, Nebraska, hospital where he battled a stage four bedsore and a deadly MRSA infection.
Lee recovered and was rehabilitated at a Lincoln, Nebraska, medical facility. Every step was intense. It even took sticking his hands into hot wax to enable him to bend his fingers.
Finally, Lee came home on July 30, 2010. Despite physical complications, he was ready to farm. He drove a combine that fall due to a cab lift that the late Walter Schultz, Palmer, Iowa, built.
Still, his has not been an easy life since the accident. Harvest dust that aggravated his 32% lung capacity soon nixed field work for him. Lee has been hospitalized dozens of times with ailments such as pneumonia and a broken hip and femur. He recently started dialysis due to failing kidneys.
"I feel bad for mom and dad that their retirement years have been so limited," says Sharyl. "We have had a few family trips, but Dad's health is so fragile."
Still, silver linings exist. Scott now carries PPE (personal protective equipment) that includes rubber gloves and a full-face respirator in the tractor cab while applying anhydrous ammonia.
"Take the time to be safe, because it only takes one time to have an accident," says Scott.
Lee still helps manage the farm. Prayer chains of neighbors and friends keep hope alive. And, Margaret, Scott, Sharyl, their daughter and sister Stacy Warner, 10 grandchildren, and six great-grandchildren have their husband, father, grandfather and great-grandfather to savor.
"Dad is a miracle man," says Sharyl. "He has definitely outlived his nine lives."
"I have killed two cats," he quips. ‡
Read More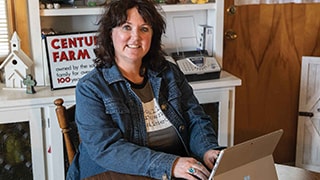 RURAL LIVING
Iowa's Storyteller
Darcy Maulsby tells the story of the Hawkeye State through books and speaking.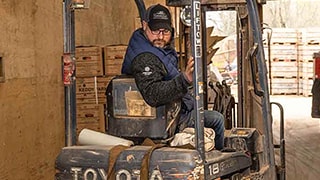 AGRICULTURE, FARM OPERATIONS
Stay Safe Out There
Fatigue can be a killer at harvest time.