Agriculture, Sustainability
September 01, 2023
Keep the Vegetables Coming
A deep winter greenhouse provides good winter growing conditions.
"I don't grow enough," says Louise Johnson, from her and her husband Shayne's century farm in Pillager, Minn. "Between the two farmers' markets we go to and wholesaling to the food co-ops, I have very little left each week to sell from our farm stand. And now there is a group trying to get more local produce into our food shelves, too. There is so much demand."
The Johnsons added a deep winter greenhouse (DWG) to Grampa G's Farm three years ago and still cannot keep up with increasing demand.
"If I did it again, I'd make it bigger and maybe connect it to an actual sale house," she says, pondering a way to reduce the number of steps in her process.
The DWG that the Johnsons built was the initial version designed by the University of Minnesota Extension Regional Sustainable Development Partnerships (RSDP) and the College of Design's Center for Sustainable Building Research to enable northern produce growers to extend their season through the winter in the most energy efficient way possible.
"We expanded on the concept presented by Carol Ford and Chuck Weibel in their book, The Northland Winter Greenhouse Manual, and designed a standalone, passive solar greenhouse that small-scale farmers could build," explains Greg Schweser, RSDP director of statewide sustainable ag and food systems.
What they found with the first few built through grant funding, was exactly what Louise thinks: it could be bigger.
"There is just so much excitement around this issue of growing produce through the winter. And the end user will have any number of goals for the structure beyond having a crop growing system they can use in the winter, such as solar collection for batteries and living off the grid. We have gone back to the drawing board and created a second version that is larger and cheaper to build," says Schweser.
Construction plans for both greenhouses are available free of charge through the U of M Extension website along with many other resources for growing winter produce. The Extension team also gives advice in a Facebook group.
Fit for many farms. For the Johnsons, adding winter vegetables was a good way to expand and diversify their existing produce business. Schweser sees opportunity for a DWG to even out a farm's revenue stream and workload through the year while also spreading out risk and improving the local food system's resiliency.
Building a DWG could also be a great avenue for someone to begin market farming.
"You can grow winter greens and brassicas and add in storage crops from earlier in the year like carrots, onions, squash, potatoes, and garlic and have a full winter CSA box. Like any market farming, you have to find your own markets, but there is much less competition for locally grown food in the winter. If I were 20 and looking to start a farm operation, that's exactly what I would do," Schweser says.
Louise says their greenhouse costs them about $8 – $10 a month to run through the winter and her plants don't need much water because of the high humidity. They do need to be rotated often, though, since the sun is only coming from the southern wall. Learning to manage the different pests has been her biggest worry. She also uses the DWG to start most of her summer crops.
"We take for granted locally grown tomatoes and peppers in the summer now [in Minnesota] thanks to hoop houses, but 20 years ago, that was not the case. My hope is that DWGs will be just as common in the next 20 years," Schweser adds. ‡
Read More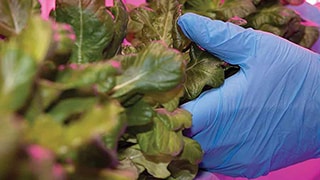 AGRICULTURE, SPECIALTY / NICHE
Green on the Walls
Vertical farming takes off at Leafy Greens Farms.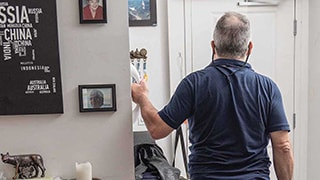 SPECIALTY / NICHE
Age in Place
How can you change your home to be senior-friendly?