Family Time
Three generations of Deckers work together in the Tennessee woods
At a logging site near Dover, Tennessee, Decker Chipping & Logging harvests white oak, red oak, and other hardwoods including hickory and poplar. "White oak is the most popular right now due to the huge demand for whiskey barrels," says Owner Vernon Ray Decker. Tennessee and neighboring state Kentucky are home to dozens of distilleries that are famous for producing high-quality whiskey aged in oak barrels.
Decker grew up about 30 miles from Dover in Paris, Tennessee, where the company's office is located. He has been around logging all his life. "Logging is all I know and what I love," he says. "I won't give it up until I can't do it anymore. I don't know when I'll retire."
If his father provides any indication, he won't be retiring soon. Vernon Sr. is 77 and still starts the day at 5 a.m. He runs the company's John Deere 437E Knuckleboom Loader from dawn until dusk. "Sitting around is not my thing," the elder Decker says. "I like to fish, but 45 minutes is about my limit. I'd rather be out here in the woods."
The two started the company, known then as Decker Logging, in 1992. Vernon Ray claims he has never argued with his dad. "We're so much alike and get along so well," he says. "It's tremendous to be able to work with him every day. I'm thankful he worked so hard to put us in a good position. He helped me a lot and paved the way for us. My son Scott is learning from him, too."
Vernon Sr. is self-deprecating and humble about building a highly successful logging business. "I'm the flunky," he says with a smile. "Everybody talks to Mama [his wife Barbara] because she keeps the books and knows more about the business than anyone."
Long, hard road
Forestland covers 14 million acres of Tennessee, more than half the state. The Volunteer State may be better known for whiskey, barbecue, and country and blues music. But it is an international leader in hardwood, ranking second in the nation only to Pennsylvania in hardwood production.
Dover lies between the Tennessee and Cumberland rivers about 100 miles west of Nashville. It seems fitting that Ulysses S. Grant earned his nickname "Unconditional Surrender" during the Civil War in a battle nearby at what is now Fort Donelson National Battlefield. Tennessee's rolling hills are beautiful, but the unforgiving terrain gives no quarter. Hardwood logging in the region means working in steep, tough ground.
"Starting out was difficult," recalls Vernon Ray. "I had to borrow a friend's truck along with the money to pay for the gas." Vernon Sr. put up his house to purchase a new John Deere 648 Cable Skidder and a log loader. The company made six dollars a ton. "We were paid for every load when we hauled it in, and we'd cash the checks the next day just to pay for the diesel," Vernon Ray remembers. "It was a long, hard road."
Asked when things started to get easier, Vernon Ray replies: "Well, it's no different today. We go 24/7. I'm always pushing, pushing, pushing — I don't know how to do it any other way. In the logging business, if you're not hustling, you're not making it. The mechanized equipment has made the work easier, but there is more to manage."
One tough man
In the early days, Vernon Ray ran the cable skidder while his father did all the cutting with a chain saw and the loading. "We'd finish five or six loads a day with him doing everything except dragging wood," Vernon Ray says. "He's one tough man."
Vernon Sr. grew up picking cotton in Missouri. When he was 15, he started logging with his brother. "I wanted to do better and make something of myself in this world."
When he and Barbara got married in 1965, Vernon Sr. was making 10 dollars a day. He'd run the chain saw and drag wood using horses and mules, while his brother would roll logs onto the truck using chains. Barbara would often accompany him into the woods, measuring logs and carrying gas and oil for the chain saw. "This is how our marriage started and how it's been ever since," she says. "We work together as a family. Our family is our whole life."
When her husband and son started working together, she'd go get parts for them and cook out with them in the woods. Today she doesn't make it out to the logging site as much. "There's a lot more paperwork with more employees, trucking, and bigger equipment," says Barbara. "It's just a lot more to contend with."
The company depends on her to keep a close eye on the bottom line. "I do whatever I can to make it easier for them to come out in the woods and not have to worry about it. And if they need anything, I'm there to take care of it for them."

"I'm my own boss, and I get to work with my father and son. There's nothing like family."
Watch the Full Video
Nothing like family
Today the company produces 30 loads a day, running John Deere equipment including an 843L-II Wheeled Feller Buncher, an 859MH Tracked Harvester, 748L-II Cable Skidders, and 437E Knuckleboom Loaders. Vernon Ray primarily runs the 859MH which, to borrow a line from a country music song, is "as smooth as Tennessee whiskey." "I love running this cutter. It amazes me every day. With its weight and control, I haven't run anything that can handle a large tree like this. And it doesn't burn a lot of fuel, so it's really efficient."
The 859MH features a Waratah FL100 felling head. "We're the first company in the region to run one," he says. "It does an excellent job in big timber, and it's extremely well built. I've run it for 1,000 hours without issues. Just keep it greased and maintained."
The combination is highly productive. "The shoveling capability is unreal. I didn't think it was possible what I can do with this machine. You have so much control over positioning trees where the skidder can reach them. That really reduces wear and tear on the skidder because it keeps it out
of the rough stuff."
"He's very talented on that machine," says Vernon Sr. "He can run circles around anyone. That's what he's wanted to do since he was five years old — run machines."
Vernon Sr.'s passion is the John Deere knuckleboom loader. "I just love doing it. I don't do it for the money. I do it for the enjoyment. Deere loaders are very comfortable and smooth — not jerky like other loaders on the market."
Vernon Sr. and his son depend on support from their local dealer, Stribling Equipment, to keep them up and running. "We don't have too many issues with the machines, but Stribling is great about getting us any parts we need," says Vernon Ray. "They've been super."
He is also cautiously optimistic about his company's future. The market is good. He has a son in the business and a grandson who loves the outdoors. "But there are very few of us left. Young people just are not interested, and we need lots of people in the logging business. It's not a nine-to-five job, to be sure. But out here I don't have to punch a time clock. I'm my own boss, and I get to work with my father and son. There's nothing like family."
Decker Chipping & Logging, LLC is serviced by Stribling Equipment, Jackson, Tennessee.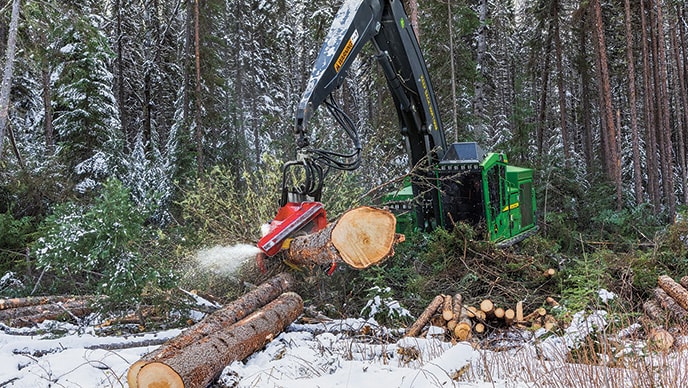 Logging Through It All
A family logging operation in northern Ontario delivers successful results.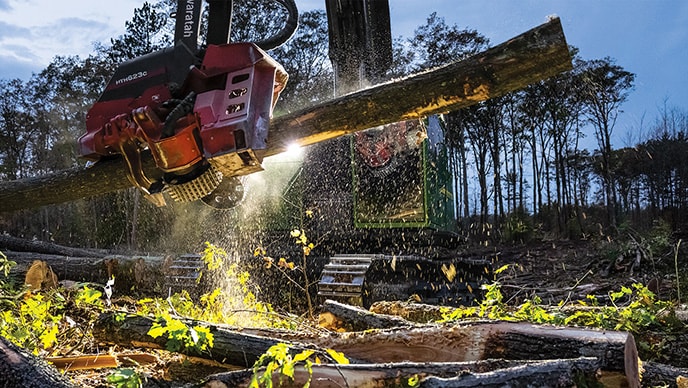 Power "Tree-Oh"
Three-man crew and can-do attitude get jobs done.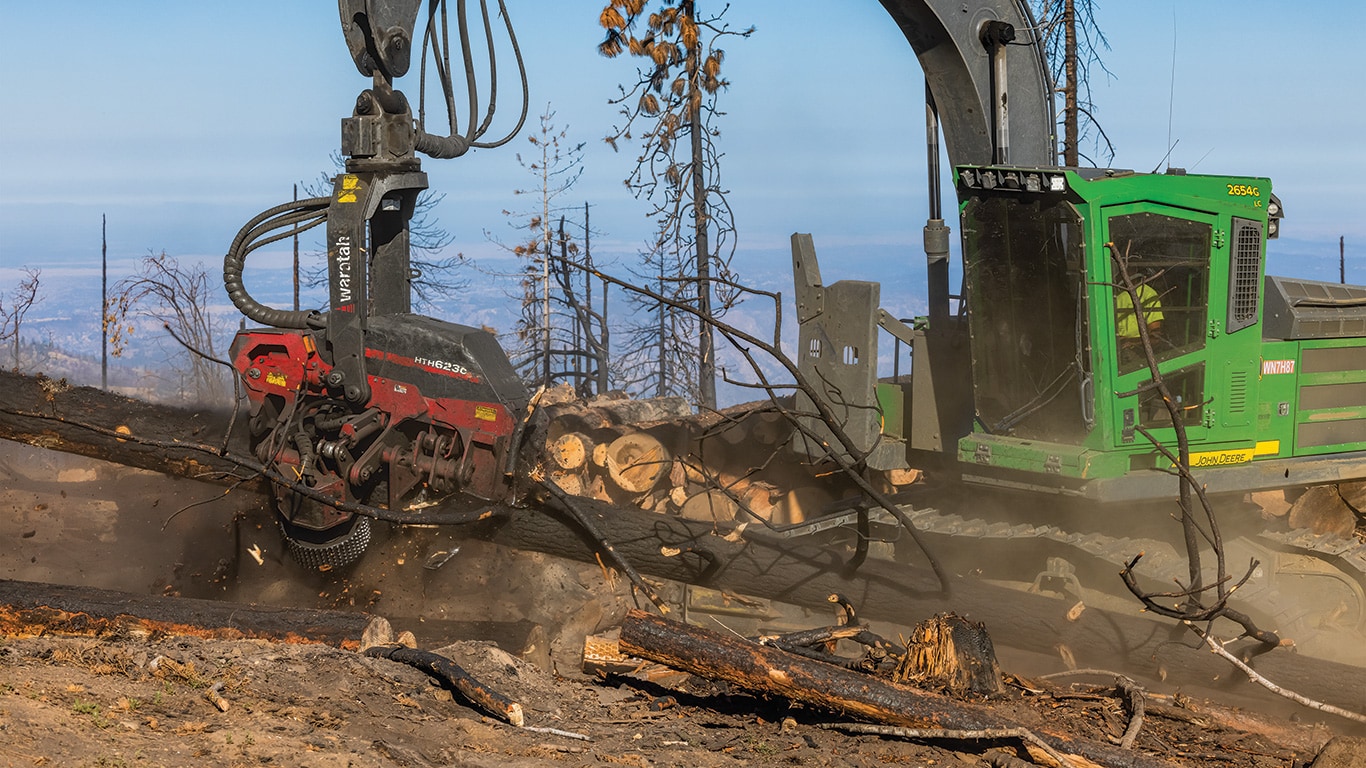 Many Machines Makes Lite Work
Long hours and family tradition breed success.
Share your journey
Do you think your company's story would resonate with others in the logging industry? To be considered for a future edition of The Landing, tell us about your journey by filling out this form.