Hired Hand to Wanted Man
Adam Williams found his niche running a 953MH Tracked Harvester
Opportunity knocked for Adam Williams, owner of A.R. Williams Logging, back in 2014. Or more accurately, it gave him a call. "My hunting buddy called to tell me he had a lot of logging work lined up in my hometown of Englehart, Ontario," he recalls. Since 2002, Williams had been working in construction six hours away in Ottawa, where he learned how to run heavy equipment. "I ran large excavators at first, doing street restoration downtown or working in quarries and new developments," he remembers. "I then switched to wheeled excavators, and when they saw how good I was, I couldn't get off of it."
That is until that fateful day he received the phone call. "I moved back home and bought a feller buncher from my friend. It was good work and close to home. I worked as hard as I could and paid that feller buncher off in six weeks."
Top of the list
Williams first started working in construction after high school when he took a job with a local company in Englehart. "During the winter, we'd haul logs. It was my first time doing anything with logging, and I really enjoyed it," he says.
When he returned home in 2014 and purchased his first feller buncher, Williams was off and running. But because the general contractors often had their own bunchers, he was usually the last one brought on. "I could make a good living with the buncher, but I was always on the bottom of the list."
By 2017, the company for which he was contracting desperately needed cut-to-length machines. "Many loggers in the area were afraid to run harvesters because of the higher investment cost and lack of experience working on them," he recalls.
Williams took the plunge and bought a John Deere 903MH Tracked Harvester with a Waratah 623C Harvester Head. "It's easy to work on, which is one of the big reasons I picked it. It has been very reliable, so I've really only replaced normal wear parts. The head is solidly built, too. I just don't have many problems with this combination."
Without enough harvesters to go around, Williams soon became a "wanted man." Before long he was running 24/7, so he hired another operator.
"Must-have" tool
Recently Williams has been demoing a John Deere 953MH Tracked Harvester with a Waratah 623C Harvester Head. The 953MH features Intelligent Boom Control (IBC), which Deere is introducing on tracked harvesters for the first time. "IBC is absolutely what you want for harvesting at the stump," says Williams. "It makes boom operations much more precise and efficient compared to our other 953MH, which doesn't have it."
IBC makes it easier to maneuver the harvesting head by reducing the operator inputs controlling the boom. "Without IBC you have to control the boom and stick functions separately," says Williams. "Using IBC you just position the boom tip where you want it using a single joystick. It makes everything more predictable so you don't overcompensate movements. It's so much smoother and easier. And I'm not getting shaken around as much, so I feel less fatigued at the end of the day."
Plus IBC is easy to learn, which makes it great for training new operators, according to Williams. "You catch on quick. It just comes so naturally."
The technology has also helped his company's bottom line. "IBC makes my work faster. Cycle times have increased compared to my 953MH without it, so I'm more productive. And I noticed a fuel savings right away compared to the other machine. Deere really hit a home run with IBC. It's must-have. I wouldn't dream of running without it. I told our salesmen at Brandt, our Deere dealer, not to order any machines without IBC."
"We're excited to see this technology coming to tracked machines," says Allain Santerre, director of sales for Ontario and Eastern Canada at Brandt Tractor. "Deere has had the technology on wheeled forestry machines for a few years now, and it's changed how operators do their work. IBC is intelligent, so it makes the operator's task easier."
He and other Brandt salesmen have been spreading the word about IBC on tracked machines and offering demos. "Everyone I speak with who tries IBC feels they are better at their job and less tired at the end of the day. We want customers to know their options. Like our TimberMatic™ Maps and TimberManager™, IBC is another step ahead to help our customers succeed."
Santerre confirms the bustling forestry industry in Ontario that Williams has experienced firsthand. "The forestry market is really good here right now. There's a big demand for wood and therefore a big demand for people to cut the wood and bring it to the mills. We've sold more machines in the last two years than in the previous five years."
Asked if he is happy with his decision to leave construction to become a logger, Williams replies, "Absolutely. The lumber mills are sawing record numbers. They can't keep the yard full of wood, and there's no end in sight."
Despite a hectic schedule, Williams prefers the woods to the city. "I enjoyed doing the infrastructure projects in downtown Ottawa. I was learning something new. But I like the woods more. It's so quiet out here, very peaceful. And I'm always learning something new out here, too."
A.R. Williams Logging is serviced by Brandt Tractor Ltd., Timmins, Ontario.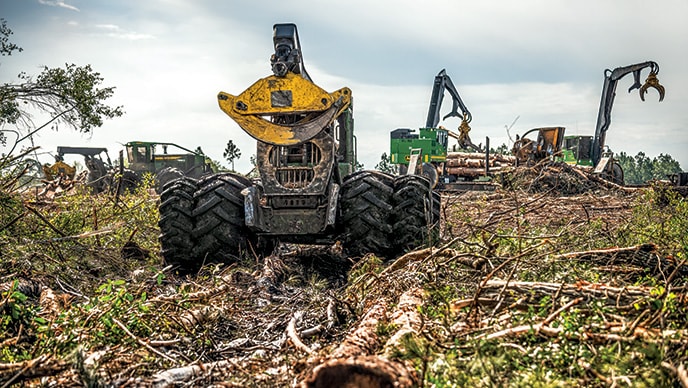 The Legacy We Leave
Teamwork is the name of the game for a thriving logging company in Georgia.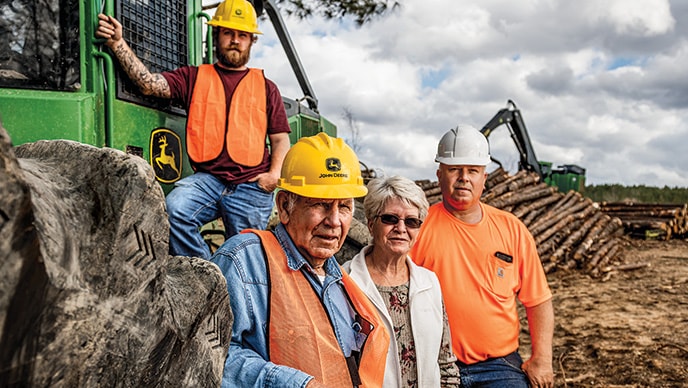 Family Time
Three generations work together building a highly successful logging business.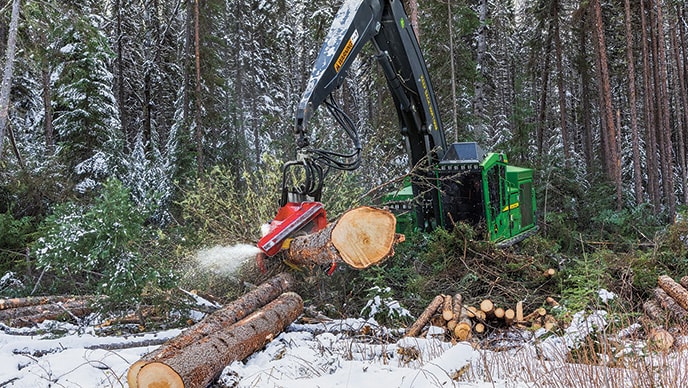 Logging Through It All
A family logging operation in northern Ontario delivers successful results.
Share your journey
Do you think your company's story would resonate with others in the logging industry? To be considered for a future edition of The Landing, tell us about your journey by filling out this form.