Many Hands (and Machines) Make Lite Work
Starting out with only a skid steer, Ryan Day and his father have grown Lite on the Land into a full-fledged logging operation
As Ryan Day, owner of Lite on the Land, surveys a logging site in the Sierra National Forest, he reflects on how far his company has come. His father Steve got into forestry while working with Cal Fire, the California Department of Forestry & Fire Protection responsible for protecting the people, property, and resources of the Golden State. Up until 2006, there wasn't much opportunity for logging near their hometown of Auberry in Central California. "Then brush mastication to eliminate fuel and create fire breaks became a big thing," says Day. "My father said, 'Let's give it a go.'"
His father wanted to leave as little disturbance as possible, so Lite on the Land was born. The two started out with a skid steer with multiple attachments, doing fire-clearance and hazard-reduction projects for private landowners. Initially Day had to take other jobs to stay busy, but around 2013, Lite on the Land began to grow into a fully mechanized logging operation. Southern California Edison (SCE) approached the company to help it deal with what California loggers dub "the mortality," the bark beetle infestation that decimated much of the ponderosa pine and sugar pine in the state. Lite on the Land was hired to remove the dead trees from SCE's land while it was still merchantable.
Today the company employs 30 people and runs three crews. "I never thought we'd get this big back in 2006. We were in the right place at the right time and worked hard. I don't think we ever had a Saturday off, and we worked a few Sundays, too. It's been an incredible journey."
Family tree
Day's interest in logging has its roots in his mother's family tree — her brothers and father logged up in Northern California. "We'd visit them, and my uncles would tell me all these stories," Day recalls. "It would get me really excited, and I knew I wanted to get into logging."
His mother had other ideas. "She told me, 'I don't care what you do, just don't be a logger,'" says Day. "Her father moved a lot, and she went to 15 or 20 high schools in four years. But when your mother tells you not to do something, it kind of makes you want to do it even more (laughs)."
Day admits that what ultimately drew him to his calling was the woods. Lite on the Land often logs around Shaver Lake, a picturesque and popular vacation destination near Fresno. "I'm very lucky I get to come out here in the mountains in this beautiful forest. I love watching the big equipment and the big trees hitting the ground."
His mother was right about the travel, though. After Day graduated from high school, he went to work in the woods in Northern California and Oregon. "I loved it. I started at the bottom taking all the jobs nobody wanted to do and worked my way up. I'm glad I did that because now when I ask someone to do something, I've done it. I can tell them, 'I know it's not easy, and I know it's hot out here.'"

"The forest is healthier from us being there. We didn't overcut. We made room for new trees to grow."
Watch the Full Video
Good steward
Today much of Lite on the Land's work is on the approximately 20,000 acres owned by SCE surrounding Shaver Lake. "SCE does a great job managing the forest," says Day. "If I call the head forester with an issue, he'll come out that afternoon or the next morning." Over the years Lite on the Land has logged some areas three times. "The forest is healthier from us being there. We didn't overcut. We made room for new trees to grow."
Day champions good forest management and stewardship. "Many forests around here just have too many trees per acre. Then you get bug infestations, and the trees can't fight off the bugs. If that doesn't get cleaned up, the forest is ripe for wildfire."
In December 2020, the area around Shaver Lake was ravaged by the Creek Fire, one of the largest fires in California history that consumed almost 380,000 acres. "Fueled by 40-mile-an-hour winds, the fires raced up the valley. It just blew up. I knew it was going to be bad."
Day remembers helping residents clean up their properties after the fire. "You'd see your neighbor's house burnt down and that's when it really hit home how awful it was."
Lite on the Land worked for the state for three weeks building fire lines. The company then went to work for SCE, clearing roads so it was safe for crews to go in and rebuild infrastructure. "We worked 12-hour days for 72 days straight. Everybody was pretty taxed after that. It was tiring."
After the Creek Fire, most of Lite on the Land's work has been cleaning up burned trees for SCE. "When we started, bunches were still catching fire," Day recalls. "I have this old Cal Fire engine we were using to put out the embers. Those logs were worth something to me and I didn't want them burning up."
Within a year, the dead timber won't be merchantable. Still Day remains optimistic. "There will be other opportunities because the timber industry solves a lot of problems. But as a society overall, we need to stand up and say, 'We need to manage our forests.'" A major challenge in California, according to Day, is that the state lacks adequate budget for cleaning up public forestlands and opposition groups stifle logging initiatives.
Doubling down
The mechanized crew working near Shaver Lake runs a John Deere 859M Tracked Feller Buncher and Deere skidders to cut and collect trees in the forest. Trees are processed at the landing using a 2654G Processor with a Waratah head and loaded onto trucks using a 2656G Log Loader. "The hydraulics on the processor are really smooth," says Day. "I love the spacious cab, and maintenance is easy. The Waratah head is just phenomenal. I've run other manufacturers' processors, and you are always fiddling with and fixing the harvesting head. Not the Waratah. It's bulletproof."
The 2654G Processor has over 3,000 hours on it. "You just sharpen the chain, grease it, and change the oil, and it just goes and goes," says Day. "All of the Deere machines have been extremely reliable. We've had only minor issues."
Lite on the Land also runs a crew for handling utility work for Pacific Gas and Electric (PG&E), which helps keep the company busy during slower winter months. A third hand-felling crew handles big wood with the help of a John Deere utility wheel loader and 848L Skidder.
Lite on the Land's John Deere dealer, Papé Machinery, helps keep its fleet up and running. "There's not a lot of logging in Central California," explains Day. "One of the nice things about Papé is that even though we are not in Oregon or Washington, we can call a branch in Eugene or Kelso and talk with an expert in a region where there are maybe 15 or 20 processors working. Down here there are only two that I know of. And they don't mind. They are just a wealth of information."
Day also appreciates the support John Deere gives to the logging industry. "Some manufacturers are trying to get out of the industry and Deere is doubling down. They are investing big time and continue to deliver great products and technology."
Lite on the Land, Inc. is serviced by Papé Machinery Construction & Forestry, Fowler, California.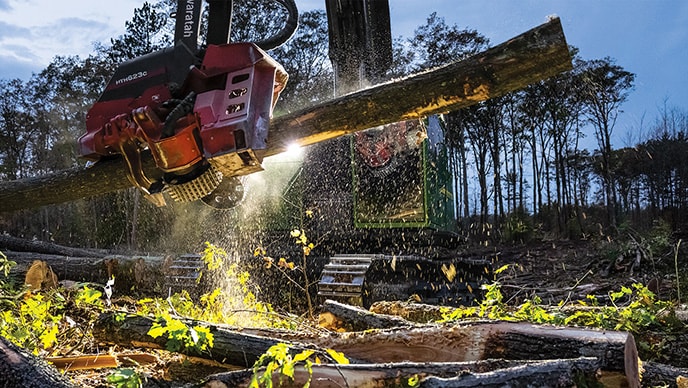 Power "Tree-Oh"
Three-man crew and can-do attitude get jobs done.
Share your journey
Do you think your company's story would resonate with others in the logging industry? To be considered for a future edition of The Landing, tell us about your journey by filling out this form.