Power "Tree-Oh"
Yoder Forest Products gets it done with three machines, a hybrid logging system, and John Deere Precision Forestry
Time is of the essence for Corey Yoder, owner of Yoder Forest Products, Mio, Michigan. "My father told me everything in life is compromise," says Yoder. "When I was 22, he told me that given the choice between more money and more time off, he'd take more time off. At the time I thought he was crazy because at that age I wanted to make money. But at 53 with a wife, kids, and grandkids, I now know time is way more valuable than money."
Not that Yoder works a light schedule. He and his crew are at the logging site every day by 5 a.m., and he's well aware loggers can't work bankers' hours from nine to five. But he has discovered efficiencies that allow him and his crew to have more life balance. He has more time for family, and his harvester operator finds time to run a taxidermy business.
Yoder keeps things simple: "Just three guys and three machines." He runs a John Deere 853M Tracked Feller Buncher, operator Ted Stagg runs the 853MH Tracked Harvester, and his nephew Kodie Yoder runs the 1510G Forwarder. Kodie has been with the company for 15 years. "He's my right-hand man. He's very important to the company. Ted Stagg has been with the company 10 years. He is truly one of the best harvester operators I have ever seen. These two guys make my life easier."
Putting itself on the map
Yoder Forest Products was started by Corey Yoder's father in 1963. Yoder started working for his dad after graduating from high school in 1987. "I'm proud of the good name my dad has earned in the logging business. We've always done quality work, and at the end of the day, that really makes a difference."
Michigan's 20 million acres of forestland include some of the best hard maple and red oak timber in the world. The company runs 90-percent hardwood, mostly maple and oak used for everything from high-grade veneer, furniture, and flooring to pulpwood, pallet logs, and firewood.
Yoder Forest Products works mainly in northern Michigan's Lower Peninsula. "There's just a natural abundance of wood here," says Yoder. "I'm surprised at how many logging trucks I see, day after day. Back in the day, my father didn't think there was a future here in logging, but here I am 35 years later. You're never going to be a rich man doing this, but you can make a fair living."
Brute force
Yoder Forest Products has adopted a hybrid system that has become more and more prevalent for logging the rugged terrain in Michigan. Yoder's operation incorporates the tracked feller buncher, commonly used in tree-length logging, into a cut-to-length operation that employs the harvester and forwarder. The feller buncher lays down the wood in front of the harvester. "It's much more efficient," says Yoder. "On most logging sites, it really boosts production."
The feller buncher makes it much easier to work through the saplings and shrubs surrounding the trees. "The cutter doesn't care about the understory, but you might break a chain using a harvester in these conditions, and that's a lot of downtime."
The tracked feller buncher is powerful and stable, giving the operation the ability to work on hills, cradle knolls, and wet ground. "It does everything I need it to do," says Yoder. "When we ran a wheeled feller buncher, we only used it for felling approximately 65 percent of the wood. We were spinning our wheels, so to speak. It didn't make sense. But with the tracked feller buncher, I can put down 100 percent of the wood. I haven't started a chain saw in years."
Instead of battling with understory, the 853MH Tracked Harvester follows behind the feller buncher, cutting the piles of wood to length. Yoder appreciates the powerful 853MH coupled with the tough 623C Waratah Harvester Head. "It's just a brute," he says. "It's the perfect combination for what we do. Big trees and hardwood. We don't do a whole lot of plantation pine."
In the past few decades, tree-length logging has become mostly a thing of the past in Michigan. The company started running a cut-to-length system in 2000. "Cut-to-length allows us to sort wood so much more quickly," says Yoder. "There are jobs where we'll have 14 to 18 sorts, and a forwarder can do that very efficiently."
The 1510G Forwarder features the optional rotating and leveling cab, which turns 290 degrees, providing a 360-degree view of the machine's surroundings and boom movements. "That's the machine's best feature," says Yoder. "It just follows the boom so you're not constantly turning and straining your neck. Kodie really enjoys running that machine."

"Knowing the current logging situation helps me... determine the shortest skidding routes when we build the next landing."
Watch the Full Video
Precision finesse
With fuel prices doubling in the past year, Yoder strives to run as efficiently as possible. John Deere Precision Forestry tools including TimberMatic™ Maps and TimberManager™ help him plan and monitor his operation as well as minimize costs.
Using the map-based production-planning and -tracking system, Yoder and his operators can share real-time production and location information, eliminating guesswork. "On this 35-acre block we're cutting right now, I can see the area already harvested and that we have approximately 12 acres left," says Yoder. "Knowing the current logging situation helps me plan what we're doing and determine the shortest skidding routes when we build the next landing."
Operators can view all machine locations and the current logging situation in real time using the TimberMatic Maps display in the cab. "We start early at 5 a.m. and nothing ever looks the same in the dark," says Yoder. "I can look at a screen and see where we finished the day before and drive directly to that location. And we get a lot of snow in Michigan. In two feet of snow, we can easily lose piles of wood, but the mapping system shows us exactly where they are."
Using the Areas of Interest and Points of Interest functions, Yoder and his operators can mark hazards, obstacles, soft ground, and challenging terrain, and share them in real time. "It really helps improve jobsite awareness and productivity."
A key feature is the ability to create cut boundaries to avoid incurring heavy penalties for crossing the line. "As a feller buncher operator, I'm constantly looking for the boundary line," explains Yoder. "On a lot of state sales, the red mark on the tree may have faded, and it can be dark and rainy. I would spend a lot of time getting out of the machine and physically looking for the line. But the mapping system is very accurate and saves a lot of time."
Using JDLink™, Yoder can keep tabs on machine health. "I get emails if anything is wrong — low coolant, high temperature, things like that. One day we broke a serpentine belt. We went to the dealership to pick one up, and the service manager said, 'I see you broke a serpentine belt.' He knew it before I even got there."
That kind of service and support is one of the biggest reasons Yoder and his father have always run John Deere machines. "I can count on one hand the number of times I've ordered a part and it wasn't there the next day. That's over a period of 35 years. Deere is just very, very dependable when it comes to parts."
A few of the technicians at Yoder's local John Deere dealership, AIS Construction Equipment Corp., are highly knowledgeable about cut-to-length operations. "They put in a lot of time training these guys. They are really good. That's why I have stayed with Deere all these years. The support is always there."
Yoder Forest Products, LLC is serviced by AIS Construction Equipment Corp., Williamsburg, Michigan.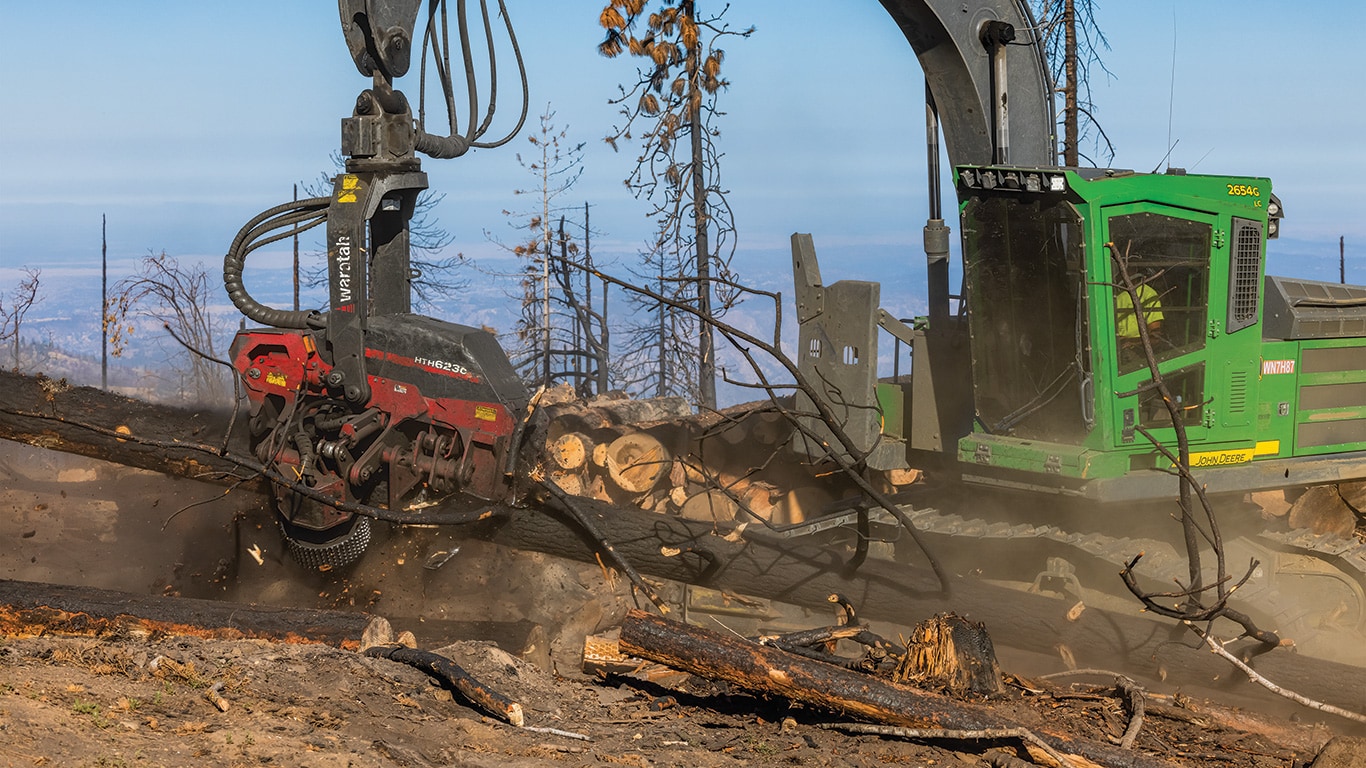 Many Machines Makes Lite Work
Long hours and family tradition breed success.
Share your journey
Do you think your company's story would resonate with others in the logging industry? To be considered for a future edition of The Landing, tell us about your journey by filling out this form.