Second Wind
The John Deere Powertrain ReLife Plus program gives skidders new life
To increase profits, loggers must manage owning and operating costs. Extending the life of a machine through Powertrain ReLife Plus, John Deere's machine-rebuild program, can really help. The cost of a rebuild is less than that of a replacement and can prolong the life of a John Deere skidder.
Andrew Miller, president of A.M. Logging, Millheim, Pennsylvania, grew up wanting to be a logger. "I was always in the woods and around forestry," he recalls. He began his career as a hand feller. "It was one of the best-paying jobs out of high school. I started my own company when I was 19. My business partner and I bought our first skidder together, and we would cut small woodlots throughout the valley where we lived."
Today A.M. Logging employs 40 people and runs up to three logging crews. Pennsylvania is the number-one hardwood producer in the country, so it's no surprise the company cuts around 90-percent hardwood. These days, most of the wood is mechanically harvested and hauled to the landing using John Deere H-Series Skidders. The company produces about 60 tractor-trailer loads a day, including 35 to 40 loads of chips used to produce paper, fiberboard, and wood pellets for bioenergy plants.
Most of A.M. Logging's sites are select cuts. "Thinning allows better trees to grow," says Miller. "Trees are a renewable resource and, as a company, we've strived very hard to log in a sustainable way. We take the least desirable trees to make room for the most desirable trees, which results in a healthier forest and higher-quality timber. When we're done, we reseed and regrade our landings and skid roads, so everything is the same if not better than when we started."

"John Deere H-Series Skidders have been one of our lowest-cost, most reliable machines to run."
(Re)born to run
Skidders are a workhorse for hauling wood on select-cut operations, so they are popular in the region — and have become a niche market for the local John Deere dealership, Foster F Wineland. "Many of our skidder customers are very comfortable with the machines they already own," explains Dustin Burket, product support representative at Foster F Wineland, Martinsburg, Pennsylvania. "John Deere's Powertrain ReLife Plus program has generated a lot of interest among these customers."
One of those customers is Andrew Miller. "I basically 're-lifed' my first H-Series," says Miller. "At about 11,000 hours we tore it down and replaced the bushings. It was nowhere near as comprehensive as the ReLife Plus program. So when I heard about it, I was very interested. It's worked great for us."
The program gives customers the flexibility to rebuild a skidder the way they want to meet their budget and operation while extending the life of the machine. "ReLife machines help Miller manage his daily operating costs because it's something he's already intimately familiar with," says Ron Horton, product support manager for Foster F Wineland. "The first skidder we rebuilt had 17,000 hours on it. He knows exactly what his costs per hour are on that machine."
"I factor in my initial cost, the cost of repairs, the trade-in value, breakdown costs, maintenance, fuel, and operator cost," explains Miller. "John Deere H-Series Skidders have been one of our lowest-cost, most reliable machines to run. They have a great transmission. The wiring is simple, and we know how to repair them. I love the H-Series machines."
Foster F Wineland completed its first rebuild of one of A.M. Logging's skidders, an 848H, about a year ago, and recently completed a second rebuild of a 748H Skidder. "I'm happy as a lark about the ReLife program," Miller says. "Our skidders have really outperformed our expectations. We've had little or no downtime with them."

"We work closely with a John Deere certified rebuild team to ensure we work as efficiently and professionally as possible."
Tailor-made to the machine or operation
The first step in the rebuild process is replacing major powertrain components with a fresh set of remanufactured powertrain components. John Deere Reman components are backed by a standard one-year warranty when installed by an authorized John Deere dealer. A base component package is required in order to qualify for a Powertrain ReLife Plus Extended Warranty. On a skidder, that includes the engine, transmission, torque converter (if equipped), axles, and main hydraulic pump (optional).*
"We'll go through a customer's machine and make it essentially brand-new again," says Jordan Everhart, a certified mechanic at Foster F Wineland responsible for working on A.M. Logging's 748H Skidder. "We disassemble everything, clean it, inspect it, and put it back together with high-quality remanufactured parts."
With this solid foundation in place, the dealership conducts a thorough inspection and works with the customer to create a customized repair plan unique to a particular machine and operation. Beyond the minimum set of components, the customer can specify what they want done based on personal preference and experience.
Miller wanted new hoses and wiring harnesses to eliminate failures in the future. He also chose to add creature comforts, including a new air-conditioning system, interior cab components, and seat. The dealer also replaced all the scratched-up windows. Miller didn't care about aesthetics, so he chose not to have the body repainted, although the frame was repainted to protect the lower half of the machine.
Ultimately the goal of the rebuild program is to provide the customer with a machine that meets their needs and fits their budget. "We rebuilt a 648G-III for another customer," recalls Horton. "When people saw it in the shop or traveling down the road to be delivered to the customer, they were wondering where we got this new 648G-III (laughs). We are currently quoting a relife to another customer. The owner doesn't want to run it, and he is never getting rid of it. He just wanted it to look good in its retirement because it has sentimental value to him."
A.M. Logging had more practical goals in mind. The company wanted more hours out of a machine it's come to depend on. After the rebuild, Miller expects the 748H will deliver the same cost per hour for several thousand more hours. Horton believes this estimate is conservative: "Given the condition of the machine and quality of the remanufactured components, there is no reason it can't run even longer."
As a Certified Rebuild Center, Foster F Wineland's Martinsburg location has the skills, tooling, and processes to help make sure the rebuild meets customer expectations. "We must meet an extensive list of requirements," explains Horton. "We work closely with a John Deere certified rebuild team to ensure we are working as efficiently and professionally as possible."
Torrey Morgan, a certified mechanic at Foster F Wineland, helped set up the ReLife program and worked on both of A.M. Logging's Relife projects. "The first project was a lot of trial and error," he says. "Key to success is very thorough inspections of the machines before and during the process. Good communication with the customer and everyone involved along with careful planning make the process much smoother."
"Both ReLife projects have gone very smoothly," says Miller. "Our dealership lets us know what to expect and what they're doing. Every week they send us photos and updates so we know if we are ahead or behind schedule and what the completion date should be. I'm very happy with the support we receive from Foster F Wineland."
A.M. Logging, LLC is serviced by Foster F Wineland Inc., Martinsburg, Pennsylvania.
*John Deere Powertrain ReLife Plus warranty covers the major powertrain components specified here. See your dealer for program details.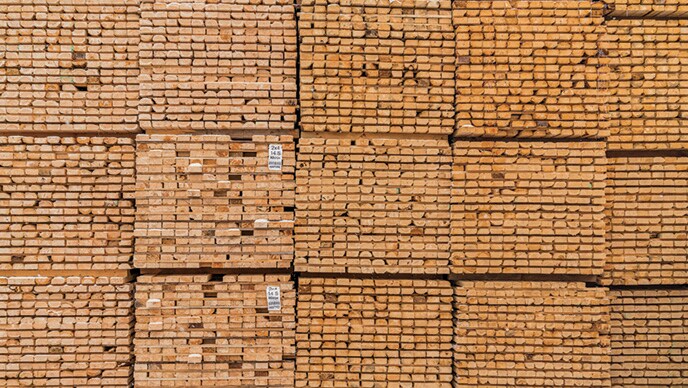 Growing Tall
A&A Brochu Logging has used vertical integration and economies of scale to gain an edge.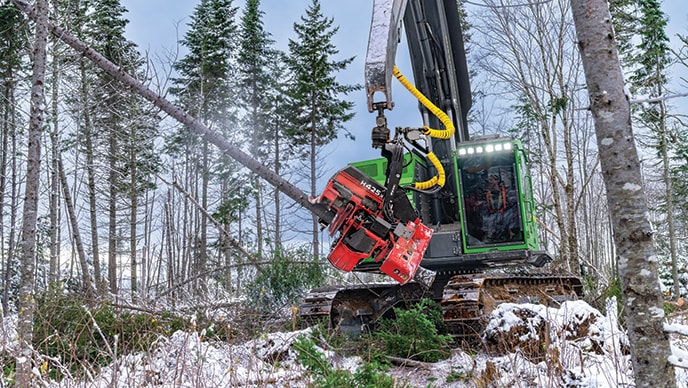 Starting at Mile One
See how a logging company in the heavily forested northeastern U.S. has found a way to separate itself from its competitors.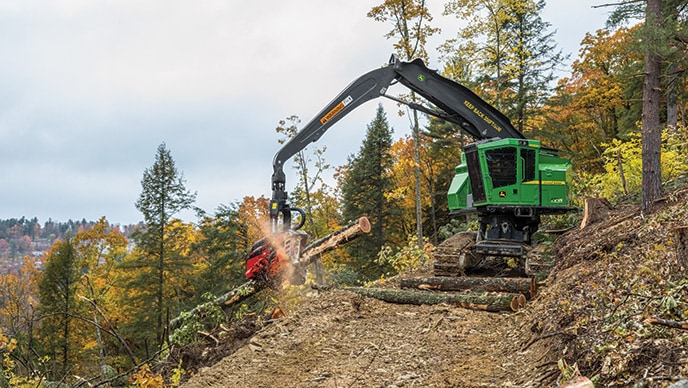 Trailblazers
Learn how a Pennsylvania logging company has utilized durable John Deere machines and innovative strategies to master steep-slope logging.