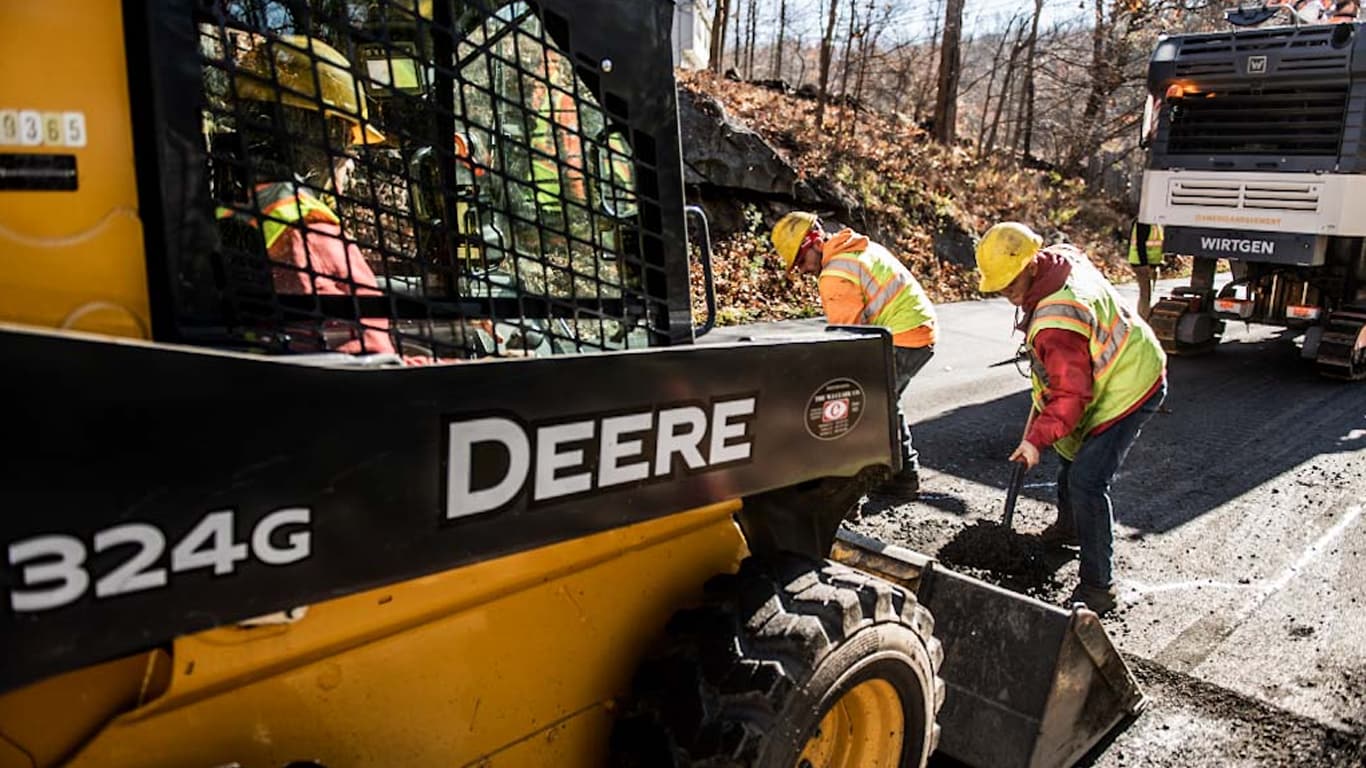 Road Construction with John Deere Equipment
Brand-new road, widened highway or resurfaced street in a neighborhood, we'll help you choose the right earthmoving equipment, excavation equipment, paving equipment and graders for the job.
In its simplest form, road construction involves installing asphalt, concrete or other materials to create a smooth surface for vehicles. But we all know it's much more complex than that. Road construction involves many phases that are complex projects in their own right. Let's take a look at some of the most common processes that require heavy machinery.
Excavating & road grading
Before a drop of concrete is poured, you need to build a foundation. Without it, the road will lack durability, especially as the surface material begins to show signs of wear. Excavating and grading involve preparing the land by moving soil to flatten, build up and slope the road location.
Excavating is important for removing large materials and obstacles from the site like boulders, trees, stumps and other types of debris. Excavators are also used to dig holes, pile dirt around the site and slope the land to meet the needs of the road. Last but not least, excavators dig trenches for irrigation, creating a pathway to direct water away from the road surface.
Grading Unlike excavating which involves moving earth, grading is the process of shaping or leveling it. Contractors and engineers consider multiple factors before grading. These include the type of soil, soil quality and erosion. In addition, when grading for concrete or asphalt roads, they must consider factors like angle, pitch, crowning and drainage. These considerations are important to create safe driving conditions (e.g., the surface can't be too high in the middle) as well as proper drainage to minimize cracks, potholes and pooling of water.
Paving This process typically involves multiple base layers as well as the main surface. Roads can have rigid or flexible pavements. Rigid Pavements tend to have lower maintenance costs and a longer lifespan. They consist of a concrete slab over a thin granular base, with an asphalt or similar topping. Flexible pavements tend to have lower construction costs and a greater ability to expand and contract with temperature fluctuations.
A flexible asphalt paving project will generally involve these layers:
Subgrade - Usually a mixture of gravel and sand or dry lean concrete (DLC). It's often called the frost protection layer for its ability to minimize the effects of freezing and thawing.
Base - The middle layer, also known as the binder. It consists of large aggregate mixed with oil to add strength to the surface.
Surface asphalt - The top layer is made up of small aggregate, sand and oil-based bitumen which hold everything together. This mixture also creates the qualities that make asphalt roads dark black, smooth and shiny.
A rigid paving project is similar, with the addition of the following additional layers:
Anti-friction membrane - Placed on top of the base, it's usually made of polythene sheeting.
Insitu concrete slab - Prepared on site, this layer goes on top of the membrane to add extra strength. The final layer (usually asphalt) goes on top of the slab.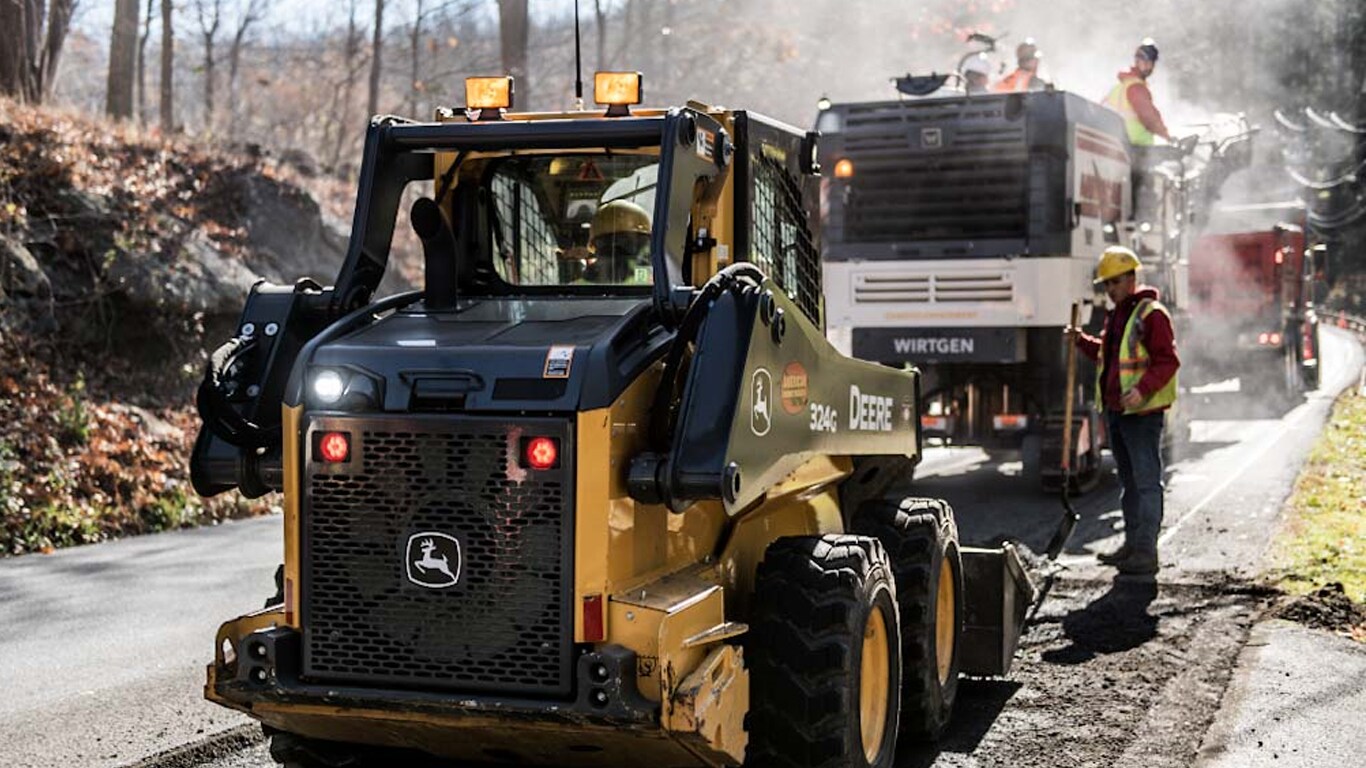 324G and Wirtgen Compact Milling Machine doing road construction.
The Road Construction Process
Excavating, grading and paving are not the only steps in the process. Let's take a brief look at all 4 phases of road construction, including what happens before ground is even broken.
Phase 1: Planning
This multi-faceted step involves everything from site evaluation (including review of the current soil/material on site) to project design. Planning also includes scheduling and logistics such as securing the proper equipment, labor and any subcontractors.
Phase 2: Earthworks
This phase begins with site preparation to clear dirt, trees and other vegetation. Some of what is removed may remain onsite to be used for erosion control or backfill. Before grading begins, the subgrade is prepared by adding or removing rock and dirt as necessary. This is known as "cut and fill." Next will be the grading of the land and compacting to make sure the road has a stable foundation.
Earthworks equipment needs may include:
Motor graders
Excavators
Crawler loaders
Crawler dozers
Scrapers
Dump trucks
Backhoes
Skid steers
Phase 3: Aggregate
Crews will add a layer to the subgrade, usually called the aggregate or rock layer. A motor grader or crawler is often used to create a crown in the road surface for proper drainage. After grading is complete, the aggregate is compacted to solidify the base.
Aggregate equipment needs may include:
Motor graders
Crawler loaders
Dump trucks
Dozer
Phase 4: Paving
For asphalt roads, trucks will bring in the hot asphalt mix. A paver pushes the truck at a slow speed to distribute the asphalt at the proper depth. A roller follows the paver to create optimal compaction.
For concrete roads, the process is more time consuming and labor intensive. A placer machine allows a concrete truck or dump truck to unload directly onto a conveyor belt. The belt places the concrete aggregate material and begins to spread it. Then a slipform mover moves along to smooth the concrete. Next a tinning machine makes grooves in the concrete to improve surface traction and drainage. After the concrete has dried, saw cuts or expansion joints are made to allow the concrete to expand and contract with temperature changes.
John Deere Road Construction Equipment
Now that we've discussed the major tasks involved in road construction, let's take a closer look at the equipment. Whether you need to clear the site, break up boulders, or grade the surface, John Deere has you covered. We have earth moving machines and equipment for every road construction task. Let's take a look at all the options.
Part of the John Deere family of brands
Serving the road construction, quarry and aggregate sectors
Products include compactors, pavers, mobile crushers, rollers and more
Intelligent machines that enable lives to leap forward.
Deere & Company (www.JohnDeere.ca) is a global leader in the delivery of agricultural, construction and forestry equipment. We help our customers push the boundaries of what's possible in ways that are more productive and sustainable to help life leap forward. Our technology-enabled products including John Deere Autonomous 8R Tractor, See & Spray™, and E-Power Backhoe are just some of the ways we help meet the world's increasing need for food, shelter and infrastructure. Deere & Company also provides financial services through John Deere Financial.
Well-Equipped For Your Roadbuilding Success.
The Wirtgen Group is a member of the John Deere family. Its five premium brands serve the road construction, quarry, and aggregate sectors. Together, we serve the growing need for infrastructure development and improvements worldwide. If we want to dig deeper into the machine forms they offer for road construction, check out: https://www.wirtgen-group.com/en-ca/applications/road-construction/.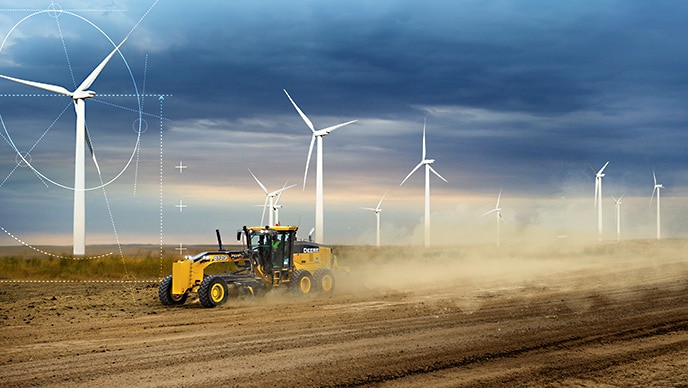 Big Opportunity in Big Sky Country
Experience meets innovation as Blattner Energy transforms renewable-energy projects.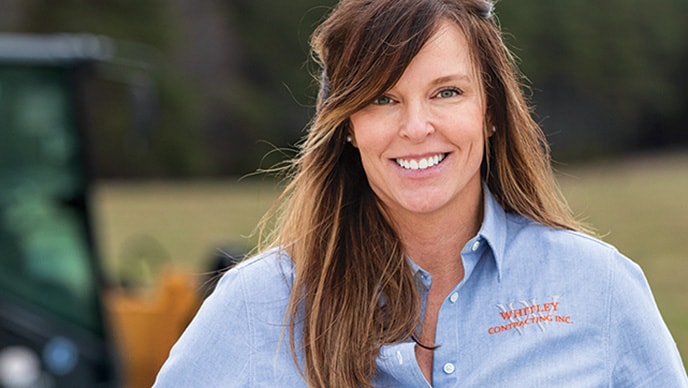 Pouring It On
Business is booming at Whitley Contracting, thanks in large part to the leadership of its female president, Brandy Whitley.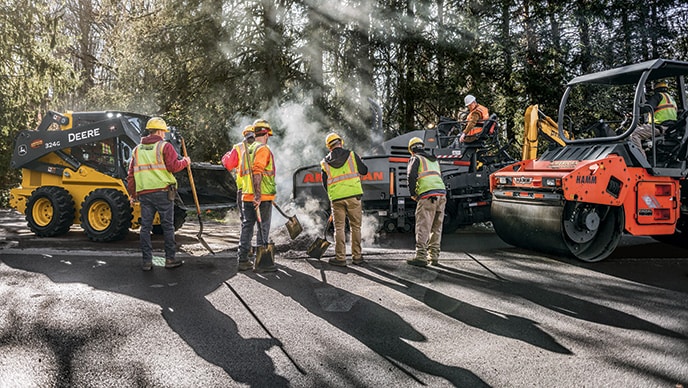 Raised on Blacktop
Reliable work and a captivating online presence have helped a Connecticut paving company expand.
Features and specifications are based on published information at the time of publication. Features and specifications are subject to change without notice.