Employee Joel Oltman's Family Gets to Watch Him Golf with the Pros
Oltman took CEO John May's place in the 2022 John Deere Classic Pro-Am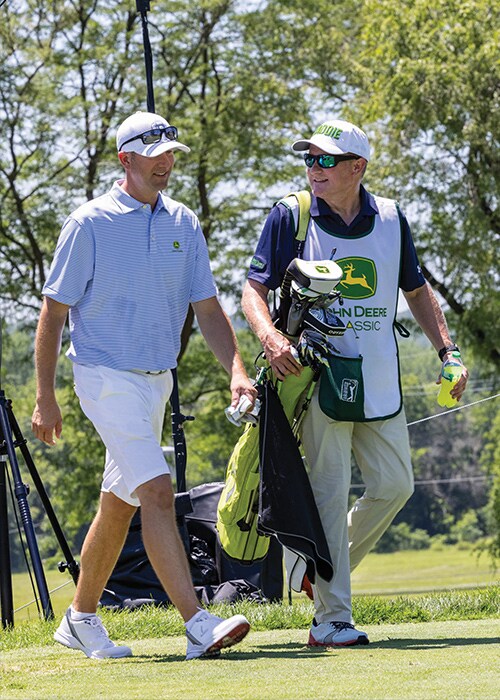 John Deere employee Joel Oltman was all smiles after finishing his first ever round at the John Deere Classic Pro-Am Wednesday.
Why? First, he played well. And second, his family, including wife Teresa and their eight children, were there cheering him on.
Chairman and CEO John May gave up his spot in the pro-am to Oltman and then served as his caddie. Oltman and around 30 other employees with a passion for the game of golf submitted videos explaining why they should be chosen to represent the company in the pro-am. It's the second year in a row May has given up his place in the pro-am to a deserving employee.
"Joel perfectly represented what this contest is about," May said. "His passion for the game of golf, his family, the company, and his community was all on full display during the pro-am. He was a great ambassador for our company, and his golf game certainly didn't hurt the group either."
Oltman, who works at the company's Harvester Works facility in East Moline, Illinois, said he had two main goals heading into playing in his first John Deere Classic Pro-Am Wednesday.
Number 1: Play up to his standard and see how he measured up to the PGA pro in his group.
"His game is impressive," defending champ Lucas Glover said of Oltman. "Actually, it's very impressive."
Number 2: Oltman also wanted to remember to enjoy the day and connect with his caddies, May and Mark von Pentz, President, Agriculture & Turf Division.
"They treated me like I was the most important person on the course and were so friendly and engaging," Oltman said. "They really went out of their way to connect with my family."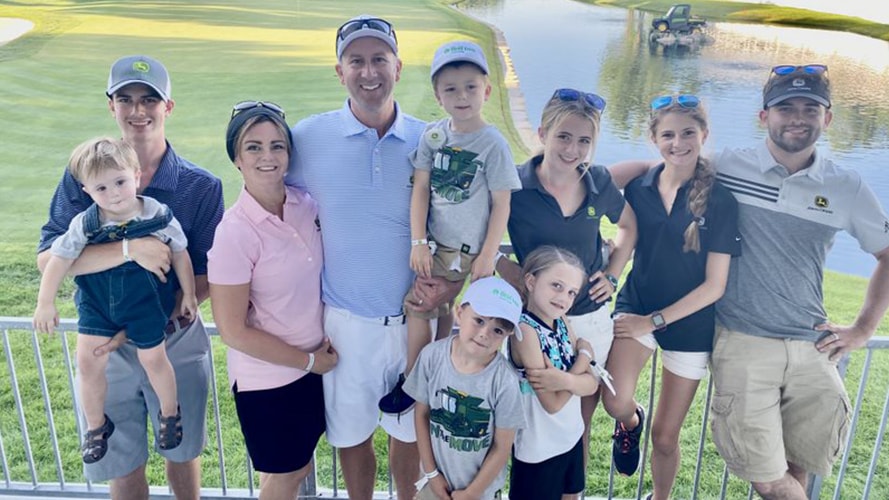 Ah, yes. Family. That was Oltman's most important goal, to give them a fun day following him on the course. His wife and eight children watched him on 16 of 18 holes, quite an accomplishment considering the combination of Midwest heat and a toddler's attention span.
"It was amazing to look up and see them following me. That connection was special," Oltman said.