Quinn Riley Chases His Pro Golf Dream at the John Deere Classic
First Tee alumnus will make his PGA Tour debut at the John Deere Classic
For Quinn Riley, chasing his dream began with an insightful letter asking for the opportunity to play professional golf in this year's John Deere Classic (JDC).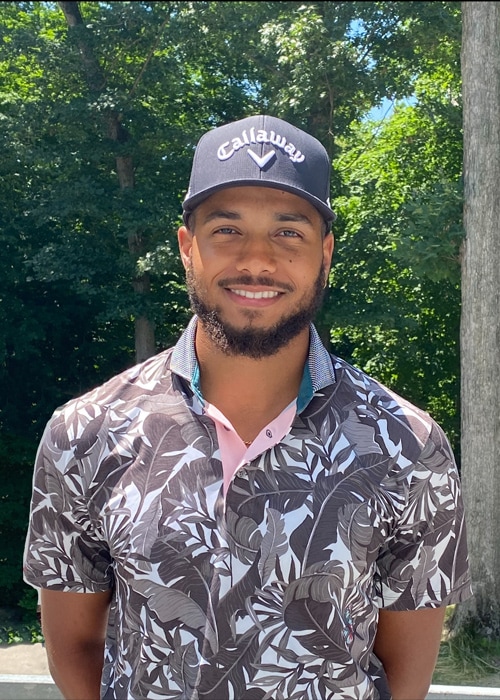 "We get a lot of letters from young men (asking for an exemption to play) but none as well written and heartfelt as his. It made it an easy decision," Clair Peterson, executive director of the tournament, said.
The letter is a story about being raised by a single mother, of being introduced to the game of golf through the First Tee program and learning to appreciate every "hand-me-down (golf) club and used pair of shoes" Riley ever received.
"On my shoulders lie the dreams of my younger self and many young golfers like him," Riley's letter states. "For these children, I proudly continue to write my story. … Competing in the John Deere Classic is not only a dream of mine, it is an opportunity for golf to contribute to a narrative, one which many aspiring children and people of all ages, colors, and life stories will relate with."
Given a player's exemption, Riley, who recently graduated from Duke University and turned a successful senior season for the Blue Devils golf team into a pursuit of a professional golf career, will make the JDC his first PGA Tour event. This year's tournament takes place June 27 to July 3 in Silvis, Ill.
From sacred ground to the First Tee
Growing up, Riley's dad, Ewan, was an avid gardener who would often take him to Home Depot on weekends. The smell of mulch and the rows of tomato plants are not what Quinn Riley remembered of those visits. Sure, he saw plenty of green, but one shade stood out over the others.
"There would be mowers parked out front," Riley said. "A long row of different ones. But it was easy to recognize that shade of green. John Deere always looked the cleanest. I remember as a kid getting up in the yellow seat and pretending to drive. That was my first connection to John Deere."
Now, with the JDC exemption, he will have the opportunity to make another. To do so he'll need to tap into a lifetime of other connections.
When Riley was a preschooler, his mother traveled internationally for work and would take him with her on occasion. He would need someone to watch him so his Uncle Larry, an avid golfer, would come with. Riley's first exposure to golf was at age 5, watching his uncle play at St. Andrews golf course in Scotland, one of the world's most iconic golf settings. Riley credits his admiration for his uncle with his desire to stick with golf and have someone to play with.
From there, Riley began participating in First Tee, a nonprofit program that enables kids to build strength of character through the game of golf. John Deere has been a trusted partner of First Tee since 2012 and supports diversity and growth of the game through its investment in home communities and national participant opportunities.
"It was more than just golf instruction," Riley said. "They taught life skills, things like putting together goal ladders and how to greet people and say thank you. It provided structure."
The game tapped into his "very competitive" personality, allowing him to enjoy the challenge of not only competing against the course and others, but against himself. "It's a game where there is no one else to blame if it doesn't go your way. That speaks to me."
Driven, Riley excelled in high school (both on the course and in the classroom) and earned a scholarship at Duke, one of the nation's premiere academic institutions. And now the next chapter begins for Riley, bolstered by the JDC exemption.
"It's something you dream of even as a kid watching Jordan Spieth and seeing what he did at a young age," Riley said of the exemption and the famous golfer, who is a two-time winner of the John Deere Classic winner. "It's about the opportunity to compete on the biggest stage, being televised so your family can watch. The whole country's watching. To live out a dream, well, that doesn't happen very often."
To live out a dream, well, that doesn't happen very often.
He'll take what First Tee taught him and map out goals for the JDC, both immediate and in the future.
"There's a lot that will go into that first swing on Day 1. Obviously, I want to make the cut. Then, what can I gain from this opportunity and how can I apply that each week to progress to where I want to be for the rest of the year. Honestly, I'm getting goosebumps thinking about it," he said. Yes, Riley will tell you, there's a lot riding on that first swing. Breathe. Don't overdo it. Maybe 65 percent. Not too much. These will all be reminders. He'll also not forget how he got to this moment, telling himself that no matter how the round turns out he's been prepared to move forward and will remember his story. "It's been rewarding thus far," he said. "And I'll just keep writing it."
QUINN RILEY
Personal: From Raleigh, N.C.
Career: As a Duke senior, Riley was second on the team in scoring average (72.24) and winner of the Stitch Intercollegiate tournament. He ended his amateur playing days as the No. 1 ranked collegiate player in the Advocates Professional Golf Association (APGA), a tour that provides professional playing opportunities for minority golfers. Exemptions: Korn Ferry Tour's REX Hospital Open (Raleigh, N.C.); John Deere Classic (June 29-July 3); 2023 APGA Tour Farmers Insurance Invitational at Torrey Pines, La Jolla, Calif.
Double duty: His JDC appearance will be his first of two Deere Run visits as he plays in an APGA event July 10-12