Beacon of Light in the Black Forest
Colorado community finds a glimmer of hope during a dark time
A few days after receiving a new John Deere 333G Compact Track Loader (CTL), Neil Behnke noticed something unusual. A girl from the neighbourhood had used her index finger to create a heart on the loading arm of the machine, which was already dusty from work. "Our community has really rallied around this machine," says Behnke. "They see it as a sign of hope that a bit of relief is on the way."
Recovery from the devastating fire that raged through Black Forest, Colorado, five years ago has been a slow, arduous process involving backbreaking labour. The fire burned 14,000 acres, destroying 500 homes and forcing thousands to evacuate. With the support of locally based nonprofit organization Black Forest Together (blackforesttogether.org), Behnke and other volunteers have helped residents clear trees and clean up properties, tasks that unfortunately are not covered by homeowners insurance.
"More volunteers are needed," says Behnke. "But I believe our efforts will inspire more people to become involved."
RECOVER, REBUILD, RESTORE
Behnke and his family love their community, which borders Colorado Springs to the northeast. "It's very peaceful, and we have great neighbours. There is just a resiliency among these people to build and keep going because this is where they want to live. In volunteering, I want to be a good neighbour in return. It's so important to give back."
In the distance, Pike's Peak and the Rocky Mountains provide a majestic backdrop for the Behnkes' backyard. But as with so many other properties in the area, black, dead trees cover much of the lot, a solemn reminder that there is still so much work to be done.
Approximately 13,000 acres of burnt trees remain in the Black Forest. Bill Mantia, president of Black Forest Together, lost thousands of trees on his lot alone. "To see the destruction to your home and land, and realize nothing is left is heart-wrenching, just devastating. I had 20 acres of old-growth trees that had been here 100 years. We're slowly clearing the land and planting seedlings, but it will take decades before they are fully grown."
It takes months to clear just a few acres of the charred trees. "The black trees are a constant, grim reminder that no matter how hard you work, there's always more to do. At Black Forest Together, our common purpose is to remove the black and restore the green to boost the morale of our community." Black Forest Together's Trees4Tomorrow Program transplants trees from "donor" properties to burn zones, further restoring the affected areas.
When people come together for a common cause and the common good, they can really make a difference.
LIGHT AT THE END OF THE TUNNEL
The 333G CTL provides welcome relief to the project. "I can't overstate how important this machine is to the people of this community," observes Mantia. "Having worked on these projects for five years, I understand the impact it can have in expediting recovery. It will help us more quickly restore a sense of normalcy to our lives — that's truly meaningful."
The 333G is equipped with a forestry package including protective guarding. High winds can break off massive treetops and branches, or "widow-makers," and send them plummeting to the ground, which endangers chain-saw workers and other volunteers.
The machine is also equipped with a John Deere mulching head, a powerful tool for taking down burnt timber, mulching huge slash piles, and grinding stumps. "Before, the process was mostly manual, using chain saws, a chipper, and physical labor," explains Behnke. "The first time I used the 333G I could tell how much impact the machine is going to have.
It is going to speed up things exponentially. We now have a machine that will greatly accelerate our efforts."
People are beginning to believe they can finally get the project done, according to Behnke. "We are starting to see a bit of light at the end of the tunnel. I'm excited to put the equipment to use and help rejuvenate the community. When people come together for a common cause and the common good, they can really make a difference."
MAKING A DIFFERENCE
Two other volunteer organizations have put the power of a John Deere compact machine behind their projects.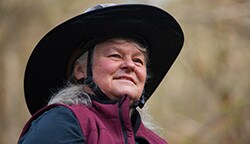 "We absolutely love the 317G CTL and grapple attachment. It has been a huge assist in hauling gravel and other much-needed supplies to help maintain our trails. It saves our volunteers from a lot of heavy work. It's so easy to use, and we use it for many other different purposes."
— Anita Will, founder and site leader, Whipple Creek Restoration Committee, Ridgefield, Washington. The committee has enlisted volunteers who have donated thousands of hours to revive the 300-acre park.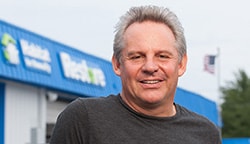 "The John Deere 325G CTL has been fantastic. It's made all the difference in our efforts toward neighborhood revitalization. Before it arrived, we were using manual labor to demolish structures and prepare building sites. Progress was far too slow. Using the CTL, we've been able to demolish six condemned houses and prepare seven sites."
— Jake Pieterse, Chief Operations Officer, West Pasco Habitat for Humanity, New Port Richey, Florida. The chapter has transformed an entire, highly depressed neighborhood to provide families with simple, decent, and affordable homes.