Grit and Grind
The bedrock of Central Florida's growth
The steady hum of activity permeates the muggy, spring air and serves as the soundtrack for tireless workdays at the Lago Verde Mine in Spring Hill, Florida.
A parade of trucks enters the mine at consistent, 15-minute intervals to collect — and soon depart with — recently extracted loads of crushed limestone.
The material is destined for jobsites throughout central Florida, where it will be used to support the region's construction and roadbuilding industries. In recent years, those sectors have grown — and Lago Verde has played a key role in supplying the stone that forms the foundation of these in-demand projects.
"The Florida market is very good," says Pate Clements, co-owner of the mine and its sister company, Cypress Gulf Development Corporation of Oldsmar, Florida. "We're in the process of installing a new crusher to increase our capacity."
Clad in mud-stained work pants and a bright-yellow hard hat, Clements briefly pauses to collect his thoughts as he peers across the vast expanse of his busy mine. "We have been very fortunate," he reflects. "We're close to the population growth, and we've been able to sell just about everything we can produce on a daily basis."
Modest beginnings
Clements and his business partner Jim Glover started Cypress Gulf in the early 2000s. The company conducts commercial, residential, and industrial sitework, establishing a strong presence in a four-county region stretching from the east to west coasts of the state.
Two decades after its founding, Cypress Gulf and its affiliated companies have grown to roughly 250 employees. While Clements is proud of that number, he is equally as eager to discuss the company's humble roots. Much like the material it mines, Cypress Gulf has been built upon grit.
"I think what I am most passionate about is where this company came from," he says. "Me and my business partners, we weren't given anything. None of us came from families that were in the business. We all started our companies from scratch."
Over time, Cypress Gulf's growth has been supported by strategic acquisitions and calculated diversification. Clements and Glover operate a ready-mix concrete business, and in 2020 they purchased the Lago Verde Mine, a move that gave the company direct access to the raw materials it needed. "We use a lot of rock in our other businesses, so it was natural for us to produce our own aggregates and grow into the mine," he says.
Working in harmony
Setting one's sights on the Lago Verde Mine is one thing. Turning it into an effective and efficient operation, however, is quite another. Employees utilize a diverse fleet of John Deere equipment to keep the operation moving, relying on machines with the power to perform the heavy lifting and the dexterity needed to navigate the thick, waterlogged terrain covering the mine's expansive acreage.
Each machine plays a critical role, like pieces of a puzzle interlocking to form a larger picture.
"Once the limestone has been extracted from the pit, we use the John Deere 380G LC and 350G LC Excavators to load it into 310E Articulated Dump Trucks (ADTs)," Clements explains. "The ADTs move the product into a series of crushers, which transform the stone into a variety of shapes and sizes to meet a range of customer needs." Lago Verde crews use the John Deere 844K-III Aggregate Handler (AH) to lift and load the finished product into customer dump trucks, where it will ultimately make its way to its final destinations.
At the helm of the large loader is Shawn Carr, the personification of endurance and a lifelong Floridian who relishes marathon workdays and the satisfaction of a job well done. "Typically, that first daylight is just starting to come in as I am getting into my machine and starting my work," says Carr. "It'll be another 10 to 12 hours before I wrap things up for the day."
Carr boasts a half-dozen years of experience in the mining industry, a period of time that's allowed him to become intimately familiar with the equipment he operates. "The conditions out here can be tough," understates Carr. "It depends on the weather and the ground. If it's been raining the entire day, it can get soft out in the limestone mine. You end up with bumps and holes all over the place, which makes every move much more difficult. To do this job, you need traction and you need power. With this machine, I have plenty of both."

"Two things stand out the most — operator comfort and technology that makes us more efficient"
Watch Video
The right mix
While he takes immense pride in both his workforce and his fleet, Clements readily admits that Cypress Gulf couldn't do it all on its own. "The dealership support is so important for us," Clements said. "Dobbs Equipment has been such a big part of what we do here. Equipment sales matter, and equipment availability matters — but keeping those machines running and servicing them is also incredibly important. They do a great job of that."
Moreover, Clements credits the ceaseless innovation and technological advancements of John Deere for helping move his operation forward. "Two things stand out the most — operator comfort and technology that makes us more efficient. If the operator isn't comfortable working in the machine, he's not going to spend 10 to 12 hours a day in it. He's going to leave for the next job," Clements shoots it straight. "As for tech, all the communication between the machine, our office, and the dealership makes a huge difference in how we operate. From measuring loadouts to fluid levels and maintenance, there are eyes on everything. It gives us the confidence to focus on the work knowing Dobbs will flag and fix any problems before they become real issues."
Forging ahead
In Central Florida, opportunity is abundant and the need for materials is urgent. For Clements and his colleagues, that means there is little time to pause and reflect on past accomplishments. Their attention is always fixed on the task at hand, regardless of what dark clouds form on the horizon. Within minutes, the temperature drops and a swift wind ushers in sheets of heavy precipitation. But neither the workers nor their machinery break stride.
Carr continues to move stone, the light from his John Deere 844K-III AH guiding him through the rain-soaked site. A steady stream of customers continues to move. At Lago Verde, the scene is far from an anomaly. It's the expectation.
"We don't ever want to be idle," Clements says. "We want to be growing, moving forward, producing, and doing better for our employees and customers. That's our goal."
Cypress Gulf Development Corporation is serviced by Dobbs Equipment, Lutz, Florida.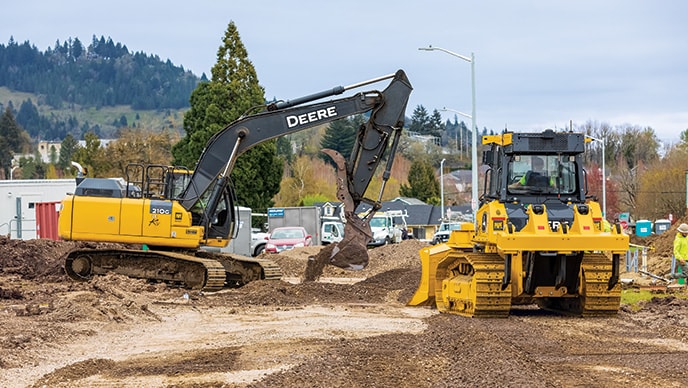 Part and Parcel
Kipco Construction is a small company tackling big site-preparation projects in bustling Eugene, Oregon.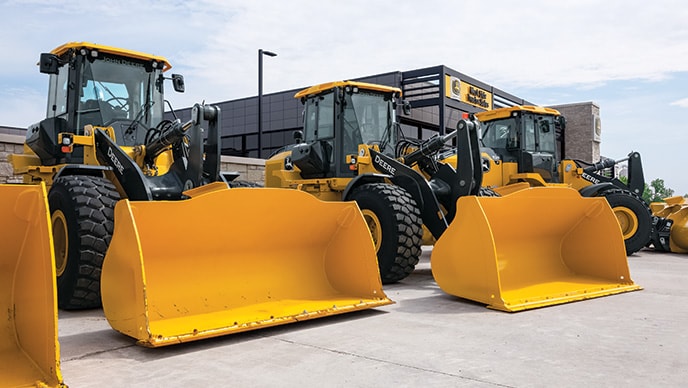 Recipe for Success
Family bonds and female leadership have fueled the success of a Midwest John Deere dealership.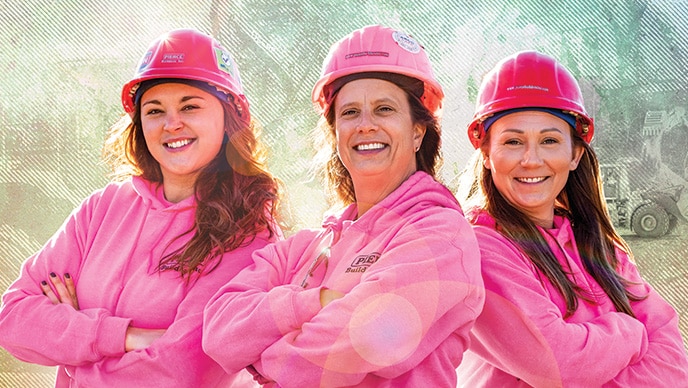 Together We Shine
The women at Pierce Builders spend their workdays moving earth and making things happen.
Think readers would dig your story?
You could be featured in an upcoming edition of The Dirt. To be considered, just tell us a bit about yourself and your story idea by filling out this form.