Pushing Potential
What to expect when a pro motocross racer shifts gears
Whether it's the low growl of a determined diesel or the wound-up battle cry of a 250 two stroke, there's rarely a quiet moment at Moto Sandbox in Groveland, Florida. As an elite training facility for moto- and supercross racers from across the world, it's no wonder these energy-drink-fueled daredevils are always on the move. From constructing 100-foot jumps and landings to launching off them without hesitation, this is where the future of the sport is born.
"We're right here in the heartland of moto," says Jason Baker, owner of both Moto Sandbox and Dream Traxx, the company that travels the world constructing and maintaining everything from simple pit-bike tracks to 100-acre world-record courses for the sport's top athletes. "Welcome to my little slice of paradise."
It Takes One to Build One

What you see now is far from where it all began, and Baker has been instrumental in that change. "This was nothing but a flat cow pasture since the late 1800s," says Baker from atop a 40-foot-tall booter at the center of the property, which really says something for a state not known for its elevation changes.
"I've been here since 2009 helping transform and shape the land — it's been literal blood, sweat, and tears, but that's what it takes in this sport."
Baker joined racing relatively late compared to his peers. "When I started racing at 19, I was going up against guys who had been riding all their lives," he explains. And though his career of five years was short, he made his way in a hurry, reaching the pro ranks before retiring due to injury. But Baker's passion and unique capability kept him involved. "I come from a very do-it-yourself kind of family. I built my first track myself and gained more experience helping others maintain theirs." His reputation grew as the go-to-guy for getting a track built right. "It takes a rider's understanding to know what a track needs, and I can cater my courses to the rider's weaknesses. Being able to build specialized courses with custom obstacles helps the riders progress immensely."

"We're out here daylight 'til dark, and these machines are right here with us, working as hard as we do."
Watch Video
Maxed Out
In racing, pushing the machine to its absolute maximum performance isn't just common, it's critical for being competitive. The same goes for Baker and the equipment he uses to build tracks. "Most people expect a dozer to push a pile of dirt flat or a grader to fine-tune a slope — we're a little different in what we're trying to accomplish. We're almost always pushing or grading at a slope and creating complex features with the dirt." Operator skill aside, pulling that off takes machines that can keep up.
"The John Deere machines I've run give me confidence to know I can work this thing hard. I can get in it, turn the throttle wide open, and just go to town. We're out here daylight 'til dark, and these machines are right here with us, working as hard as we do."
A Full Garage
Baker has no shortage of tools to choose from, no matter the phase of the project. "The John Deere 260E Articulated Dump Truck gets our capping clay from the stockpile to anywhere needed on the property quickly and efficiently. On top of tearing down old jumps and loading trucks, the Deere 210G LC SmartGrade™ Excavator has really impressed me — I just added a new drainage feature using the technology and am amazed by how clean, consistent, and fast it was making that cut. There was no effort at all."
The obvious leaders of the pack for Baker are the Deere 750L Dozer and 333G Compact Track Loader (CTL), each equipped with SmartGrade. "That 750L, man…that thing's a beast. I've spent a lot of time in dozers, and the operator influence is immediately obvious. It's very comfortable, it's powerful, it's smooth — I've been very happy with it." Baker's love for the 750L extends to its smaller cohort just as much. "The power of the 333G blows me away. With other brands, I've had trouble getting to the top of a takeoff with an empty bucket. The 333G walked right up the steep incline with a full blade of dirt, no problem. I've been very impressed."
Last but not least, the Deere 672GP Motor Grader is a little unexpected on a motocross track, and so are its benefits. "Along with the track, we need access roads. If an ambulance needs to reach the far end, it's critical they get there quickly and safely. With this grader, we have highways out there." Of course, with Baker's need to go big, making smooth and consistent surfaces with the motor grader wasn't enough. "We wanted to push it — we had it out there grading the side of a jump and a section of whoops, and even using SmartGrade to do it! If the machine and technology can pull that off, they'll handle the average parking lot or county road without issue."
All Checkers
Baker's excitement about and confidence in his John Deere machines is a big part of the equation, but that's not all. As his work takes him across the country and around the world, he knows he'll be supported. "Service behind equipment is probably an even higher demand for me. Downtime means extra days on site, hotels, rental cars, flight changes, and other headaches that affect profitability. Deere hands down makes a great, quality machine, but I think the level of support and excitement within — that makes me most excited about working with them."
Moto Sandbox and Dream Traxx LLC are serviced by Dobbs Equipment, Orlando, Florida.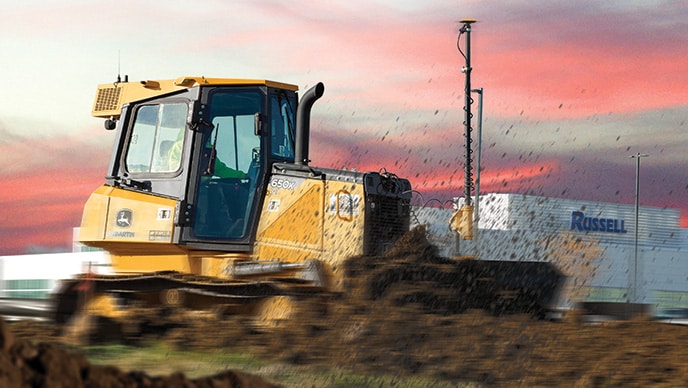 In Swift Succession
From the jobsite to the C-suite, women are playing a pivotal role at Russell.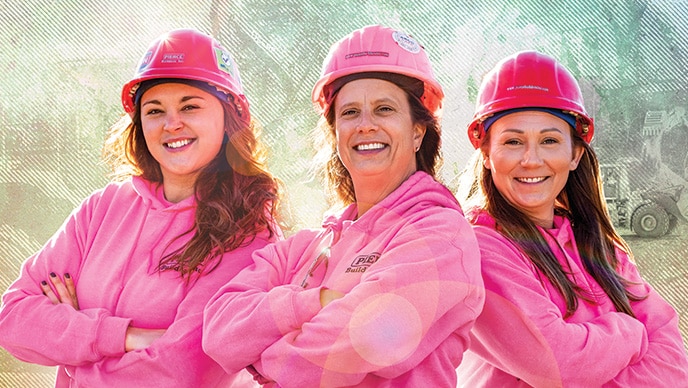 Together We Shine
The women at Pierce Builders spend their workdays moving earth and making things happen.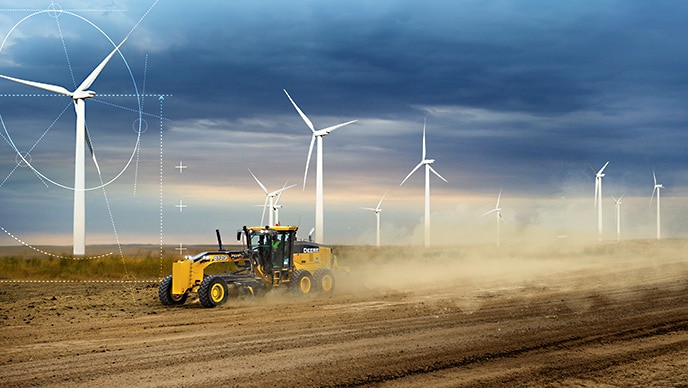 Big Opportunity in Big Sky Country
Experience meets innovation as Blattner Energy transforms renewable-energy projects.
Think readers would dig your story?
You could be featured in an upcoming edition of The Dirt. To be considered, just tell us a bit about yourself and your story idea by filling out this form.