Speciality / Niche
May 29, 2020
Rome Wasn't Built in a Day
New apple varieties follow different paths to the top.
Amritpal Singh scans the skinny tree, checking for disease, the fruit load, and the angles of the branches off the trunk. He pulls off a bright-red apple and looks at it like a cat eyeing a mouse. Any disease? Is the color blotchy? Is the fruit pretty and symmetrical? He takes a bite, making a few tasting notes on the sheet in his hand. Then it's on to the next tree. There are still a hundred to go today, every one genetically unique and previously unknown to mankind.
Singh is a research scientist at Agriculture and Agri-Food Canada's Summerland Research and Development Centre in Summerland, British Columbia. He is evaluating the offspring of this year's crosses, searching for the next Ambrosia, the sweet/tart superstar that delighted apple lovers and boosted margins in British Columbia's apple industry. Or maybe he'll find the next Rome Beauty, still a favorite of East Coast bakers 200 years after its introduction.
The first Rome Beauty was discovered in 1817 in a batch of nursery trees near Rome Township, Ohio. In apple lingo, it was a "chance seedling," a happy accident, a lucky discovery.
Similarly, BC growers Wilfrid and Sally Mennell found the first Ambrosia tree growing in their orchard in 1990. They rallied the region's growers around it to put their chance sport through extensive testing and ultimately bring it to market.
Singh is taking a more deliberate approach, crossing specific parents and picking through 30,000 seedlings per year in hopes of advancing 3 to 5 of them to the next level of evaluation. From there, a couple may make it to stage 3 on-farm trials in other regions before the stage 4 commercialization process. The full journey takes 24 to 35 years, and it starts one bite at a time.
"On any given day, we eat about 50 different apples," Singh says, confessing that it gets pretty tiring after the first 30 or so. "Only if a tree is fairly productive and looks good will we taste it. They'll get up to five chances before we will remove them."
Nick Ibuki, business development manager for Summerland Varieties Corporation (SVC)— which manages the global licensing of Ambrosia, as well as other apple and cherry varieties developed in the area—adds that the selection process is brutal.
"It's a gladiatorial fight to the finish," says Ibuki as he samples an apple from the next tree and tosses it. That one's not likely to make the cut.
So many. Apples have a special place in our culinary tradition and our culture. About 2,500 varieties have been grown in North America on farms large
and small since colonists brought the first cider apple trees with them to Jamestown in 1607 and John "Johnny Appleseed" Chapman planted orchards from Pennsylvania to Illinois two centuries later.
Apples work at every scale. They're grown in dense, trellised fruiting walls on huge Washington operations and on creaking, spreading limbs on historic New England farmsteads. Some are heirlooms carefully budded from ancient trees. Others emerged from breeding programs like Singh's, and some, marketed under the Arctic label, reflect the latest in gene silencing technology.
Apples' diversity is unique. To Zeke Goodband of Champlain Orchards in Shoreham, Vermont—who, like most Baby Boomers—grew up eating bland Red Delicious apples, encountering that diversity was an awakening.
"Growing up with Red Delicious is sort of like if I only thought music was played on a trombone, and then some morning I walked into a symphony hall and there was a full orchestra," he says.
Goodband dove deep into heirloom apples, driven to grow them and share them with the world.
"Some of the varieties we grow have been kept going for hundreds of years, so they're culturally and historically of value," he explains. "They bring us back to that farm in upstate New York where Northern Spy came from, or the field in Maine where Black Oxford started. They're the same apple—they're the same tree—because they're from cuttings, so we have this unbroken connection back to that farm in Maine or New York State."
Joining the club. New varieties constantly jostle for space in the produce aisle as growers hope to appeal to consumers' evolving tastes. As varieties fall victim to overproduction, pest pressure, or changing market demands, the industry scrambles to bring on new, exciting, profitable cultivars.
In recent years, apple varieties have been carefully managed as "club apples," stewarded by companies that manage supply by licensing nurseries and growers, fund research into every aspect of growing and handling the fruit, establish strict quality parameters, and market the brand to boost returns.
For example, every Pink Lady apple in a grocer's display meets very strict standards for sugar content, color, blemishes, and firmness. Otherwise it would have to be marketed as a Cripps Pink to avoid the risk of tarnishing the Pink Lady brand. Other varieties have adopted a similar approach.
"Those astute, high-quality growers understood that this variety could flop if it wasn't handled in the right horticultural manner. They knew they needed to not just promote it, but sustain it," says Steve Brown of Happy Valley Harvest in Summerland, who grows Ambrosia, Pink Lady, and Gala on 15.5 acres. Brown also sits on BC's New Varieties Development Council, which is funded by Ambrosia growers.
"The fact is apples are no different than anything else in life," Brown adds. "You don't get a second chance to make a first impression."
Blast off. Last December, Cosmic Crisp blasted into the market with a unique consumer-focused launch. Shoppers snatched up the limited supplies, driving prices to $72 per 40-pound box—more than double the going rate for other branded varieties, which averaged $38.50 per box, and more than three times the $19.50 average for commodity apples.
"The returns were awesome this year," says Kathryn Grandy, director of marketing for Proprietary Variety Management (PVP), which oversees the brand. She steers the $10 million earmarked to promote Cosmic Crisp for its first five years on the market, funded by royalties from tree and fruit sales.
Growers were confident the variety—a 1997 Honeycrisp/Enterprise cross by Washington State University's Bruce Barritt—was going to be a hit. Demand for the first 700,000 trees was so high Washington State University selected buyers by lottery.
Guided by packers on an advisory committee and deep research into post-harvest physiology by Washington State University, PVP mandated that Cosmic Crisp wouldn't go onto the market until December 1, allowing enough time in storage for its signature balance between sugar and acidity to develop.
The 2019 demand was exciting, Grandy says, but long-term success will depend upon keeping Cosmic Crisp in front of shoppers year-round. As 12 million Cosmic Crisp trees come into full production on more than 8,000 acres in Washington, Grandy projects the variety will become a produce-aisle staple by 2023, when the supply is expected to hit 10 million boxes. Four years later, Washington growers' exclusivity will come to an end and farmers in other states and countries will be able to plant Cosmic Crisp, too.
Just one year before Cosmic Crisp's introduction, the grower-founded Midwest Apple Improvement Association (MAIA) launched the EverCrisp, a Fuji/ Honeycrisp cross by Ohio farmer Mitch Lynd. MAIA is taking what it calls an "open managed" approach to the new variety: growers pay a $100 membership and $1 per tree to plant, and pay a small per-tree royalty for 20 years rather than a levy on fruit sales.
More places. When he retired to a Summerland orchard after years as an agricultural engineer on international aid projects, Neal Carter found himself inspired by the baby carrots and cut salad mixes that were opening doors for produce growers. He decided the apple industry needed to follow carrots into the world of prepared foods and food service, which accounts for 50 percent of consumers' food dollars but just 2 percent of apple sales.
To make that possible, he needed to develop an apple that wouldn't turn brown when cut. That would open the door to a world of pre-cut, sliced, or diced apples to fit the needs of today's restaurants.
"We have a mantra that's 'more apples in more places,'" says Carter at his Summerland, BC, headquarters.
Carter experimented with coatings to minimize oxidation. Then he connected with a team of Australian scientists who had identified the gene that codes for the polyphenol oxidase (PPO) enzyme, which causes cut apples to turn brown. Silencing the gene through RNA interference—using the apple's own genetic material—allowed a team from Okanagan Specialty Fruits (OSF) and Agriculture and Agri-Food Canada to eliminate enzymatic browning in existing apple varieties.
In 2017, OSF introduced Arctic Granny and Arctic Golden, followed by Arctic Fuji in 2019. The Arctic products are sold as dried apple sticks called ApBitz and fresh-packaged sliced apples.
Carter says public reaction to silencing the PPO enzyme has been quite positive. In fact, online surveys showed an 8-percent boost in interest when shoppers were told that Arctic apples were modified using the apple's own genes.
Going direct. Older varieties endure, especially in older markets. In fact, they're a key to survival in today's New England apple business.
For decades, Eastern growers have been battered by competition from high-intensity Northwest orchards, so many have embraced their diverse plantings and local nostalgia for the area's farm heritage.
A century ago, Ben Clark's great-grandfather shipped apples by truck from Clarkdale Fruit Farms in Deerfield, Massachusetts, to New York City, 75 bushels at a time. By the 1930s, the Clarks opened their peach blocks to youpick customers, and in 1959, they started pressing cider. Today, fresh cider is still a big draw for the family's farm stand, where customers can buy more than 40 varieties of apples—old and new—as well as peaches, pears, plums, and cherries from 50 acres of orchards.
"In terms of the region, the direct-marketing farm stand grower is much more successful," says Clark. "Our prices aren't set by national buyers. So this year in Massachusetts, the minimum wage went up and we could build that into our price. When people asked why they were paying 25 cents per bag more than in the grocery store, we could explain that our costs went up, we're paying our workers a living wage, and they're helping keep us in business."
Long search. Back in BC, Amritpal Singh and Nick Ibuki continue the long search for the next big variety.
"The scary thing is there is one apple in this field that I'll be working on at the end of my career in 2045," Ibuki says, picking an apple and taking a bite."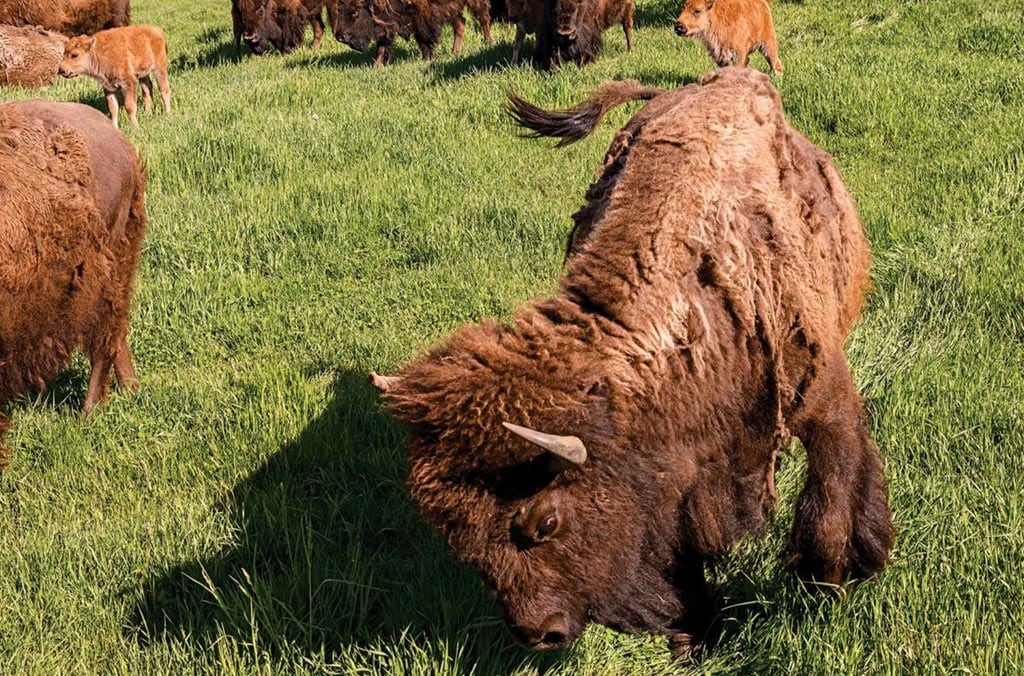 Niche Markets
Terre des Bisons
Quebec bison ranch turns to Plan B.
Read More