American Dreamers
"Give me your tired, your poor, your huddled masses yearning to breathe free. Send these, the homeless, tempest-tost to me, I lift my lamp beside the golden door!"
Lilia Jubrail, co-owner of The Equipment Connection in Lancaster, California, echoes these words as she reflects on her own experience as an immigrant: "The United States is the 'golden country.' It is the place where dreams come true. I have been to many countries in the world, and there is no other country like the United States."
Golden opportunity in the Golden State
When she arrived in California as an immigrant from Mexico at the age of 15, Jubrail didn't know English. "I could say 'hello,' and that was about it," she recalls. "None of my teachers spoke Spanish. Math was okay, but other subjects like history were hard. It was pretty tough. It takes a lot of courage and persistence for immigrants to excel and assimilate."
Almost three decades later, Jubrail has built successful accounting and rental businesses. "People come here from other countries because you can be whatever you want to be. I am extremely grateful and proud to be an American citizen and proud of this country."
Prior to opening The Equipment Connection three years ago, Jubrail ran a bookkeeping practice for 20 years. Many of her customers were construction contractors. With her experience in providing top-notch customer service, she believed opening a small rental business represented a big opportunity.
"There aren't too many smaller rental companies in our area that can provide the kind of attention small contractors are looking for," she says. "My bookkeeping customers kept telling me that the big-box rental stores often ignored them and that they'd rather go somewhere else. So, we thought, 'Let's go for it.'"

"We need more women in the construction and rental industries. We need to empower women and make sure our voices are heard because we are very capable."
Watch Video
"Hear our voice"
Jubrail co-owns The Equipment Connection with her sister-in-law, Ernestina Rincon. "Ernestina and I are not only women, we are immigrant women. That the two of us are able to build a successful business together is the American dream come true."
The two have known each other 27 years. "She's more than a sister-in-law. I consider her my actual sister. Working together makes our relationship even stronger. We know each other's strengths, which helps us succeed."
Jubrail's two daughters, Valerie and Natalie, often help out at the rental counter. "I love that my daughters are able to do this," she says. "We need more women in the construction and rental industries. We need to empower women and make sure our voices are heard because we are very capable."
Both daughters are college students. Jubrail hopes Valerie, who is studying marketing, will stay with the company after graduation. Her older daughter Natalie is studying political science. "She is passionate about women's empowerment and human rights in general. She wants to be sure everyone's voice is heard and that there is equality everywhere."
Every minute counts
In addition to scissor lifts, booms, cranes, generators, and tools, The Equipment Connection offers a full range of John Deere Compact Excavators. "Everyone loves the 26G because you can take it just about anywhere, slip into tight spaces, and do an amazing job," says Jubrail. "For smaller jobs, we offer the 17G. And there's also a lot of new construction around here, so many of our larger customers ask for the 35G for those bigger jobs."
The company also offers a 325G Compact Track Loader. "Our customers like the 325G because it is so versatile and can get so many jobs done quickly while reducing hand labor," she explains.
Customers recognize the Deere brand for its quality. "The machines are extremely well made and durable," says Jubrail. "We know that every minute counts and that it is important for our customers to have dependable machines. We can't leave them hanging. That's why we count on John Deere."
Brand recognition and reliability aren't the only reasons Jubrail chose Deere. "John Deere values us as a women-owned company and gave us a great opportunity," she says. "They offered us a great line of credit, which makes a huge difference for a startup business. Thanks to them, we are able to grow, and we are going to stay loyal to them."
She also appreciates the service and support she receives from the local John Deere dealer, Coastline Equipment. "They have been a great resource for us, providing a bridge between us and John Deere. Our representative, Chris Chadwick, is amazing. He's done so much for us, for example, having an attachment or machine ready on short notice when a customer needs it the next day."
Jubrail is optimistic about the company's future. "The president just signed an infrastructure bill, which I think will be great for our country and for us. Our cities need fixing and the contractors who are doing the fixing need our machines. And we are definitely here for them."
The Equipment Connection is serviced by Coastline Equipment, Oxnard, California.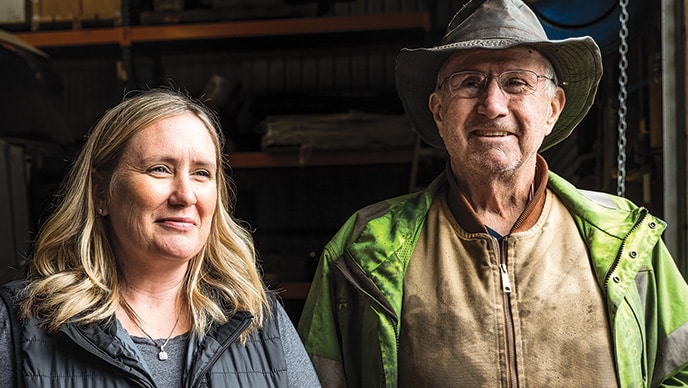 Elements of Success
Perseverance and a commitment to quality help Hayley Ferguson lead her company forward.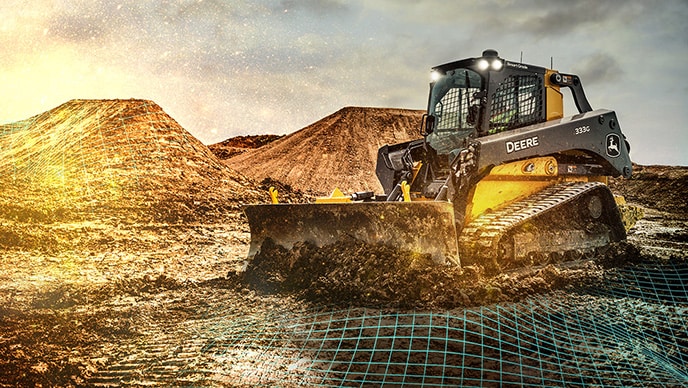 Dream Machine
A former motocross athlete used John Deere equipment to create an elite racing track in the heart of the Midwest.
Ready to inspire others
We are always looking for opportunities to feature women and advocates for women in construction in future editions of the Worksite Journal. To be considered, share your story or someone else's by filling out this form.