Homesteader Heritage
Crow Creek Dairy preserves a legacy using technology
The Colorado Territory was only a year old in 1862 when the Homestead Act was passed. The Act encouraged western expansion and migration by providing settlers with 160 acres of land in exchange for a small filing fee. Robin Meireis' great-grandfather homesteaded a farm back in 1890 near Gill, Colorado, on the eastern plains north of Denver. "My grandmother would tell me that their farm was the last telephone going east. When people had emergencies, they'd come to this farm."
Meireis' great-grandfather sold the farm in the 1920s after losing money invested in the silver mines. She and her husband Bruce bought the 160-acre farm back in 1999. The original red barn her great-grandfather built in 1910 still stands.
Robin's and Brad's ancestors can be traced back to the American Revolution. According to family lore, the wagon that brought settlers to Colorado was pulled by shorthorn cows, which were used to start the dairy. "Our family brought some of the first shorthorn cows to the west," says Bruce. "I'm very proud of our heritage and that we were able to reacquire that land. It's very important to us that we maintain it for future generations."

"We also focus on sustainability, looking at as many things as we can, including solar and methane from manure."
Watch Video
Automated, sustainable future
Today Crow Creek Dairy farms 500 acres and raises 400 dairy cows. Farming was tough for homesteaders, to be sure, but even with modern technology, it's still tough to break even. "That's become more challenging over the years," says Bruce. "Our input costs are high, so you really have to manage expenses."
Growing their own feed crops has helped. "It's given us some control over our finances," says Bruce. "We also focus on sustainability, looking at as many things as we can, including solar and methane from manure."
The family is also building a state-of-the-art robotic facility. "I believe it will be one of the first of its kind in the area," says Bruce. "We feel it is going to change the industry."
Everything in the barn will be automated. Six robots will milk the cows automatically, three times a day. The cows will not be herded around like in a rotary parlor but decide for themselves when to eat, drink, relax, or be milked, creating a stress-free environment that maximizes comfort and milk production. Automated curtains and fans will control climate. The system is highly energy efficient, reducing costs.
"We've always innovated a lot," says Bradley Foss, who is Robin's brother. "We keep making changes and moving forward. Our father did that and I tried to do that. Now Robin and Bruce are doing the same thing."
"Go-to" for the "to-do" list
Robin and Bradley grew up on the same family farm together that Robin and Bruce expanded when they bought back the original homestead. "Everybody does a little bit of everything," says Bradley. "The 'to-do' list never ends."
Robots will help ease the workload, but there are always plenty of other chores to do. Crow Creek Dairy relies on a John Deere 330G Skid Steer for cleaning pens, pushing up feed, digging postholes, and moving large bales. "It's our go-to machine," says Bruce. "We use it for almost anything you can imagine."
Bradley loves the freedom of farmwork. "You can set your own hours, unlike a job in town." His main role is running the tractors and the 330G. "I love it and run it more than anything else," he says. "It's comfortable and easy to run. John Deere skid steers are just very reliable and do a good job for us."
Bradley appreciates the electrohydraulic (EH) four-way controls, which allow the operator to choose from EH foot control, ISO joystick control, H-pattern joystick control, and ISO and foot control. "I prefer ISO joystick control, but other operators prefer H-pattern," he says. "It's easy to change with a simple switch."
It's unknown whether Bradley and Robin's ancestors ran John Deere equipment on the original homestead, but the family farm has owned Deere for over 30 years. "We use Deere because our local dealer, 4Rivers, keeps us up and running," says Robin. "They are very knowledgeable and always there to help us."
She is proud of owning a historical farm with a new state-of the-art facility that they can hand down to their children Robert and Bailey. "We're still in the game and still progressing. Hopefully we'll be here for another 50 years."
Crow Creek Dairy is serviced by 4Rivers Equipment, Fort Collins and Greeley, Colorado.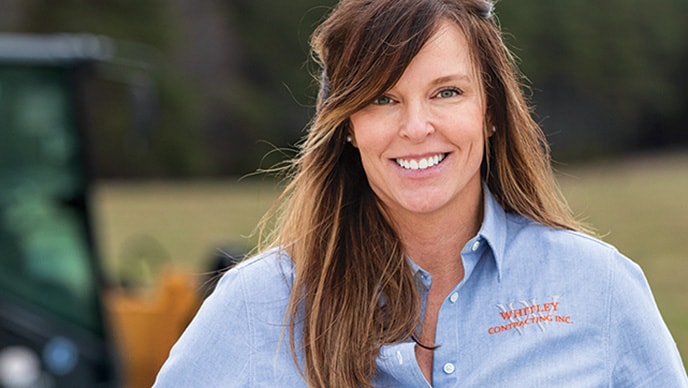 Pouring It On
Business is booming at Whitley Contracting, thanks in large part to the leadership of its female president, Brandy Whitley.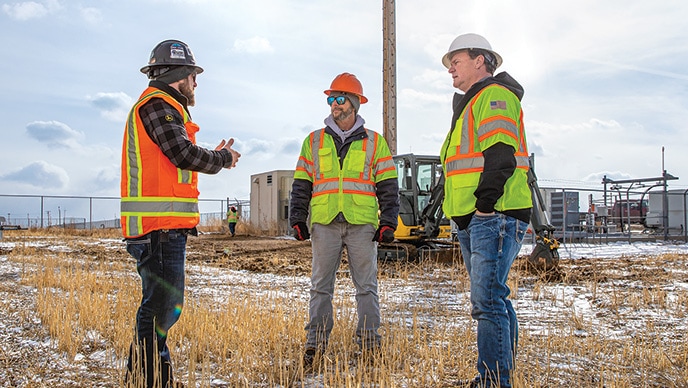 Building Connections
True to its name, Denver-based A to Z Field Services is capable of doing just about everything.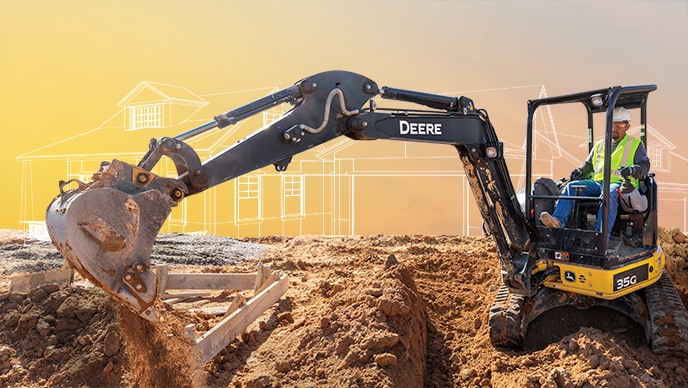 A Solid Framework
See how the underground work of Barbour Pourron Plumbing & Service is supporting new residential development in North Carolina.
Ready to inspire others
We are always looking for opportunities to feature women and advocates for women in construction in future editions of the Worksite Journal. To be considered, share your story or someone else's by filling out this form.