Growth Mindset
Bolstering the housing boom in southern Saskatchewan

6 MIN READ
In the vibrant and growing city of Regina, Saskatchewan, a unique, natural phenomenon below the earth's surface adds a complex element to the manmade development above it. The locals refer to it simply as "Regina Gumbo," a term that describes the sloppy and unpredictable terrain upon which the city is constructed.
To crack the riddle of the capital's unique soil, one has to look back more than 11,000 years. Long before humans inhabited southern Saskatchewan, a vast body of water known as Glacial Lake Regina stretched across much of the region, collecting water runoff from the surrounding glaciers. The sizable lake drained over time, leaving behind a large expanse of flat land with a chemical makeup that causes the soil to take on water and expand.
Jason Bast, general manager of NIS Contractors in Regina, is all too familiar with Regina Gumbo. "The soil is definitely unique here," he says with a hearty chuckle, digging the toes of his boots into the wet earth. "It is a highly plastic clay and very expansive soil. When it rains and the moisture content changes, it can get pretty sloppy."
Such realities are top of mind for a company that makes its money by digging deep into the terrain. NIS specializes in installing water, sanitary, and storm sewer throughout southern Saskatchewan, with most of that work taking place in Regina. "We are working at some significant depths," Bast says. "Sanitary sewer can be installed approximately 20 to 23 feet deep. It definitely takes some time and some skill. But we always find a way to get it done."
Supporting growth
With a history that dates back to 1975, NIS has nearly a half-century under its belt. But no amount of experience can completely prepare its workers for the constant curveballs the weather can throw. Operators must demonstrate precision and skill, while their equipment must be powerful enough to lift the waterlogged soil and nimble enough to avoid sinking into it. Efficiency is essential, given the scope of the projects being conducted.
On the eastern outskirts of Regina, NIS crews are laying the foundation for a new phase of an ambitious subdivision development that will ultimately include nearly 170 residential lots. "In a couple years, you are going to see that finished product come together," Bast says proudly. "You will see houses going up and people living here. To be an integral part of building our community really feels good."
In many ways, the sprawling jobsite is a microcosm of what is occurring in the region, which has seen a major population increase in the last 20 years. "I would say for about 70 percent of the new subdivisions, we have been the ones to put in the underground utilities," Bast states. "It's been a great opportunity to build and watch this city grow."
Savoring the moment
Shortly after dawn on a mid-June morning, Joe Theriault is one of the first NIS workers on the jobsite. He has been a machine operator for NIS for three decades. But the passage of time hasn't eroded his sense of appreciation for the gig. Before climbing into the cab of his 544 G‑Tier Wheel Loader, Theriault sips a cup of coffee and savors the moment.
"I could never see myself being in the office anywhere," he says. "When you get here early enough in the morning, you can hear the birds chirping and see the rabbits running all around. I enjoy being out here in the fresh air."
Theriault's approachable nature and extensive tenure with NIS endear him to up-and-coming operators. It's a role he relishes. "The young guys come to me for advice sometimes," he says. "They know I have been here a long time."
One thing Theriault has come to appreciate over the years is the impact of John Deere equipment. He says it helps him deliver impressive results, noting that he is comfortable pushing the machines hard when needed. "They just don't break down. I don't have any problems with them. They are built to work, so I make them work."
Theriault knows how to get things done on a construction site. He also knows when he's found a piece of equipment that fits the bill. He says the new 544 G‑Tier Wheel Loader is the kind of workhorse that makes things happen.
"It's got a higher lift to it, and it also has more power," explains Theriault. "When you push it into that low gear, with that extra power, it really pushes well compared to the older machines."
But that power doesn't come at the expense of agility or ease of use. "I can get around with it, and it is easy to run," Theriault says.
Boasting the one-two punch of affordability and productivity, the 544 G‑Tier is a solution that pleases owners and operators alike. "It's not a big machine, but I tell you, it serves its purpose," he says. "With the right machine you can accomplish anything."
Points of pride
To get the job done right, NIS relies on a large and diverse fleet of John Deere equipment, including excavators, wheel loaders, a crawler dozer, and a backhoe loader. As multiple Deere machines work in harmony around him, Bast pauses to reflect on NIS's road to success. It's something no one there takes for granted. "The construction industry can be very volatile. You see some companies struggle, and some go under. But when times get tough, our guys dig deep."
A close relationship with John Deere has been a constant. "Our time with Deere goes back about 25 or 30 years. And we've been working with Brandt Tractor, our dealer, almost as long. It's been a great relationship. They're always there for support, whether that means getting parts in a timely fashion or coming out and servicing equipment."
In a demanding industry, amid rugged terrain, such a relationship is essential to make sure the NIS operation keeps humming along. "Time is money," Bast says. "If production goes down, you lose dollars at the end of the day. Having that support is crucial. It's a part of who we are. And it definitely gives us a boost."
NIS Contractors is serviced by Brandt Tractor Ltd., Regina, Saskatchewan.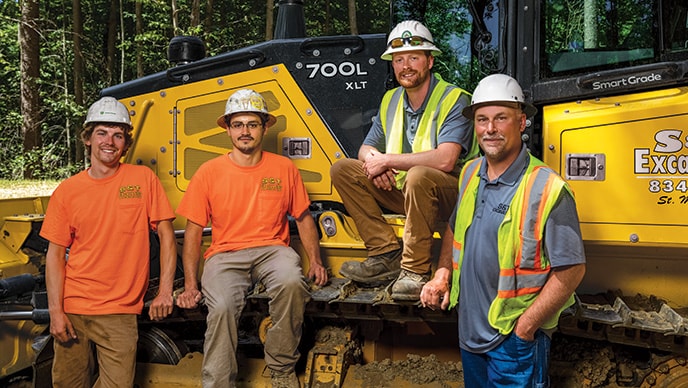 Key to Success in the Keystone State
S&T Excavating, a Pennsylvania contractor uses GPS technology to take its operation to the next level.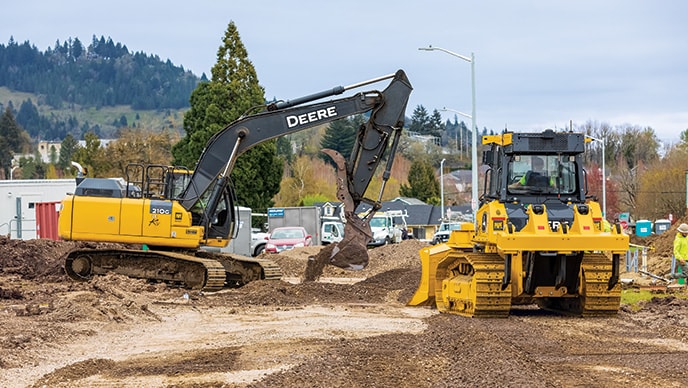 Part and Parcel
Kipco Construction is a small company tackling big site-preparation projects in bustling Eugene, Oregon.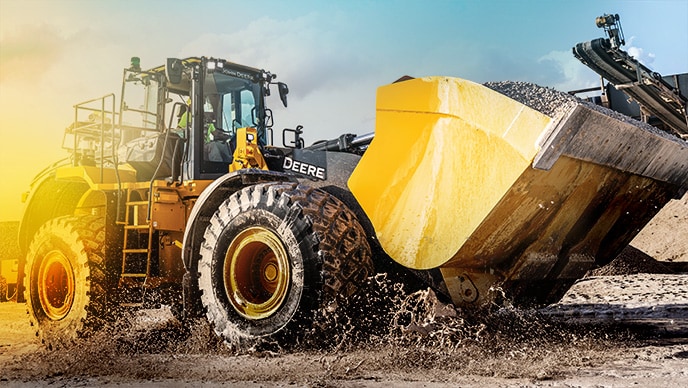 Grit and Grind
There's nothing easy about mining work. But with the help of John Deere equipment, the crew at Lago Verde Mine is up to the task.
Think readers would dig your story?
You could be featured in an upcoming edition of The Dirt. To be considered, just tell us a bit about yourself and your story idea by filling out this form.