Next Frontier
Thomas Karczmarczyk is revolutionizing dirt work in East Tennessee

5 MIN READ
On a crisp September morning just before dawn in Johnson City, Tennessee, Thomas Karczmarczyk readies his crew. Illuminated by LED worklights on several John Deere machines, the owner of KZ Construction concludes a safety meeting with a few words of wisdom: "Remember. Do exactly what we need to do without moving too much earth or causing rework. Do each job one at a time, do it right, and move on and do the next one."
After the meeting Karczmarczyk accepts coffee and donuts provided by the local John Deere dealership, Meade Tractor. "I harp on efficiency," he tells Matthew Bennett, Meade Tractor's general manager of technology. "My guys hear that every day." Karczmarczyk is preaching to the choir. Bennett and his dealership have helped KZ Construction implement the latest technology to boost productivity and cut costs.
"I want to change how dirt work is done," Karczmarczyk continues as his crew begins greasing and other daily upkeep on the company's machines. The fleet includes a John Deere 245G LC Excavator retrofitted with grade-control technology and an 85G Excavator with an engcon® Tiltrotator. "A lot of people around here don't run grade control, and I'm the first to have tiltrotators."

"I love what we do, and east Tennessee is a beautiful place to do it."
Finding freedom out here
Nestled in the foothills of the Appalachian Mountains in East Tennessee, the Johnson City metro area offers affordable housing in less densely populated areas with plenty of outdoor activities. The combination makes Johnson City one of the leading emerging housing markets in the United States — ranking third in a Wall Street Journal/Realtor.com study.
"I love what we do, and East Tennessee is a beautiful place to do it," says Karczmarczyk. "We're seeing a whole lot of residential growth, but on the backside of that, we expect to experience more commercial and municipal opportunities with retail, service, and other industries." Karczmarczyk is just 31, but KZ Construction is highly successful, doubling business every year since its founding four and a half years ago. "That's given me some gray hair early, but it's all good," he says.
Karczmarczyk jokes that he's been doing dirt work for 30 years, taking into account the toy excavators and dozers he used to push around a sandbox. As far as actually getting paid for working the earth, he started a landscaping business at the ripe old age of 15. He wanted to make a little money and his father was happy to oblige, fronting him the money to buy a lawn mower. Karczmarczyk's calm, humorous demeanor belies a burning ambition. By the time he sold the business when he was 21, he was managing 65 accounts, offering mowing, maintenance, and hardscape services. "It taught me some valuable lessons about managing time and customer relations," he says.
But landscaping wasn't his calling. In college he started a degree in mechanical engineering at the University of Tennessee but realized he didn't want a desk job either. So, he changed his focus to Environmental & Soil Science and completed a degree in Construction Science. "I wasn't interested in staring at numbers on a screen all day," he says. "I enjoy working hard and being outside. There's the immediate satisfaction of seeing what you did with your hands. There's freedom out here."
Using tech to maximize efficiency
Karczmarczyk knew grade-control technology would be game-changing. He's done the research. "The efficiency it gives you is mind-boggling really. Machines all pretty much do the same thing — dig holes and lay pipe. To differentiate ourselves, we needed to figure out what we can do better on our end."
Bennett at Meade Tractor was instrumental in getting Karczmarczyk up to speed on grade-control solutions. "Matt and his team have been key. The dealership has spent over a week out here providing training for my foremen and operators, and they answer any questions we have. Grade control was a major investment, but we quickly saw it would be hugely beneficial."
Maximizing efficiency boils down to getting the most pipe in the ground while moving the least amount of material. "Over thousands of feet of ditch, there's a lot of yardage we don't need to move. With grade control, I'm not overdigging. It's all about doing the most work with the least amount of movement. The grade-control machine really helps with that."
Grade management has resulted in a huge cost savings for KZ Construction. To install sewer main, workers put in six inches of gravel before laying eight-inch pipe, followed by another foot of gravel. Gravel costs hundreds of dollars a load, but usage has dropped because of the tighter tolerances possible using grade control.
"Every inch can get expensive, and to be competitive you really need to cut these high costs down," says Karczmarczyk. "If you save a percent here and a percent there, it really adds up to a sizable difference. Looking at these numbers has helped us justify grade control, and we're seeing a great return on investment in the grade-control machines."
Grade control has also helped significantly reduce rework. "I can buy almost anything but time. We lose a week and we don't get that back on another job. It's just gone."
Grade-control technology has eliminated the need for a grade checker on the ground. The engcon tiltrotators have also reduced the amount of manual labor. "We can now do the majority of digging around lines without a shovel," says Karczmarczyk. "Doing it the old way would wear guys out. I want to take care of my guys and keep them around for 30 years. I always tell them I'm hiring them to retire them."
Marrying engcon with grade-control technology is the next big thing on Karczmarczyk's agenda. "Automation and technology have been huge assets to our company, both in attracting talent and keeping people. People want to see new tech. They want to work with it and talk about it. My guys get behind it and are excited about it. Everyone enjoys coming to work here. We have great camaraderie, and we've all got each other's backs. I'm proud of what we've built here, a place where we can take pride and find enjoyment in what we do."
KZ Construction is serviced by Meade Tractor, Kingsport, Tennessee.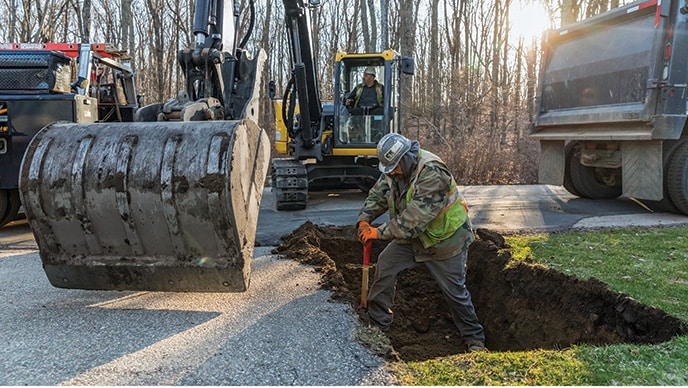 Winning the Day
For a small excavating business, attention to the little things is netting big results.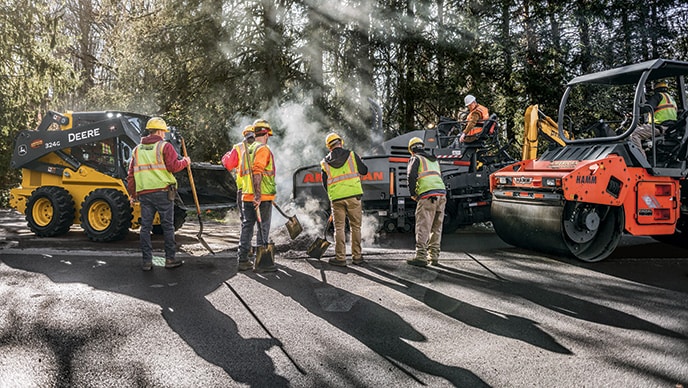 Raised on Blacktop
Reliable work and a captivating online presence have helped a Connecticut paving company expand.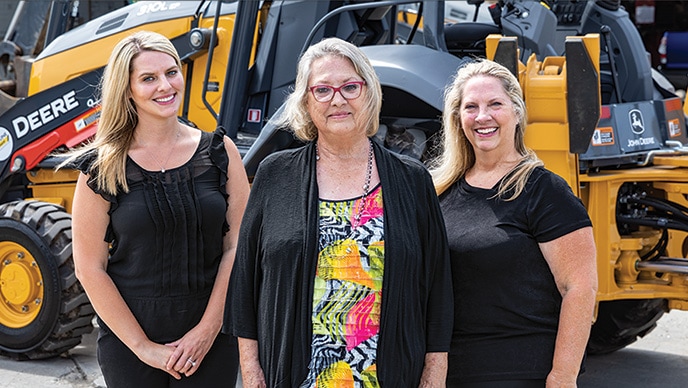 California Dream
Newman Backhoe Service has found success by putting people first.
Think readers would dig your story?
You could be featured in an upcoming edition of The Dirt. To be considered, just tell us a bit about yourself and your story idea by filling out this form.