Raised on Blacktop
How the next generation's bold ideas are unlocking new possibilities for one family businesss

9 MIN READ
Bill Stanley isn't one to mince words.
A grizzled veteran of the paving industry, Stanley shoots from the hip and speaks from the heart. He is a natural storyteller — the kind of man who sprinkles jobsite tales with colorful language and pearls of profound wisdom.
On a brisk November morning, as he drives his truck to a jobsite in Mahopac, New York, where his company American Pavement Specialists will be paving for long- time customer Liffey Van Lines, he speaks pridefully about the growth of his family business.
He talks about being a builder, but not in the way one might expect. To Stanley, his career hasn't been about building structures, or roads, or profit margins.
"To me, it is about building a name," he says, placing a purposeful emphasis on the final word. "It's not about the money. You could have $100,000 in your checking account one day and the next it could be gone. The most important thing I'm going to leave my family is my good name."
Stanley started American Pavement Specialists three decades ago with a small staff and few customers. After 30 years in business, the Danbury, Connecticut, company has carved out a powerful niche conducting paving, milling, fine grading, and reclamation and stripping work. Even more importantly to Stanley, American Pavement Specialists is synonymous with the family name, a brand built upon the sturdy foundation of trust.
And now a new generation of the Stanley family is picking up where Bill left off — and finding brand-new ways to build up the family name. Bill's youngest son Matt has spearheaded efforts to give American Pavement Specialists a presence on social media. "The feedback we've gotten from our social media is insane," Matt says. "Everywhere we go people ask about it — it's all anyone talks about."
Matt and his brothers Jack and Josh all contribute to the company's social media presence, frequently updating followers on everything from the projects American Pavement Specialists is completing to the new equipment it is using. In addition to generating a substantial buzz, these efforts are helping land jobs. Multiple new clients have reached out to the company through social media channels to request its services. For Matt, this blooming digital presence represents a new way to accomplish what his parents have been working on for decades: building up the family name.
"Now with social media, we are able to show people what we do not only locally, but to the whole world," he says.

"The most important thing I'm going to leave my family is my good name."
Raised on blacktop
Bill Stanley introduced his sons to the paving business in their youth, and it certainly left an impression: his oldest son William Stanley III has started his own residential paving business; his three youngest sons all work for American Pavement Specialists. Matt remembers tagging along to jobsites from a very young age.
"I've been working for American Pavement Specialists basically my whole life," recalls Matt, a smile stretching across his face as his mind shifts back to those early childhood days. "As soon as I was potty trained, Dad started taking us to work." Bill, who has been in the paving business for a half-century, vividly recalls those early days of bringing his kids onto the jobsite. "I don't think I forced them into doing the work," he says. "My boys went to school and they played sports. But when they weren't doing that, they wanted to be here."
The athletic influence is still palpable at American Pavement Specialists, which has dubbed its busiest time of year "The Playoffs." The straight-forward slogan is a nod to the end-of-season push in sports like baseball and football, when the lights are brightest and stakes are highest. For American Pavement Specialists, "The Playoffs" come in the final quarter of the year as the weather cools and workload intensifies. By embracing this time of year — and sharing the experience with followers on social media — the company highlights and broadcasts its all-in mentality.
"It's our big push," Matt says with a glimmer of intensity in his eyes. "It's the time of year when our guys know it's going to be chilly and we're going to be working a little longer hours than normal. So it's time to step up — and leave it all at work."
Customers come first
Even with decades of experience under his belt, Bill still relishes those busy stretches that define the company's year — and remains reluctant to step away from the family business.
"People look at me sometimes and say, 'When are you going to retire?'," he says, shaking his head from side to side to express his dissatisfaction.
"I tell them, 'I never even gave it a thought. Maybe when I can't get out of bed.' "
While Bill struggles to see a valid reason for retirement, he's got plenty of things that keep him coming back to the jobsite.
"There's no better feeling than knowing you built something. I love being able to pave a mile of road, turning around, and it's completed, and you realize 'I really did something,'" Bill says, glancing down at the newly paved surface stretching out before him. "There's a lot I love, really. I love my business, I love my employees, and I love my customers."
Bill's passion for his work has inspired him to take a hands-on approach to everything related to his company. "When you go into work in the morning as a small business owner, you realize everything is on you. Everything falls into my lap. And I am not just talking about bottom-line stuff, I am talking about customer satisfaction."

"We've been running Wirtgen machines for 10 to 12 years now. They're the best in the business."
Family fingerprints
The fingerprints of the Stanley family are on virtually every part of the company, which has carved out a customer base that cuts across Connecticut and stretches toward surrounding states in the northeastern United States.
As he directs the paving crew on a busy, winding road in Ridgefield, Connecticut, Matt emphasizes the importance of meeting challenges.
"In this line of work, you have to be a problem solver," he says. "It's what we do every day. There are always obstacles, and you have to overcome them. I think the equipment we have on site helps us do that."
Matt's older brother Josh embraces that mindset wholeheartedly. Standing at 6 feet 2 inches, Josh's physical presence matches his big personality as he moves around the jobsite.
"I love running the John Deere Skid Steers," he exclaims. "When I'm not on a paving machine, I'm usually in a skid steer grading or doing cleanup. The other machines, there's just no comparison. The John Deere ones are easy to run, easy to use. I've tried other machines, and I can barely fit inside the cab."
As part of the American Pavement Specialists workforce in Mahopac, another crew is conducting milling work on a stretch of road a couple of hours away. A testament to the company's continued evolution, American Pavement Specialists first dipped its toe into milling work a little over a decade ago. The company has grown into a go-to option for local entities needing the service.
"Ever since we bought our first milling machine, the business has really blown up," says Jack Stanley, who plays a pivotal role on the milling project. He emphasizes that a key part of this booming business has been the equipment made by Wirtgen Group, a German equipment manufacturer that joined forces with John Deere in 2017.
"We've been running Wirtgen machines for 10 to 12 years now. They're the best in the business," Jack says. "They start up every morning and work 12- to 14-hour shifts. We would never buy anything else."

"We have to push that quality higher and higher every day."
Aiming higher
If Bill is the face of American Pavement Specialists, then his wife is the brilliant mind behind the scenes.
Colleen Stanley, company co-owner, handles the majority of the office work. "She is the secret sauce to what we do," says her son Matt. "The older I get, the more I realize how important she is to the business. She's the one who dots every 'i' and crosses every 't'."
As the next generation of Stanleys steps into leadership roles in the company, they share a deep under-standing of what got the business to this point — and what it will take to keep it there. Resting on their laurels won't cut it.
"To me, if we're going to build on what our parents have created, it comes down to quality," Josh explains. "A lot of times with the second or the third generation of a company, you see that quality drop — and I have seen that happen with other family businesses I know. We have to push that quality higher and higher every day."
This quest for constant improvement has inspired Bill to embrace the bold ideas of his children. And it's pushed Matt to think of new ways to build the company and family name.
"Our reputation means everything," Matt emphasizes, peering across the jobsite as he takes a moment to ponder the gravity of that responsibility. "My mom and dad have always said, 'We're going to leave you a good name.' That's their promise, and they fulfill that every day. Now it's our turn to carry on that legacy."
"Always been there"
Bill Stanley still remembers what he was thinking when he bought his first John Deere machine.
"Thirty years ago, I made that purchase because I loved the color," he says with a chuckle. "I loved the way it looked, and that was the main thing I was thinking about back then."
Now that his business has been around for three decades, his mindset has evolved. Stanley has come to appreciate the reliability, efficiency, and productivity of the Deere machines in his fleet. But above all else, he values the service that comes with them.
"As I got older and smarter, I realized what mattered. I value the service. And I really appreciate the relationship," he says.
Over the years, Stanley's company, American Pavement Specialists of Danbury, Connecticut, has worked closely with its dealer, The W.I. Clark Company, also of Danbury. Stanley emphasizes that he is on a first-name basis with the dealer, a rapport that pays dividends when it matters most.
"When I need something, I don't want someone who's going to pick up the phone and put me on hold or say, 'What's your account number?'," he explains. "I want them to say, 'Hey there, Bill. What's your problem and how can we help?' That's why I stick with John Deere. They've always been there."
American Pavement Specialists is serviced by The W.I. Clark Company, Danbury, Connecticut.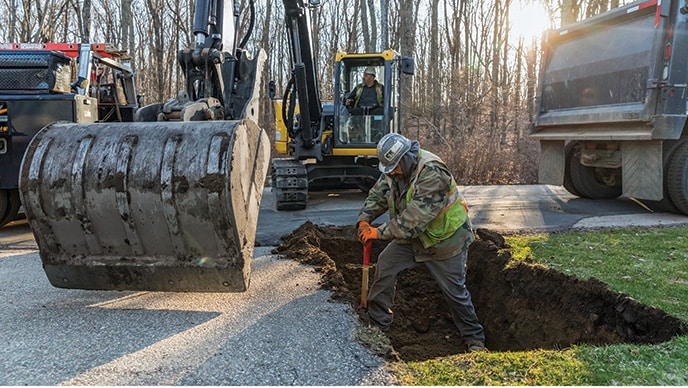 Winning the Day
For a small excavating business, attention to the little things is netting big results.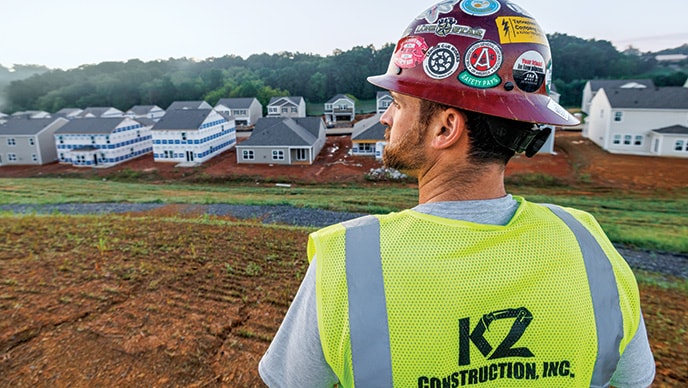 Next Frontier
KZ Construction is building a successful beast in East Tennessee.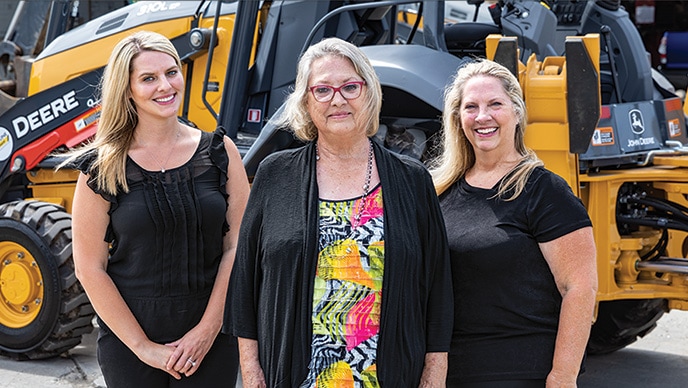 California Dream
Newman Backhoe Service has found success by putting people first.
Think readers would dig your story?
You could be featured in an upcoming edition of The Dirt. To be considered, just tell us a bit about yourself and your story idea by filling out this form.