Agriculture, Specialty/Niche
November 01, 2021
Frozen Farmer
A farm entrepreneur home run.
The decadent smell of ripe strawberries engulfed Katey and Kevin Evans as they rolled open the door of their Delaware farm's produce truck in 2016. It was their first strawberry crop. A bumper harvest...a day past peak freshness due to an overwhelmed market.
Yet they fondly recall this devastating moment. It was a life juncture. One where they chose to take a sharp left into the unknown instead of trucking down the same old rutted farm path.
The new destination is a stunning legacy for a family fruit, vegetable and small grains farm.
A legacy taking their farm to your freezer. If you shop at Walmart, Kroger or Giant you've maybe seen, or even purchased, a pint of their Frozen Farmer sorbet or their proprietary sorbet/ice cream blend, "Frobert."
Imperfect, surplus and rejected fruits from their farm are upcycled into these delectable desserts.
Flavors include strawberry, watermelon, orange cream and a surprising editor favorite, honeydew, among others. The farm store even offers sweet corn ice cream seasonally, served with a sprinkle of Old Bay.
Getting to the national stage wasn't a lottery win. It was the result of excellent farming, a big idea, thousands of hours, huge investments and big risks, like going on ABC's Shark Tank.
"When I get overwhelmed and everyone is trying to tell me what our story is now that we've come so far, I shut my eyes and look back five years ago to the Sunday suppers with Mom (Jo Ellen Algiers, Frozen Farmer partner), Kevin and our girls when we made those big decisions and had the hard talks," Katey says. "We may have a national brand, but we're still farmers. We're still a family business. And this is our story."
Their story. Once an orchard, the farm grew to large-scale grain and processing vegetable production. A watermelon patch and a roadside stand earned Kevin and his sister, Kim, lunch money.
Kevin now supplies watermelons to most of the East coast along with other produce. Together with Katey, he diversified into fresh fruits and vegetables.
"We thought we'd grow produce for our growing farm stand and sell surplus to grocery stores," Katey says. Once in their local Acme, Giant Foods and Harris Teeters, demand boomed.
"We flipped. They loved the quality and wanted more. We started growing for them and selling the surplus at our market."
Then they asked Evans Farms to supply whole chains. And to grow more crops—like strawberries.
"Katey managed marketing, logistics, and building relationships," Kevin says, who crops more than 3,000 acres. "I was in the fields getting things done on time and growing quality crops."
But in grocery there is waste. Staring at those beautiful berries, Katey thought, "If only we could make pies, or something."
It wasn't just strawberries. Grocery chains want specific sizes and quality standards. There's lots of waste, Katey says.
Sweet plan. Katey was determined to find a value-added product for the waste their farm was producing. Local creameries had ice cream covered, but dairy-free desserts were a niche with potential. Katey set out to make sorbet. She and Jo went to ice cream school and found they couldn't make sorbet on a food truck as planned.
They crafted their first products in a tiny 200 square foot kitchen provided by a friend.
Taking samples to their Giant produce buyer got them in local stores, then 38 stores, then Giant wanted them to supply their entire chain, 164 locations.
"It was going to take $40,000 in packaging alone to stock the shelves just one time," she says.
At the suggestion of many, Katey decided to audition for ABC's Shark Tank to try and drum up some investor funding.
Katey and Kenna braved hours in a 4 a.m. New York City audition line. A producer took one bite and said, 'Thank you for your time.' "I figured we either just blew it or we're in," Katey recalls. They were in. Fast forward, Katey landed a deal with shark Lori Grenier who said in a show update, "Katey Jo is probably one of the hardest working, most results-oriented entrepreneurs I've ever had."
Hard work and a strong support network launched Katey's idea in a big way.
"It all starts with deep roots and a strong foundation," Kevin says. "This brand is an extension of our family farm legacy, and that makes the success of The Frozen Farmer so much sweeter. ‡
Read More
AGRICULTURE, FARM OPERATION
Rolling With It
A helpful crimp in the plan.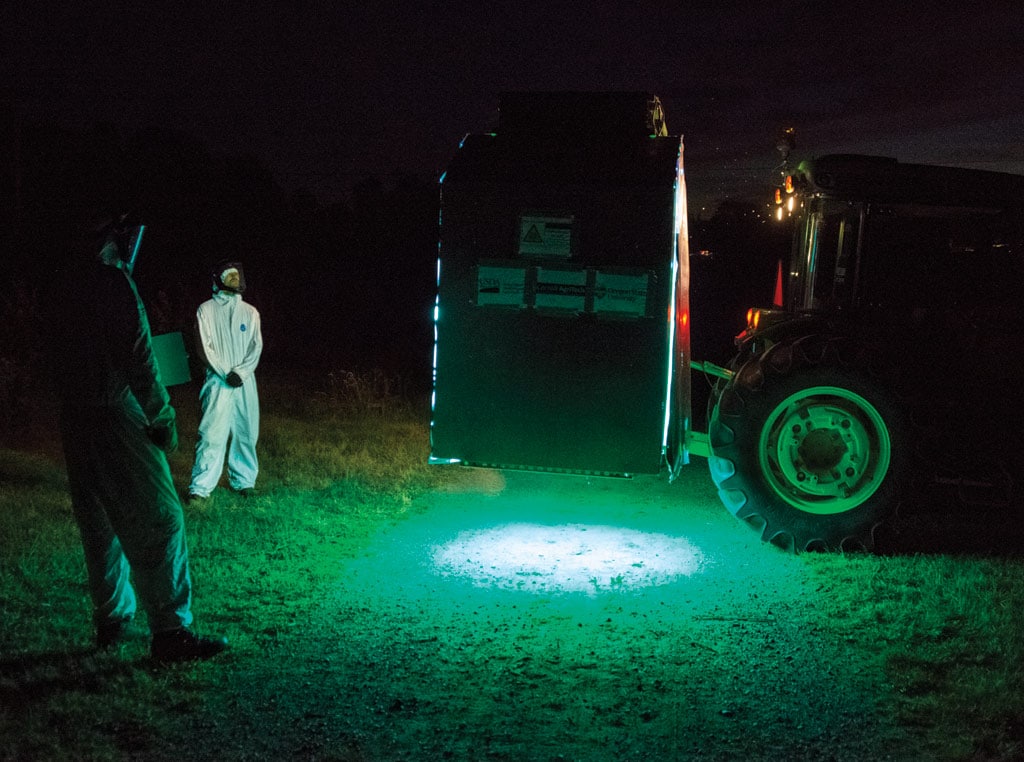 AGRICULTURE, EDUCATION
Mildew in the Spotlight
UV trials target powdery mildew.