Recipe for Success
Family tradition and female leadership fuel dealership's growth
For Diane Benck, it is almost impossible to talk about business without also discussing family. Throughout her life, those two threads have remained firmly intertwined, each one adding strength to the other as the years pass.
Benck first started working for West Side Tractor Sales about 35 years ago and today serves as the company's vice president of operations. From the very beginning, her feelings of familial pride have fueled her commitment to work.
"For me, it was always about being in the family business," Benck recalls. "It fit my viewpoint of the world — working with a family and creating something together as a family. That's what I was focused on then and what I am still focused on today."
West Side Tractor Sales was launched by Rich and Mary Benck in 1962 in Naperville, Illinois.
The company started with only three employees and a pickup full of tractor parts. Over the course of six decades, the family and business have grown together.
Today, West Side Tractor Sales serves over 80 counties and has 11 locations spanning Illinois, Indiana, and Michigan. Three generations of the Benck family have played prominent roles in the business.
And of the six family members currently working at West Side Tractor Sales, half are women. Two of Benck's nieces, Lauren Coffaro and Jen Snow, are intricately involved in the operation.

"…it's our job to make sure that next generation of women coming into our business also feels like they have an advocate."
Watch Video
To Coffaro, who serves as vice president of marketing and technology, the strong presence of women isn't merely something that makes the company different, it is something that makes it better.
"Diversity has given us the ability to adapt quicker," she says. "We focus on innovation, we focus on people having different perspectives, and that lets us come up with new ideas, new ways to work together, and new ways to work with our customers."
On the right track
Signs of that adaptation and growth are abundant at West Side Tractor Sales, which has seen its footprint and employment base expand considerably over the past two decades.
In 2015, the company established a technology division to help connect customers with features like fleet monitoring and connectivity, GPS, and machine control. And in 2020, it opened a new headquarters in Lisle, Illinois, that doubles as its first Certified Rebuild Center.
This upward trajectory has been shaped in large part by West Side Tractor Sales' female leadership team.
"About a third of our upper management team is female, and that's very unusual," says Benck.
Coffaro emphasizes that this dynamic didn't happen by accident. Rather, it was shaped over time by the steady presence and influence of her aunt.
"For me coming into the company, my aunt was my biggest cheerleader," Coffaro says. "She really was the role model for my sister and I, making sure that we had a seat at the table. So I know how impactful that can be and how important it is to have a role model and an advocate and someone giving you confidence to walk into those environments where you'd otherwise be intimidated. And now it's our job to make sure that next generation of women coming into our business also feels like they have an advocate."

"I've learned the significance of showing them that there are women who have done it before and that they can do it as well."
"Had to fight"
Reflecting on her personal journey, Benck recalls that it wasn't always easy to keep forging ahead.
"Thirty-five years ago, when I first started, there were virtually no women in the industry at that point in time," she recalled. "I felt like I had to fight my way in."
What started as a personal journey has evolved into something broader, with Benck influencing West Side Tractor Sales as well as the industry as a whole.
In early 2018, she was named the chairwoman of Associated Equipment Distributors, an organization with more than 800 members across the United States and Canada. She became the first female to ever serve as that organization's chair.
"There was a long time when my approach was to just stay in my corner and try to blend in with the guys," she recalled. "I didn't feel like I wanted or needed to take on a role like that or be a leader for women. Over time, I've realized the importance and seen how I can help nurture and support other women. I've learned the significance of showing them that there are women who have done it before and that they can do it as well."
West Side Tractor Sales Co., Lisle, Illinois.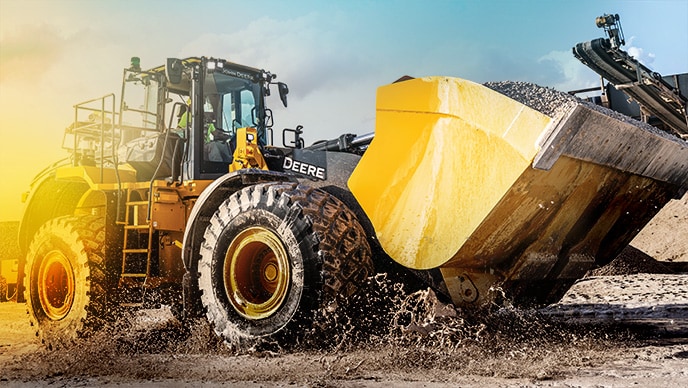 Grit and Grind
There's nothing easy about mining work. But with the help of John Deere equipment, the crew at Lago Verde Mine is up to the task.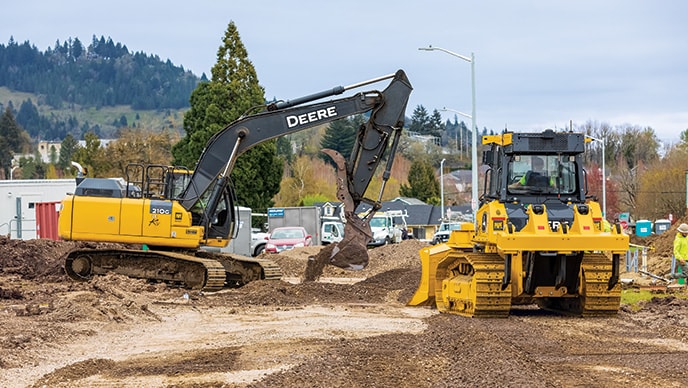 Part and Parcel
Kipco Construction is a small company tackling big site-preparation projects in bustling Eugene, Oregon.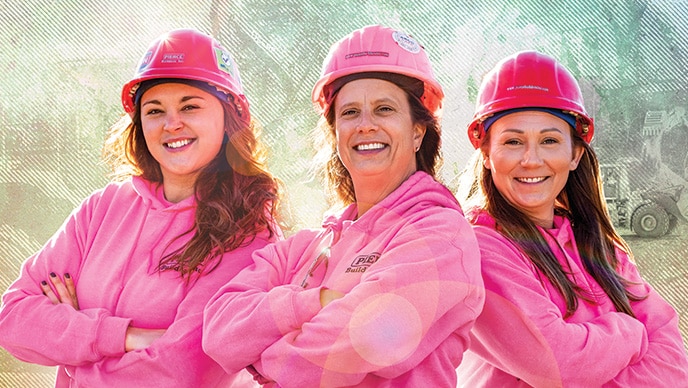 Together We Shine
The women at Pierce Builders spend their workdays moving earth and making things happen.
Ready to inspire others
We are always looking for opportunities to feature women and advocates for women in construction in future editions of The Dirt. To be considered, share your story or someone else's by filling out this form.